<-- if you enjoyed this page, please consider clicking the +1 button. Thanks!
Various Points Around Juneau
City and Burough of Juneau, Alaska, USA (August 1995 & July 2000)
| | |
| --- | --- |
| | |
| Mt. Roberts View of Gastineau Channel | Douglas Island |
A tramway delivers visitors 1800 feet up the side of Mt. Rogers, above Juneau. On a clear day the view extends for miles along the Gastineau Channel. Snow still clings to mountaintops in July.
---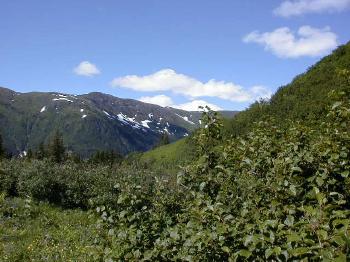 Mt. Roberts, Facing Away from Juneau
Trails radiate from this point. One option is to take the trail back down to Juneau rather than use the tramway (or up for that matter for those who like a challenge). Other trails lead higher up the mountains and through Alpine meadows dotted with lush, green summertime vegetation.
You may also be interested in some of the other views I captured after taking the Mount Rogers Tramway.
---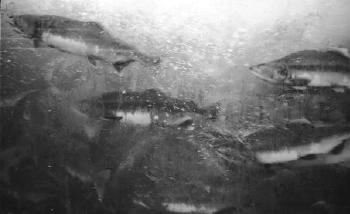 Salmon Migrating back to Juneau's Macaulay Hatchery
Douglas Island Pink & Chum operates the Macaulay Salmon Hatchery just outside of Juneau. This private, non-profit organization aims to enhance Alaska's commercial fishing reserves. It currently incubates, rears and releases chum, chinook, coho and sockeye salmon. These are then fished commercially and as a result contribute to Alaska's economy. As salmon return to spawn they pass a scenic window at the hatchery. People can watch an impressive parade of fish. It's not an aquarium but an open window on naturally-migrating fish.
---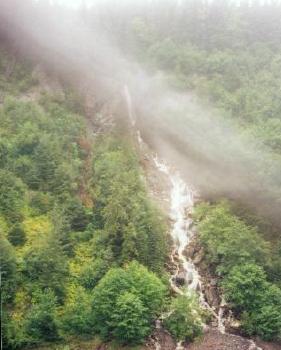 Treadwell Mine Pit on Douglas Island
The old Treadwell Mine sits across the Gastineau Channel on Douglas Island. It boomed in the 1880's and became world-renowned until it finally playing-out three decades later. Miners dug an enormous pit in an attempt to extract every ounce of bullion. It became so large that it became a tourist attraction in its own right: 1,700 feet long, 420 feet wide and 450 deep! Nature tries to reclaim the area today but even though foliage may grown were bare rock once stood, it's still one humongous hole. When we were there, rain clouds rolled down the sides as a small waterfall emptied into the bottom.
---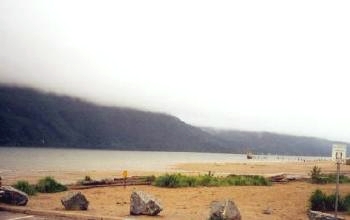 Treadwell Mine Beach on Douglas Island
Miners took tailings from Treadwell and dumped them along the waterfront. This has now become a City park known as the Sandy Beach recreation area. Piers dotted the shoreline where ships once brought in supplies and carted riches away. Today empty pylons rot in the Channel
The Alaska Department of Environmental Conservation considers the Treadwell Mine Complex a contaminated site. It's supposedly stabilized but there are elevated concentrations of lead, zinc, cyanide, arsenic and mercury in places where ore had been processed and wast rock discarded. Contaminated areas are readily apparent. Even though this is a heavily forested temperate rainforest, plants won't grow there.