<-- if you enjoyed this page, please consider clicking the +1 button. Thanks!
Mendenhall River Rafting
Borough of Juneau, Alaska, USA (August 1995)
| | |
| --- | --- |
| | |
| Mendenhall River Float Trip | The Route |
We have a lot of experience with whitewater rafting so we were excited to hear about rafting in Juneau. There are indeed float trips down the Mendenhall River. It runs from the glacier with the same name down to the Gastineau Channel. Notice that I am wearing rubber boot up to my knees. This water is extremely cold, barely above freezing, having just melted off the glacier The raft does catch some water and you don't want to be dangling your feet in it. This gives rafters a whole lot of incentive to keep their vessels upright too.
---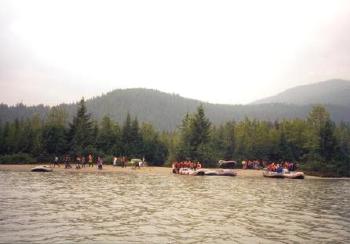 Rafts Assembled
The entire length of the river is just a few miles with small sections of mild whitewater. While it's not a white-knuckle thrill ride, it's a good time and a relaxing trip. Here we are putting into the water on a trip that will terminate down near the Juneau International Airport.
---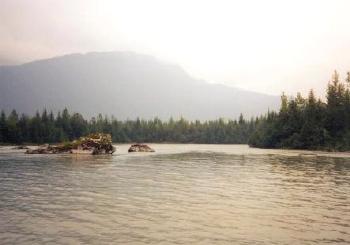 Sandy Beach Along the Riverbank
It's a nice little trip and a pleasant afternoon through some Class II and II rapids with names like Scott's Latola Hola, Tourist Trap, and Pin Ball Alley. It's generally tame and a good beginner trip for those without much experience or for those who simply want to enjoy the surrounding natural beauty.
---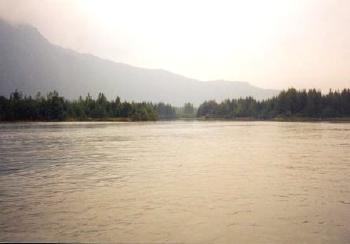 More Scenery Along the Mendenhall River
Here is one final stretch of scenic river for your viewing enjoyment.
You may also be interested in my New River Gorge Rafting in West Virginia page.