<-- if you enjoyed this page, please consider clicking the +1 button. Thanks!
Mendenhall Glacier and Environs
Borough of Juneau, Alaska, USA (August 1995)
| | |
| --- | --- |
| | |
| Mendenhall Glacier Face and Lake | Glacier Location |
Mendenhall Glacier forms just north of the Mendenhall Towers, a portion of the Coast Mountains that reach nearly 7,000 feet. The glacier trends south from this point until it empties into a beautiful lake about 10 miles northwest of the city of Juneau and a couple miles from the airport. It was named for a former superintendent of the Geological Survey, Prof. Thomas Corwin Mendenhall, in 1892.
---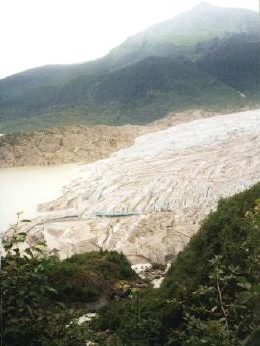 Above the Eastern Flank of Mendenhall Glacier
Mendehnall Glacier is part of the USDA Forest Service's Tongass National Forest. It includes a visitor center that is open to the public. Here are some interesting facts about the glacier:
It is about 12 miles long, 1.5 miles wide and it rises about 100 feet above the surface of the lake.
It flows about two feet a day, but is receding about 25 to 30 feet a year.
The ice is no more than about 150 years old.
The lake gets as much as 200 feet deep in places.
Much more can be found on the Tongass National Forest's Mendenhall Visitor Center website.
---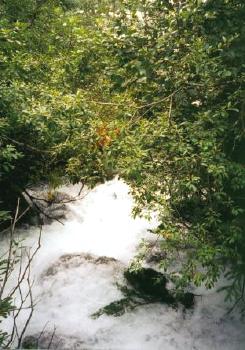 Looking Down a Waterfall Near Mendenhall Glacier
There are several trails around and near the glacier. Some are quite easy to follow as meander around the edge of the lake, while others are more challenging and provide great views from higher elevations. This is the top of a waterfall that cascades down the hillside into Mendenhall Lake. It's gaining momentum before a big drop.
---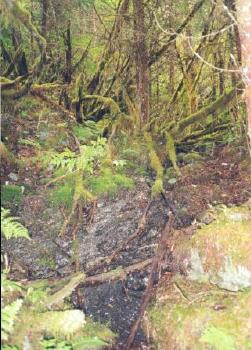 Rainforest Vegetation Near Mendenhall Glacier
One path is called the East Glacier Loop Trail. It wanders through groves of trees that are 100-200 years old and protected within the boundaries of the Tongass National Forest. The vegetation in the photograph demonstrates why this is considered a rainforest. When most people think of rainforests they conger images of hot tropical climates, but that isn't the case in Juneau. This is a great example of a temperate rainforest.
---
More Rainforest Vegetation Near Mendenhall Glacier
Here is another view of temperate rainforest flanking Mendenhall Glacier. Notice that planks have been placed on the right side of this image. The ground is so constantly wet and muddy that a narrow boardwalk had to be constructed through this section of trail. It keeps mud off of hikers' boots. More importantly it prevents erosion that would ordinarily be caused by hundreds of trampling feet in this protected wilderness.