"Out the Road"
Borough of Juneau, Alaska, USA (August 1995)
| | |
| --- | --- |
| | |
| Juneau, End of the Road | Out the Road |
We drove straight out of Juneau about 40 miles until we ran out of road. Juneau is not an island. However, it's wedged between the Gastineau Channel and the Coast Mountains that completely cut it off from the rest of mainland North America. The only ways to get to Juneau are by air or by water. Appropriately enough, when we got to the end of the road there was a sign that read "END." A guardrail preventing further progress. The sign also appeared to be a popular target for local hunters. I understand that the road has been expanded several more miles since this photograph was taken in 1995.
---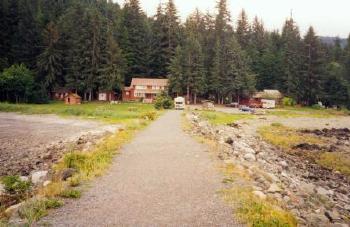 View from the Shrine of St. Therese
After our adventure to the end of the road and as we drove closer to Juneau we approached the Shrine of St. Therese at around Mile 23 of the Glacier Highway. The shrine is part of the Catholic Diocese of Juneau and offers opportunities for quiet contemplation and spiritual renewal. This view is taken from the grounds of the Shrine, looking back up the driveway. Notice that the roadway is elevated to keep high tides from washing over it.
---
Rocky Shoreline, Shrine of St. Therese
There are many places to enjoy the solitude and beauty of southern Alaska on the grounds of the Shrine. The property has a large waterfront that allows for walking amid the rugged terrain.
---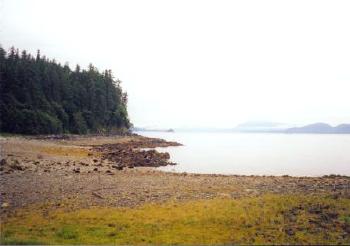 Coastal Flats, Shrine of St. Therese
Here is the same shoreline looking the other direction. Notice the large tidal flats. Tides can be extreme in Juneau and cover large chunks of land as they ebb and flow along the flats.