Perseverance Trail
City and Burough of Juneau, Alaska, USA (August 1995)
| | |
| --- | --- |
| | |
| Ebner Falls | Ebner Falls Location |
Juneau has multiple hiking opportunities. The Perseverance Trail is perhaps one of the most accessible. The trailhead is close to downtown where Basin Road ends. It was a path once used by Native Americans for hunting, gathering and fishing. It also became one of Alaska's first roads after gold was discovered in the Silverbow Basin.
The trail passes scenic Ebner Falls. It's not a difficult walk although there are various branches that will lead hikers high up into the mountains if they are particularly adventurous or need more of a challenge. Water rushes from the hillsides down into the valley forming a natural path for the Perseverance Trail. The Perseverance Trail is the former road/trail taken by miners working the Silverbow Basin Gold mine. Alaska Trekker has a Perseverance Trail Map if you want more information.
---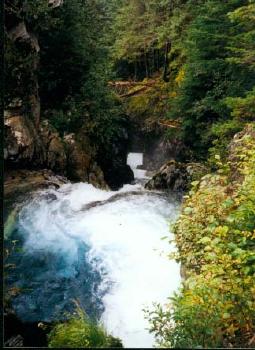 Looking Down Ebner Falls Along the Perseverance Trail
This is another view of Ebner Falls, this time taken from the top of the waterfall where it begins its downward drop to the valley floor. It's heard long before it's seen and it creates quite a lot of excitement as it smashes into exposed rock.
---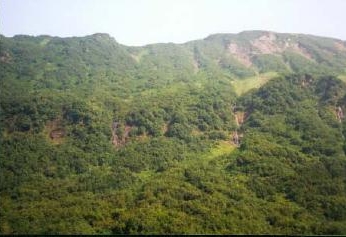 View From the Perseverance Trail
This particular stretch of scenery demonstrates why the area is described as a "basin." Steep mountainsides cradle a deep valley that funnels water towards Juneau and the Gastineau Channel. Tall green walls of temperate rainforest frame the trail as it snakes along the valley floor.
---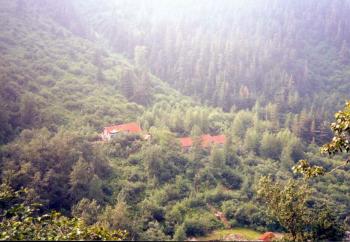 Abandoned Mine Along the Perseverance Trail
History asserts itself in unexpected ways. Abandoned buildings from the old Silverbow gold mines dot hillsides and valleys. Miners a hundred years ago walked along the Perseverance Trail as they carved into the mountainsides. Some gold remains today. As we walked along the trail we saw people searching like the prospectors of old, but now as a weekend hobby.