<-- if you enjoyed this page, please consider clicking the +1 button. Thanks!
Glacier Bay:
Glacier Bay Scenery
Skagway-Hoonah-Angoon Census Area of the Unorganized Borough, Alaska, USA (August 1995)
| | |
| --- | --- |
| | |
| Johns Hopkins Inlet with Mt. Fairweather in background | Mount Fairweather |
This grand view points down Johns Hopkins Inlet, the home of numerous impressive glaciers. It is framed at back by Mt. Fairweather, which is somewhat of a misnomer since the weather can be quite nasty. Mt. Fairweather towers more than 15,000 feet above sea level and it's the highest point in southeast Alaska. Fortunately on the day we entered Glacier Bay we encountered fair weather indeed.
---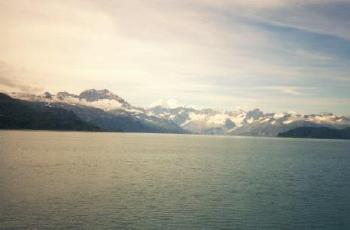 Panoramic View of the Fairweather Range
Mt. Fairweather is just one mountain in the larger Fairweather Range that towers above. It is part of the larger Pacific Coastal Range. The majority of it is in the United States, but a small portion also extends into Canada. The highest peaks are Mount Fairweather, Mount Quincy Adams, Mount Root, Mount Crillon, and Mount Watson. They feed a continuous stream of glacial ice down to the sea.
---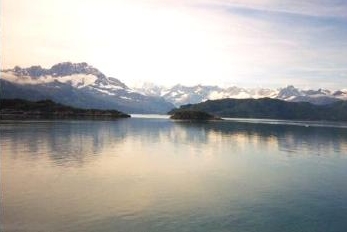 Russell Island
Russel Island appears on the left side of the photograph. It juts from Glacier Bay as it splits into Tarr Inlet and Johns Hopkins Inlet. The scenery is spectacular throughout the bay but it truly gets exciting once one passes Russell Island. Some of the most renowned glaciers in the park come into view soon after this point.
---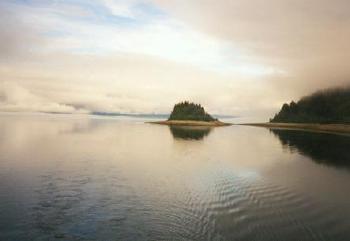 Sandy Cove on the Eastern Shore of Glacier Bay
Sandy cove is closer to the park entrance. This is almost an anomaly after looking at barren, glacier-scarred rock all day. Small islets covered with evergreens dot idyllic coves and their sandy beaches.