<-- if you enjoyed this page, please consider clicking the +1 button. Thanks!
Glacier Bay:
Margerie Glacier
Skagway-Hoonah-Angoon Census Area of the Unorganized Borough, Alaska, USA (August 1995)
| | |
| --- | --- |
| | |
| Posing by Margerie Glacier | Margerie Glacier |
Margerie Glacier is one of the most magnificent and dramatic icefloes into Glacier Bay. It features sheer green and blue walls smudged by black debris carried down from the mountainside. The size is amazing. It is a mile wide, 180 feet high and stretches 21 miles (34 km.) from the south slope of Mount Root on the Alaska-Canada boarder down to Tarr Inlet.
---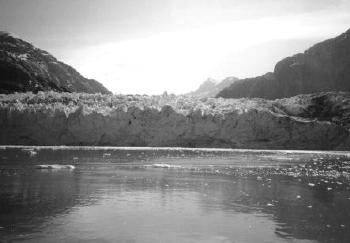 Margerie Glacier and Icefield
At one time Margerie was a tributary of the Grand Pacific Glacier and was identified this way during the Harriman Alaska Expedition of 1899. Since that time Grand Pacific Glacier has retreated dramatically and Margarie Glacier became totally independent.
You may also be interested in my Grand Pacific Glacier page.
---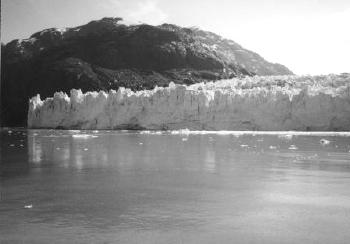 The Face of the Margerie Glacier
Sheer glacial walls tower from the water's surface. As we watched, sections calved from the glacier and fell into the sea. They floated freely through the inlet.
---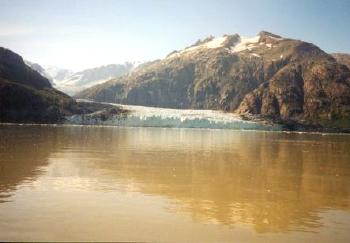 Margerie Glacier from a Distance
Glaciers have a profound impact on the surrounding terrain. The discoloration in the water is due to fine silt that has been ground and scrapped from the surrounding mountains by the relentless force and weight of glacial ice.
---
Departing Margerie Glacier
Shimmering blue ice receded into the background as we began to sail back down Tarr Inlet.
---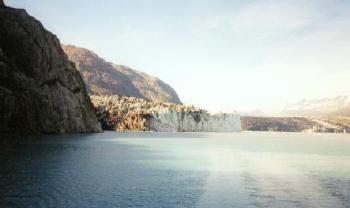 Still further away from Margerie Glacier
And if you look closely in this image you can see the wake trail left behind by our ship as we got even further away.
More information about the Margerie Glacier can be found through the United States Geological Survey.