<-- if you enjoyed this page, please consider clicking the +1 button. Thanks!
Glacier Bay:
Grand Pacific & Reid Glaciers
Skagway-Hoonah-Angoon Census Area of the Unorganized Borough, Alaska, USA (August 1995)
| | |
| --- | --- |
| | |
| Grand Pacific Glacier and Small Icebergs | Grand Pacific & Reid Glaciers |
The Grand Pacific Glacier heads in the St. Elias Mountains and trends east into British Columbia, then southeast to the head of the Tarr Inlet along the Alaska - Canada border. While the glacier completes its slow-motion journey in Alaska, the bulk of it extends into British Columbia's Tatshenshini-Alsek Provincial Park. It is about two miles wide where it enters the water.
---
Sailing up to Grand Pacific Glacier under the Alaskan Flag
The glacier was named by John Muir in 1879. When Harry Fielding visited in 1892 he found that it had receded so far that it had become three distinct glaciers. The largest and most northerly retained the name Grand Pacific and the middle one became Johns Hopkins Glacier. The Harrington Expedition of 1899 named the smallest and southernmost of the three Reid Glacier in honor of the earlier expedition.
More information about the Grand Pacific Glacier can be found through the United States Geological Survey.
---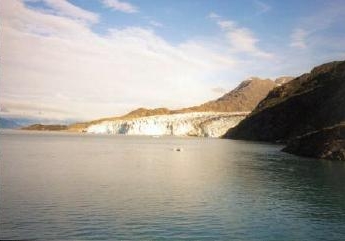 Approaching Reid Glacier
Reid Glacier was named as described in the previous paragraph. Harry Fielding Reid was a geology professor from Johns Hopkins University among other places. He led expeditions to Glacier Bay in 1890 and 1892.
---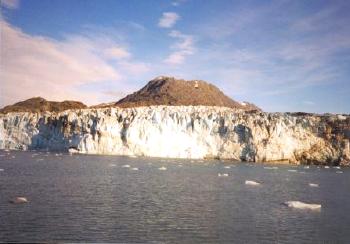 Reid Glacier Closeup
One of the impressive features of the terrain near this glacier is that it has been thoroughly scoured and laid barren by natural forces. A thick layer of ice flows down to the sea through a landscape that resembles the surface of an extraterrestrial planet.
More information about the Reid Glacier can be found through the United States Geological Survey.