<-- if you enjoyed this page, please consider clicking the +1 button. Thanks!
Anton Anderson Memorial Tunnel
Whittier, AK (July 2010)
| | |
| --- | --- |
| | |
| Anton Anderson Tunnel | Whittier, Alaska |
I'd long wanted to traverse the Anton Anderson Memorial Tunnel heading to Whittier, Alaska and the Prince William Sound. Whittier is a tiny town of a couple hundred people where nearly the entire population lives in a single building. You might wonder why the government would build a tunnel nearly two and half miles long through solid stone for so few people. It's an interesting situation borne on of an historical event.
Alaska controls access to north Pacific shipping lanes. Japanese forces had captured two of the Aleutian Islands during the early days of World War II, and had to be expelled by military might. Arming and securing Alaska became a national security issue as a result. Whittier, a small fishing village, was one of only a handful of ice-free harbors along Prince William Sound and it was seventy five miles from Anchorage and the territorial interior. It would be an optimal staging point for the U.S. Army to bring men and material into Alaska. There was only one problem, and it was a big one: Whittier sat on a coastal shelf completely hemmed-in by 3,684 foot Maynard Mountain. Access was by air and sea only. No road could ever climb across the glacier-encrusted terrain.
The U.S. Army built a tunnel instead, not so much for the residents of Whittier but in support of the war effort. It was designed solely a as train tunnel, a route both shorter and less difficult than the route heading up the Kenai Peninsula from Seward. It's not needed for military purposes anymore, and in fact the army left a half-century ago, but it's still there to benefit the residents of this otherwise isolated town.
---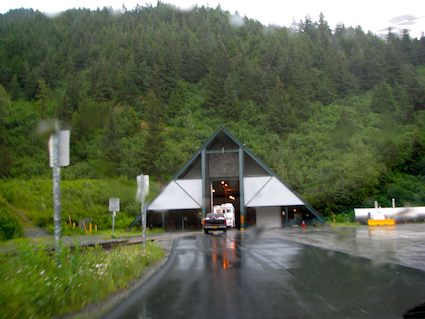 Bear Valley Portal Building
We approached from the west, heading from the Seward Highway. We traveled a few miles after turning onto Portage Glacier Road and went through an initial tunnel, the 400 foot Portage Lake Tunnel, which had sufficient width to allow vehicles to pass in both directions unimpeded. Not much later we spotted a mountainous ridge looming on the horizon, then turned a curve and noticed the toll plaza and staging area leading to the Bear Valley Portal Building, an A-Frame structure dug into the hillside. We'd checked the schedule beforehand and had to wait only a few minutes before the next release.
Release?
Right. Notice the width of the tunnel. Traffic can only move in one direction at a time. Vehicles travel in a line towards Whittier, the tunnel is cleared, then traffic can proceed back towards Anchorage or the Kenai. If that weren't enough, consider that this was designed as a train tunnel and it continues to function as a train tunnel today. Trains travel in both directions and this odd arrangement also has to be figured into the equation along with every manner of cars, tractor trailers, tourist busses and oversized Recreational Vehicles. The staging area is used to separate the various types of vehicles and each type has separate rules for spacing and following distances inside the tunnel. Computer systems choreography the entire array of possibilities in a way that avoids accidents and keeps everyone safe.
---
Driving Through the Whittier Tunnel
It feels strange driving through the tunnel because train tracks are embedded within the road surface. It's part road, it's part rail bed, and it's all rolled into one. This arrangement has only been in place since 2000 after two years of retrofitting. Construction engineers quickly determined that it wouldn't be feasible to widen the existing tunnel to make room for trains as well as motor vehicles moving in both directions. They came up with their innovative approach, a redesign of a tunnel stretching 13,300 feet, the longest combined railway and highway tunnel in North America.
It's quite safe but it's also rather narrow. Transit speeds are kept low and distances between vehicles are closely monitored. It not only prevents accidents but would also lessen the severity of accidents should they happen. It lowers the possibility of chain reaction wrecks and damaging fire. In the event something like this ever happened though, there are a series of several pull-outs and safe rooms along the tunnel route where people could seek shelter and avoid being trapped.
---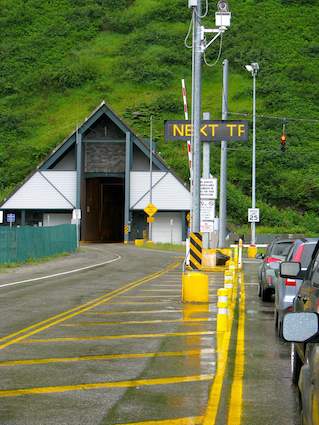 Returning Home
It's much the same story on the return route. We were delayed momentarily but we also got to see an Alaska Railroad passenger train leaving Whittier on the way to Anchorage. That was one of the highlights of the drive which we were able to capture on video (above). It felt really strange driving through once the train cleared the tunnel, with the smell of diesel smoke still hanging in the air.
The Whittier Portal has a similar A-Frame shape as the Portage Lake side. The design was chosen specifically to survive major avalanches which is certainly a possibility in this snowy, mountainous area. Look under the roofline directly left and right of the tunnel entrance. These are storage areas including room for a fire truck. Directly above that are large exhaust fans that keep fresh air moving into the tunnel at all times while venting noxious fumes emitted by vehicles moving through the tunnel. Every space associated with the tunnel has a purpose.
This is an amazing route for those who enjoy engineering marvels, interesting road trips, or those who may be rail fans.