<-- if you enjoyed this page, please consider clicking the +1 button. Thanks!
Captain Cook State Recreation Area
near Nikiski, AK (July 2010)
| | |
| --- | --- |
| | |
| Shoreline Along Cook Inlet | Cap't Cook State Recreation Area |
We traveled along the Kenai Spur Highway, heading past Nikiski on the way to Captain Cook State Recreation Area where the road ends at milepost 36. Literally, one can go no further on the public road system on the northwest side of the Kenai Peninsula.
This remote area is far removed from just about every other visitor on the Kenai. This is definitely removed from the beaten path. It's a striking place set along Cook Inlet, named in honor of the English explorer James Cook who sailed through these waters in 1778. We happened to visit on a clear, crisp sunny afternoon and we could see the oil platforms strung along the inlet. We could see all the way across the inlet to a distant mountain range. The views ranged as far as the eye can see.
---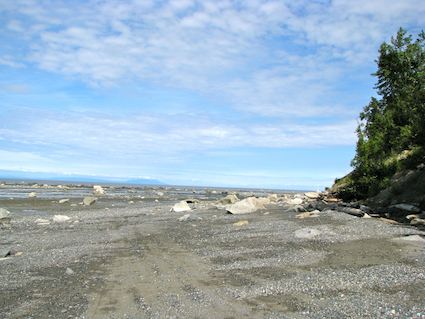 The Rocky Beach
There's not much activity along this isolated coastline, but that's the point. It's exactly this quality that makes it so endearing. We spent much of our time here beachcombing for agates, using the Discovery picnic area as our base. The broad flats are littered with small pebbles that have been washed and polished by the waves over time. Stones contained every color imaginable, with solids, stripes, spots, flecks in wonderful patterns. It was hard to decide which ones to collect and which ones to leave behind.
We stuck primarily to beachcombing but the park has other activities too. There are plenty of opportunities for wildlife viewing and bird watching. There is also an inland pond contained within the park's 3,500 acres, with a swimming beach and opportunities for offering opportunities for canoeing and boating. Camping facilities are available although we didn't avail ourselves, stopping here as a day trip.
We saw maybe a half-dozen other visitors but otherwise we seemed to have the place mostly to ourselves.
---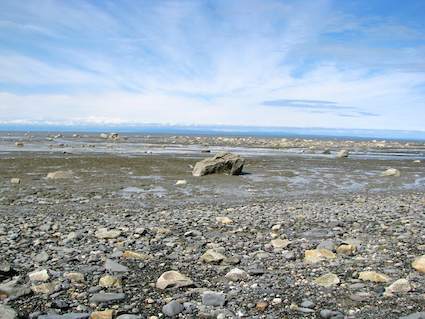 Some of the World's Largest Tides
We arrived at low tide. Notice the wet mudflats nearby and look out towards the horizon. Water does indeed cover that entire distance depending on the time of day. The tides are immense and they are reputed to be the second greatest tides in the world, lagging behind only the Bay of Fundy in Canada. The Alaska Department of Natural Resources cautions against walking out to the flats and warns that "the tide can move-in four times faster than you can run." I'm not sure how accurate that might be, but simply judging the distance that must be covered by two tide cycles per day, maybe there's some solid truth behind it. Either way, I didn't want to test the theory so I remained near shore.