<-- if you enjoyed this page, please consider clicking the +1 button. Thanks!
The Howder GEDCOM file
Converted to HTML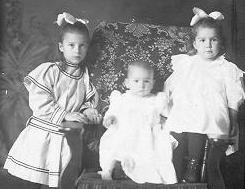 Helon, John Jr. and Doris McGaughy circa 1908
---
---
Index of Individuals and Surnames
I have converted my entire GEDCOM file to HTML, deleting information about living people. You can start viewing it one of two ways.
---
Pages with Photographs and Waypoints
I am lucky enough to have vintage photographs of a few family members. Rather than search through the entire site, you can
jump to the correct file directly from the photograph page
.
I have also visited a number of my family sites and have recorded waypoints for them. You can find longitude and latitude coordinates and jump to maps from the waypoints page.
---
Caveats, Appropriate Use and More Detailed Information
All work Copyright © 1995-2011.
All Rights Reserved.
You may use information on these pages for your personal research. You may not use a robot to download every file on this site in order to recreate a single database file. I will consider sending the source GEDCOM or a subset case-by-case, upon request. Also, please, a simple acknowledgement that you got your information from my web site would be appreciated. I can't tell you the number of times I've seen my work ripped-off wholesale (including typos) on other peoples' web sites and presented as their own.
YOU MAY NOT USE ANY INFORMATION ON THIS SITE FOR COMMERCIAL PURPOSES UNDER ANY CIRCUMSTANCES.
I feel very strongly that as a matter of privacy I will not include information about living individuals. I have deleted several hundred records from my personal database to create this publicly available set of files. If you should notice a record that involves a living person, please let me know and I will remove it immediately.
As with all secondary genealogical sources, nothing can take the place of your own hard work and conclusions. While I have attempted to print the best information available to me, it does not mean that everything I provide is necessarily correct. New information comes to light all the time! As an example, the first four or five generations of my Sylvester lineage have been well researched by several genealogists who do not agree on all points.
I have more information on some of the families and eventually I will create a detailed page for my Howder, Sylvester and McGaughy lineages (a page for my Hull lineage has already been completed). However, for many other lines I may not have any information other than that which is already contained in the GEDCOM file upon which this web page is based. If you think you may be related to anyone on my site, please use the "comments" button at the bottom of the page and send me a message. I'll be glad to trade information with people who will use it responsibly.