That's great! Thank you for thinking highly enough of my hard work and efforts to consider using one of my images on your website. Since you took the time to check this page I know that you are an ethical and reasonable person who wants to make sure that you do the right thing by complying with copyright law. Therefore, I give you permission to link to one of my images as long as you provide a proper citation and a link-back to my website. You can cut-and-paste the following block of code into your HTML file to provide the citation:

<font size="1"><a href = "http://www.howderfamily.com/">Image courtesy of Howder's Site</a>.</font>

On your website the citation will look like this: Image courtesy of Howder's Site.

As an example, if you want to use my photograph of the Sydney Australia skyline, your final product with citation might look something like this: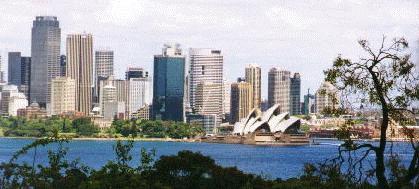 Image courtesy of Howder's Site.
Isn't that easy -- and unobtrusive? If you want to be really nice and if you know a little bit about HTML code, you can always link back to the actual page on my website where you found the image. That's not necessary though. Linking to the front page as described above is sufficient.
Benefits of proper citation.
You're probably asking yourself why you would want to provide a proper citation when "it's just this one picture" and "everyone else links to images without attribution." The main benefit is that by linking in the manner I describe above, not only does this image contribute to the visual improvement of your website, but you can know in good faith that you are in full compliance with copyright law since I am giving you permission to incorporate my work. In return I might get a few links from your readers so I benefit too. We both win.
When someone links to one of my images without a proper citation I lose bandwidth for my legitimate traffic because I get hundreds or thousands of hits on the hijacked image. This makes me cranky. It takes only a few minutes for me to figure out the referring website, and I like to playfully switch the graphic to something amusing or obnoxious depending on my mood. If it's an image of a historic building I might switch it to a trailer park or an outhouse. You get the point.
Thank you again for your understanding and courtesy. I hope you find this to be a convenient and reasonable solution.