Day 2 along Wisconsin's portion of the Great River Road began in La Crosse at the same leisurely pace from the previous day. We would stray from a purely Wisconsin route later in the day, crossing the Mississippi River into Iowa using the Cassville traverse. From there we looped back to the north along the western bank, crossed the river again and completed our trip in Prairie du Chien, WI.
View Larger Map
These are the Day 2 waypoints used on our journey. I pre-programmed them into a Nuvi GPS mounted on our windshield to help keep us on track. The Nuvi tends to do best between major locations on large roads. It's not so great on obscure roads or exact endpoints. Keep that in mind and bring along paper backups. Old fashioned fold-out maps and Internet printouts come in handy when the GPS freaks out, and it will happen so plan accordingly. Perhaps I'm overly cautious or perhaps I simply like maps, but I generally have two or three redundant means to navigate between locations.
I found it infinitely more relaxing to punch in a new waypoint every few miles than tolerate the annoying Nuvi woman's exasperated recalculating admonishment. Insistent little witch that Nuvi, and more demanding than the kids in the back seat (who were suitably anesthetized by video games and DVD's). My wife calls Nuvi the "yelling lady" and was ready to throw her out of the window after the second day. Anyone who owns a Nuvi knows exactly what I mean.
We approached Ferryville, Wisconsin south of La Crosse during the morning. A thick cloud cover from the previous day had lifted, blown halfway across the Great Lakes by this time. A sunny day accompanied by a stiff westerly wind greeted us as we cruised along the bluffs. We had the roads practically to ourselves once again.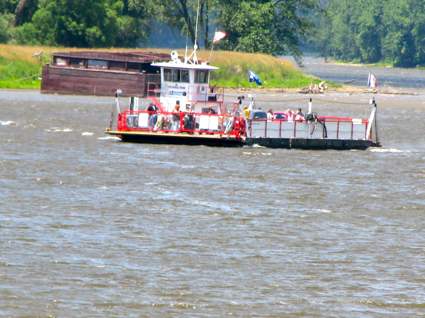 Regular readers of the Twelve Mile Circle realize that I am an aficionado of ferry travel, and I'll go out of my way to find one. I'd targeted the Cassville Ferry the previous year but it had been discontinued temporarily due to flooding. I feared I might suffer a similar fate because of the wind, but I checked their website and everything looked fine. Apparently wind isn't a problem and we crossed without difficulty.
I took some great video and many more photographs, and you can check that out on my permanent site.
Most people taking a similar route, crossing here at Cassville would probably head straight up to Guttenberg, IA at this point. However I took a southern detour for reasons that will be explained in a future article. Anyone wishing to replicate this journey can safely ignore the southernmost jaunt on my path and save about twenty miles of extremely rural driving. I will say that it is some of the most beautiful farmland I've ever observed and it might be worth a detour simply from an aesthetic perspective.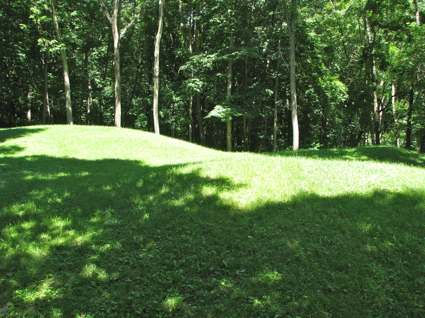 My Iowa target was the Effigy Mounds National Monument, a unit of the U.S. National Park Service. It's located just north the binary towns of McGregor and Marquette with their tourism foucs and a tacky casino with a fiberglass pink elephant in a top hat out front. That contrasted sharply with the purpose of the nearby Effigy Mounds. Native Americans placed hundreds of sacred ceremonial and funereal mounds along the Mississippi River bluffs a thousands and more years ago. Little is known of these nomadic people besides the enigmatic mounds they left behind.
Mounds take various shapes such as effigies of birds or bears, or more plain forms such as the conical structures pictured above. Well-groomed hiking trails wind among the mound groups and along the bluff.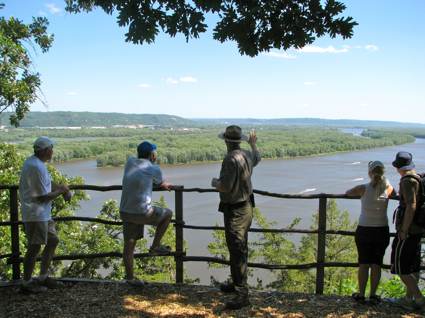 We hiked one of the shorter trails, leading from the Visitor Center past the Little Bear Group and up to Fire Point, a distance of about a mile. A park ranger explained local history as well as pointed out some of the landmarks that could be seen from this elevated perch. This particular view looks downriver towards the south. Prairie du Chien, our final stop, could be seen in the distance on the opposite bank.
Under
Borders
,
Cities/Towns
,
Elevation
,
History
,
Nature
,
Roads
,
Terrain
,
U.S. States
,
Water
| Taged
Cassville
,
Effigy Mounds
,
Ferry
,
Ferryville
,
Fire Point
,
GPS
,
Little Bear
,
Nuvi
---