Every geo-blogger on the planet is covering the Eyjafjallajökull eruption. I'm not going to do that, or rather, I'm taking an entirely different approach because you know it's happening and there are others who can cover this event a whole lot more eloquent than I can. By now everyone is aware of the location of the eruption but I'll dutifully repeat it because I'm feeling a bit lazy this evening.
View Larger Map
So I have this rock.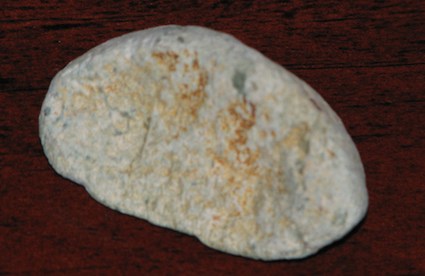 I picked it up at Landmannalaugar, a park in Iceland that's about 25 miles north-northeast of Eyjafjallajökull. It came from one of the Hekla eruptions probably, but really, Iceland is one large volcano so that detail isn't particularly important or useful. Hopefully I didn't violate some cultural norm by taking an artifact from Iceland. I'll gladly return it if Icelandair would be kind enough to provide free transport.
It's feather-light and an odd light green color reminiscent of some nasty whipped jello desert you'd see at a Lutheran picnic. Continuing on the pseudo-food theme, it has a texture and density similar to "circus peanut" candies. You know, the light orange ones with the sickly banana flavor? None of you have any clue what I'm talking about, do you?
Yes, if anyone finds any of those spewing from Eyjafjallajökull, let me know. Those rocks are really cool.
I also have a more serious purpose. I'm wondering if any of our European readers have been impacted by the eruption. I already know of one friend-of-a-friend who is likely stranded away from his family for the duration. Hopefully that's not the same for any of you. I remember being stranded more than a thousand miles from home on 9-11 and I know it's not a comfortable feeling. Godspeed if you're in that situation tonight.
I remember the Mount Pinatubo eruption of 1991. The only impact was great scenic sunsets for a number of months. Hopefully the same will be true here.
---