A number of regular Twelve Mile Circle readers track to IP addresses in Ohio. With that in mind I thought I'd throw in something special their way, a Google Maps compilation that I recently stumbled across called "Weird Ohio Explorations."
I've had some fun poking around the waypoints the developer included on the map. You probably don't even have to have a connection to Ohio to appreciate many of them although it might be useful.
Have any of the Ohio readers seen these sights?


View Weird Ohio Exploration in a larger map

It's a little heavy on spooky supernatural stuff that doesn't hold much appeal to a skeptic such as myself. Thankfully, however, there are enough boldly wacky spots to hold my interest. I've reproduced some of the attractions the developer mentioned in Street View for your amusement.
Here's a water tower shaped like a pumpkin in Circleville, Ohio.

View Larger Map
---
This isn't just some large basket, rather it's an entire functional building shaped like a basket. It's the home office of the Longaberger Basket company in Newark, Ohio. Their website explains that it's composed of stucco over steel.

View Larger Map
---
This is an entire park filled with concrete corncobs in Dublin, Ohio. Good lord, it's is so bizarre it borders on brilliant.

View Larger Map
---
Here I've sneaked in something historical. It's not weird at all but I like historical sites so I'm invoking Writers Prerogative. It's part of the Hope Iron Furnace complex (circa 1854-1874) in Allensville, Ohio.

View Larger Map
If you would like me to focus some attention on your state our country please let me know and perhaps offer some suggestions. I get great tips from viewers and love to explore areas I haven't covered before.
---
Something totally unrelated
One of the search engines forwarded a viewer to my site earlier this evening under the search term "nice big mounds." Do you think the viewer may have been a tad bit disappointed when the image he requested produced the following?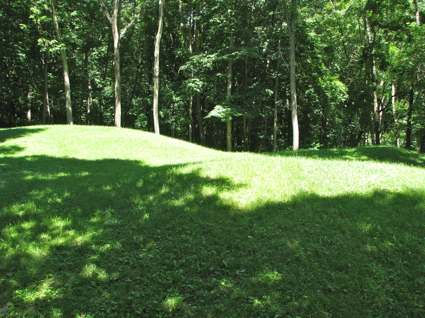 These, of course, are ancient conical mounds found at Effigy Mounds National Monument in Iowa that date to before the arrival of Europeans in North America (featured in Wisconsin's Great River Road, Day 2). They are indeed nice big mounds.
---