Traffic circles or roundabouts are a common design that circulates traffic safely and efficiently through intersections in many parts of the world. They are much less common in the United States where many drivers tremble with fear when encountering one. That is the exact situation being experienced this week by commuters and tourists in Washington, DC, according to a June 16, 2010 article in the Washington Post.
View Larger Map
Legendary traffic bottlenecks form at the intersections of New York and Florida Avenues in the northeast part of the city. This is a product of the original city design, where diagonal avenues overlay a traditional grid. It may have been an innovative concept back in the early Nineteenth Century when people got around on horseback, and I suppose even today for the fans of the numerous pocket-parks formed by all those crazy intersections, but it's not so wonderful for modern automobile traffic.
Traffic engineers have responded by creating a virtual triangular-ish traffic "circle" by incorporating First Street and D Street into a rotary design. Traffic on New York Ave. still goes in both directions so actually it's Florida Ave. that experiences the greatest impact as it spirals into the vortex. It's hard to tell exactly. It all looks rather confusing, and maybe that's the problem.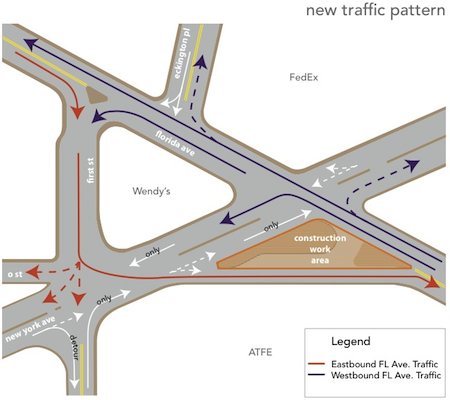 SOURCE: District of Columbia Department of Transportation

Commuters will get used to a new pattern rather quickly through daily use but tourists will continue to suffer for awhile. New York Ave. is designated as U.S. Route 50 and it's a major approach into the city for drivers coming from the east. The article includes a lot of column inches explaining the situation this has created for people who rely too heavily on Global Positioning System (GPS) technology. It will take several months for the new pattern to filter into electronic maps and it's going to cause problems until that happens.
Are there similar virtual roundabouts elsewhere?
---