It struck me that I'd gone really north and really west when I was in Alaska, perhaps the farthest I'd ever been in either direction. That made me wonder about the most extreme latitudes (north/south) and longitudes (east/west) I'd visited during my lifetime. I was wrong on both counts by the way; Alaska was neither greater north nor south than other places I'd visited before, but I still enjoyed figuring it out.
I calculated the four extremities to create what I call my "travel box." It demonstrates graphically that I have to work harder if I want to travel to greater extremes in latitude or longitude.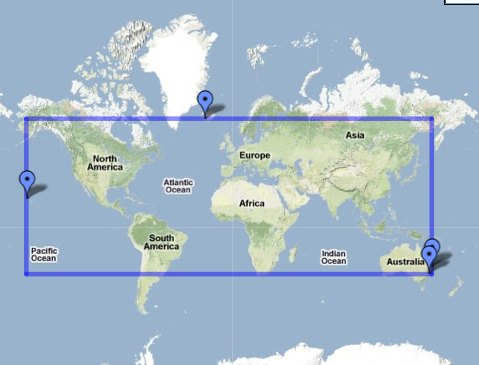 This is a screen print, not the usual interactive Google Map. I tried, but Google had trouble displaying it properly. You can try it out yourself if you like. I grew frustrated with it after attempting to get it to embed correctly for about an hour.
You'll notice four push-pens on the map. Those are anchors representing my four most extreme points. North and South have the most meaning to me. East and West are arbitrary because it's based on the Prime Meridian which is an artificial construct. People living in England are going to have a hard time scoring well on east-west differences, but that's what they get for stealing the Prime Meridian. I call it payback. Just kidding. On the other hand, people at the tail end of the Aleutian Islands have it made.
---
NORTH
The farthest that I've ventured North is Reykjavík, Iceland at 64.14° N.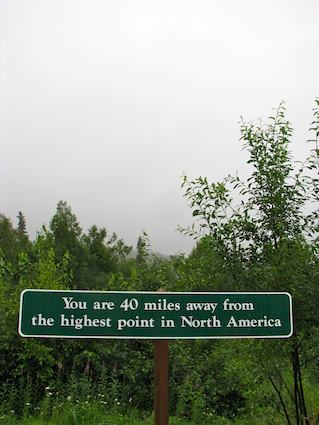 As I mentioned, it was not Alaska. I got only as far as 62.27° N. on the southern edge of Denali State Park. Forty miles from the highest point of North America? Hmm… you tell me. This vantage was supposed to provide an awesome view of the might peak but all I saw of Denali (Mt. McKinley) was a great white wall of clouds. It could have been as flat as a pancake for all I know.
---
SOUTH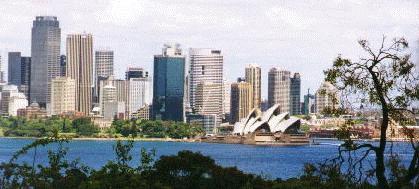 I have no problem figuring out my most extreme southern travel. It was Sydney, Australia. I encountered a little surprise when I calculated the exact spot. It's a runway at Sydney Airport, at 33.97° S. This is the most feeble of my extremities. I live in the northern hemisphere so I'm at a natural disadvantage on this one. Our readers in Australia and South Africa, and there are several of you, have a good start on this one simply by birthright.
---
EAST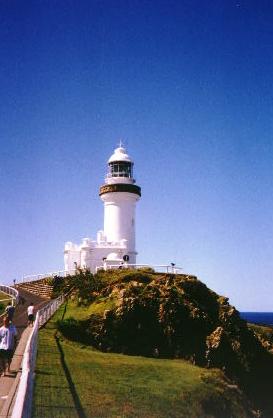 Wow, I'm back in Australia again. This example is a little better than the airport runway though. It's a genuine geo-oddity, the easternmost point on mainland Australia: Cape Byron in New South Wales. The lighthouse located on the cape extends to 153.64° E. Australians have a good start on this game especially if they live in southeastern corner of the country. New Zealand has it even better.
---
WEST
Finally, looking west, my most extreme location is Koke'e State Park on the island of Kauai, Hawaii, USA, which equates to 159.68° W. It wasn't the Alaskan geo-oddity at Anchor Point that I covered in a previous article, and that was too bad, but it was another dis-attached part of the United States so I'm fine with it.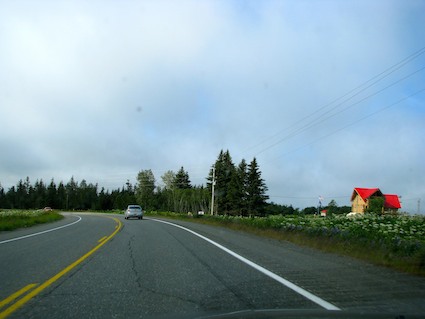 ---
Latitudes range from 0° at the equator to 90° at the poles, a total of 180. Mine is 64.14 + 33.97 = 98.11, or 55%. I have lots of room for improvement here.
Longitudes ranges from 180° on both sides of the Prime Meridian, a total of 360. Mine is 153.64 + 159.68 = 313.32 = 87%. That's quite a bit better.
How did you do? How big is your travel box?
Under
Distance
,
Latitude
,
Longitude
| Taged
Alaska
,
Australia
,
Cape Byron
,
Hawaii
,
Iceland
,
Kauai
,
Koke'e
,
Lighthouse
,
Reykjavík
,
Sydney
---