As covered in the prior post, Trail Ridge Road reaches stratospheric elevations as it becomes the highest continuous highway in the United States, cutting straight through the splendor of Rocky Mountain National Park. Visitors climbing the summit from Estes Park, Colorado encounter another noteworthy feature along this remarkable road after they pass the highpoint and the Alpine Visitor Center, heading downhill. At Milner Pass the highway crosses over the Continental Divide.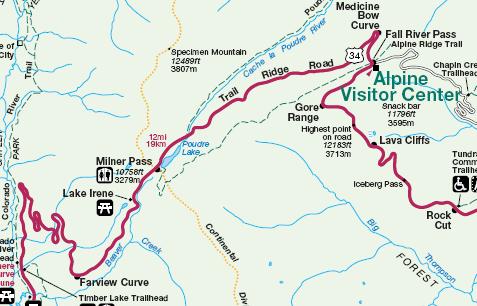 Source of map: United States National Park Service; http://www.nps.gov/romo/planyourvisit/maps.htm

---
In truth there are several continental divides in North America. Some are specific to the United States and some to Canada, with others shared in common. The best known of these is often called the Great Divide, a physical contour separating east from west. Water on the eastern side will flow either to the Gulf of Mexico or the Atlantic Ocean. Water on the western side will flow to the Pacific Ocean. When the term "Continental Divide" is used without qualifiers it generally means the Great Divide, and that's the famous line crossed by Trail Ridge Road at an altitude above 10,000 feet.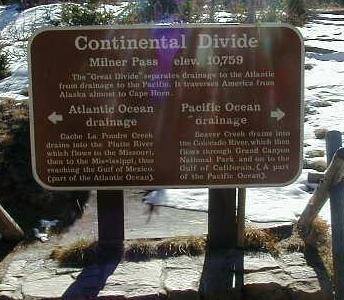 Continental Divide

Milner Pass elev. 10,759

The "Great Divide" separates drainage to the Atlantic from drainage to the Pacific. It traverses America from Alaska almost to Cape Horn.

Atlantic Ocean drainage [arrow pointing left]

Cache La Poudre Creek drains into the Platte River which flows to the Missouri, then to the Mississippi, thus reaching the Gulf of Mexico (part of the Atlantic Ocean).

Pacific Ocean drainage [arrow pointing right]

Beaver Creek drains into the Colorado River, which then flows through Grand Canyon National Park and on to the Gulf of California (A part of the Pacific Ocean).
Thus, there are two remarkable geographic features in a short stretch along Trail Ridge Road: the highest point of contiguous highway in the United States; and the boundary that marks the Great Divide. Along with that comes some of the most incredible Rocky Mountain scenery imaginable, worth a journey all on its own.
Under
Borders
,
Elevation
,
Roads
,
Terrain
,
Water
| Taged
Alpine
,
Cache la Poudre
,
Continental Divide
,
Estes Park
,
Great Divide
,
Milner Pass
,
Platte
,
Rocky Mountain National Park
,
Trail Ridge Road
---