Highpointing makes me feel conflicted. I love highpoints conceptually and I have nothing but the greatest admiration for those who collect them. I've featured some of these people in the past and of course I'm not beyond partaking myself whether at the state or county level. Highpoints, quite simply, represent perfect fodder for discussion on the Twelve Mile Circle.
Then why am I bothered? Because I'm lazy. Highpointing requires direct physical contact with the point of maximum elevation for a predefined area. That might not pose much of a dilemma for someone located in the Maldives (highest elevation 2 metres) but it's a huge challenge for someone in Nepal (highest elevation 8,848 metres). If I can't drive-and-dash then it's probably not going to happen for me.
Fortunately Wisconsin presented just such a minimal-effort opportunity.
View Larger Map
Timm's Hill has the noteworthy distinction of being the officially-recognized Wisconsin highpoint. It's not like climbing to the summit of Denali or Mt. Whitney. It's not even a mountain, actually. Wisconsin's greatest elevation is a pile of debris left behind by Ice Age glaciers, a modest 595 meters / 1,951.5 feet above sea level. The moraine sits in a rustic and picturesque northern part of the state within a well-maintained county park.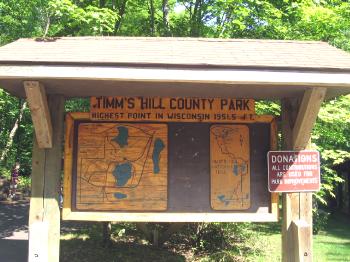 Timm's Hill Trailhead
In addition to the state highpoint, the park completely encompasses Bass Lake and abuts Timm's Lake (don't know anything about Alcohol Pond but I'm intrigued). A one-way ring road circles the entire park with the Timm's Hill parking lot located about halfway around. This sheltered sign greeted visitors at the trailhead. From there it was about a ten minute walk up a modestly inclined forest path. We completed our assault upon this notable summit with two small children in tow and soon found ourselves on Wisconsin's roof.
While the highpoint is the main feature of this 220 acre park, it is by no means the only activity. Fishing is popular, as is hiking along portions of the National Ice Age Trail that run through the area. There are also picnic shelters, a swimming beach and public restrooms. Winter brings out cross-country skiers and snowmobiles. It's similar to many of the nice parks I've visited on my journeys but with one unique distinction: it's the only county park in the United States with its own State highpoint.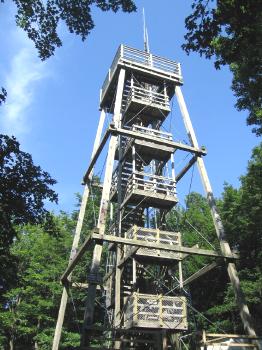 Tower on the Summit
Two narrow towers offered panoramic views of the surrounding countryside from the summit. The wooden tower in this photograph provided the easier access with a pleasant switchback staircase leading up six levels to an observation deck. A second, scarier steel tower stood just behind the wooden structure. It seemed to be a communication tower. A narrow metal ladder led to a claustrophobic shack adorned with an antenna. It rose only marginally higher so we didn't bother climbing it. We'd already conquered the summit, and frankly I'd rather walk back down the hill than fall.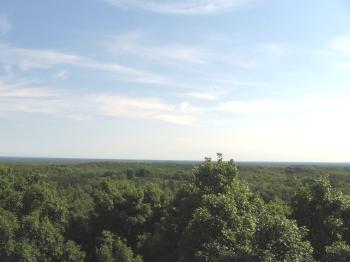 A View from Wisconsin's Roof
This was a typical view from the top of the wooden tower. Forest stretched in all directions, dotted by ponds, farms and country roads. Large hills appeared on the horizon. They must have been close to the same altitude as Timm's Hill, but apparently not quite high enough to win the prize.
This view would have been impossible without the tower. Forest completely covered the summit and we wouldn't have been able to see above the treeline. We enjoyed the view for awhile, took the kids to the playground down by the parking lot, and marked this down as another successful strange geography travel adventure.
To get to Timm's Hill, take Highway 13 to Ogema, then go down Highway 86 east for 5 miles, south on County Road C for about a half-mile, and finally east on Rustic Road 62 for another half-mile. It's marked pretty well so it shouldn't be hard to fine. Or ask for directions in Ogema. Judging by the signs along the main road through town, the local inhabitants take great pride in their geographic distinction and they would surely know how to provide directions.
---