I've been traveling recently, in fact, I've been closer to the Twelve Mile Circle than I've been in quite some time. During those travels I was able to stop by the Transpeninsular Line. In this blog I discuss various odd geographic topics that happen to interest me, and the Transpeninsular Line is certainly one of those. However, when I'm lucky enough to actually have an opportunity to visit such a spot, as I've now done with this one, I put together something much more elaborate than a blog posting as part of my Strange Geography USA website. That's the case with this topic, and here's a tantalizing preview.
A waist-high stone marker sits directly in front of the Fenwick Island Lighthouse, jutting from the brick sidewalk just steps away from the curb on the north side of Ocean City's 146th Street. This signifies the border between the states of Maryland and Delaware. It also marks the eastern terminus of the Transpeninsular Line surveyed between 1750 and1751 that settled part of a long-standing, conflicting land grant dispute between the Calverts and the Penns.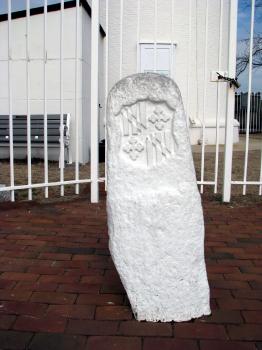 So take a look at my Transpeninsular Line web page. Learn more about this unusual geographic spot and the Fenwick Island lighthouse that stands before it.
Under
Borders
,
Government
,
History
,
U.S. States
| Taged
Border
,
calvert
,
Delaware
,
Fenwick Island
,
Maryland
,
Penn
,
Strange Geography
,
Transpeninsular
,
Transpeninsular Line
---