We drove towards a rather obscure spot during our travels around southern Wisconsin this week. I've had a fascination with artificial points of significance for some time so I wanted to add another one to my growing list of accomplishments. Some people like to climb mountains. I like to stand at places of no particular importance other than someone decided that they should be important. Regular readers may remember some of these earlier encounters:
This was no exception, but this one may have been the most unusual. It was known as the Point of Beginning (now going by another name coined by my wife, "your dumbest adventure ever," although I'm sure that one isn't recognized by the government. Yet.).
View Larger Map
The historical marker explains this much better than I, so let me quote directly from the official text.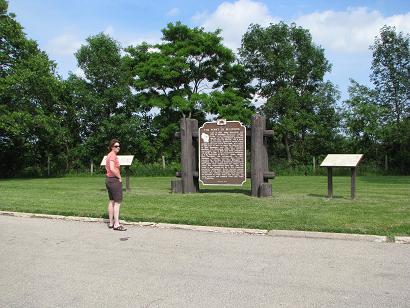 THE POINT OF BEGINNING. Late in 1831, when Wisconsin was still in Michigan Territory, Lucius Lyon, U. S. Commissioner on the survey of the northern boundary of the State of Illinois, set a post and erected a mound of earth 6 feet square at the base and 6 feet high, at a point 1/2 mile east of here to mark the intersection of that boundary and the 4th Principal Meridian. The Wisconsin public land surveys were begun here in 1832 and were completed "up north" in 1867. Lyon surveyed 16 townships in S. W. Wisconsin in 1832-33, which opened this Territory for settlement. In 1833 Michigan Territory honored this veteran surveyor by electing him their Delegate to Congress. The post and mound he erected at this point were obliterated by fence and power line construction long ago, but the point is now preserved by a new concrete surveyor's monument. Every section corner monument in the state; the boundaries of each county, city, village, township, farm and lot; the position of roads, lakes and streams, all were surveyed and mapped from this Point of Beginning.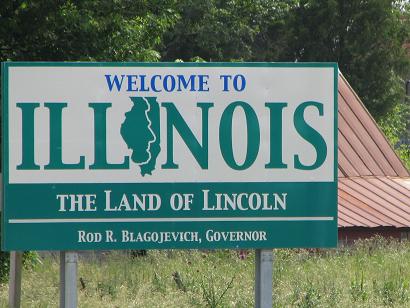 I think this pretty clearly describes the significance of the point, but how does one get to it? As the sign explained, it's not right here but rather 1/2 mile to the east. The easiest determination is that by definition it rests upon the shared border of Wisconsin and Illinois, so if you travel south from the village of Hazel Green and reach this sign then you've gone too far.
Of course I had to find the exact spot so the trick was to find a way due east.
A narrow gravel farm road cut in the proper direction. The correct way to do this would be to park at the roadside marker, take out a reliable handheld GPS device, and walk ten minutes down the road to the exact spot. I did it the wrong way.
I have a lot of experience driving on country roads so I was feeling pretty confident, but this one soon deteriorated into a footpath without turnarounds. It was no place for a small car. I'm sure I came within feet of the actual marker but I never did find it, probably because I was too busy trying to back-up for half a mile, worried that I'd fall into one of the steep ruts and get stuck. The grass was overgrown along the roadway which I'm sure further obscured the marker, so again, try this one on foot.
I didn't reach this one but frankly I was happy to have my car intact. I think I'll write this one off as "close enough."
---