One little neighborhood in Las Vegas, Nevada filled me with such joy.
Thata Way (zoom in one more level)
It first came to my attention for Supreme Court and then played a starring role as Curdsen Way in Little Miss Muffet. Now it's inspired me a final time with Thata Way. It's pure geo-oddity gold. I've pretty well exhausted the neighborhood, though. I'll spare readers an article on its sole remaining street, Better Way.
Searches led to several distinct categorizations of the various Ways. I can't guarantee I found every instance available, and in fact I'll bet that I've missed piles of wonderful examples. Google Maps tried to outguess me by presenting results after geolocating my IP address. I suspected that people in other parts of the United States or in other parts of the world would see something different.
The idiomatic use of thisa and thata so reminiscent of vintage cinematic cowboy Westerns of generations past, fell into neat little neighborhood clusters, often combined with other unusual Ways.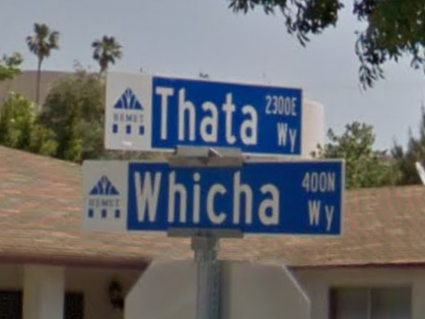 SOURCE: Google Street View, Hemet, California; May 2012

Silverado, CA (map): Thisa Way; Thata Way; Whila Way; Hidea Way and Bytha Way.
Hemet, CA (photo above): Thisa Way; Thata Way and Whicha Way.
Shelby, NC (map): Thisa Way and Thata Way, although it got extra credit for having a completely distinct and standalone Bytha Way more than a mile and a half removed!
Toledo, WA (map): Thisa Way, by itself.
These all formed into a category I called "cute and social." They were meant to be amusing and whimsical. I'm not sure whether someone living on Bytha Way would necessarily endorse that sentiment (by the way) although I believe the developers had good intentions.
---
I noticed a similar theme without the extraneous letter "a" appended — thisa became this and thata became that.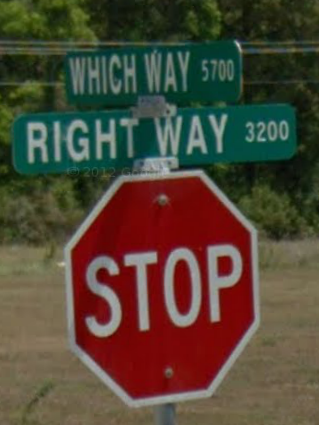 SOURCE: Google Street View, Houston, Texas; June 2011

Houston, TX (photo above): This Way; That Way; Right Way; Same Way; Which Way; Straight Way; My Way and Any Way.
Knik-Fairview, AK (street view): This Way; That Way and the inexplicable Finally Here.
Pharr, TX (map): This Way, That Way, Any Way, Merry Way, Which Way, Every Way, Lovely Way, Funny Way, and then it started getting lame with a bunch of citrus-themed Ways. It also earned a bonus for the adjacent neighborhood to the south with the Wizard of Oz theme (Scare Crow; Tinman; Lion; Dorothy, and Yellow Brick).
Citrus Heights, CA (street view): This Way, by itself.
Santee, CA (street view): Our Way probably deserves at least an honorable mention.
I called this category "cute and social, with correct spelling."
---
Then the humor started taking a slightly standoffish tone and occurrences were more individualized than clustered.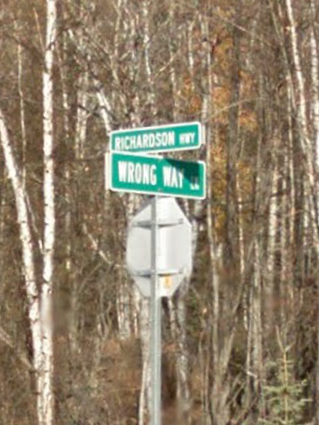 SOURCE: Google Street View, Salcha, Alaska; October 2011

Wrong Way: The example from Salcha, Alaska (photo above) is actually Wrong Way Lane so I apologize in advance. I wanted to use Wrong Way in Cary, NC, however someone stole the sign and left behind only a bare pole (street view).
Getta Way and Hida Way: There were many of these and I didn't feel like cataloging all of them. I guess I should be happy that I didn't find Getoutathe Way, although I did uncover Outta Place in Anchorage AK (street view).
I didn't find Sneaka Way or Slipa Way either. I'm able to make an exclusive offer to 12MC readers — be the first person to claim those street names!
---
Then came the category for hermits, survivalists, and misfits.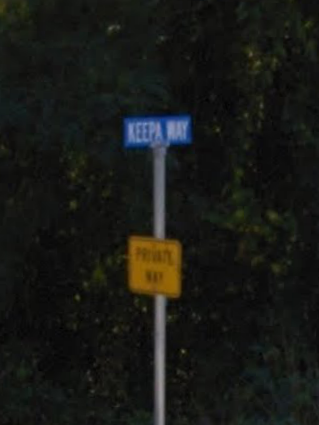 SOURCE: Google Street View, Gorham, Maine; September 2011

Goa Way: I suppose Goa references could pertain to the state in India although most of the places seemed to be found in remote locations like Hedgesville, WV (street view). I think it's more a warning to possible visitors than an allusion to Portuguese colonialism.
Keepa Way: The best example was found in Gorham, ME (photo above). Below the street name, notice the other sign that reads "private way." Another sign nearby specified that drivers should not enter the road because it was one way only. However, checking satellite images, I noted that there was only one way in and only one way out, and that was Keepa Way. Keep away, indeed!
---
I'll wrap up with a complete oddball.
Walk This Way
Even better than Finally Here was Walk This Way. That's right, someone in Great Mills, Maryland must have been a Classic Rock fan. What else could explain the naming of a street after Aerosmith's 1975 composition, "Walk This Way," unless it was their 1986 collaboration with Run–D.M.C.? Now I have both versions stuck in my head, alternating, and taunting me.
AND last place goes to American Way, not because I have any issue with the American Way conceptually but because it was used so frequently as a street name that it become trite. It was right up there with Easy Street and Memory Lane.
Under
Roads
| Taged
Aerosmith
,
Alaska
,
California
,
Gorham
,
Hemet
,
Houston
,
Las Vegas
,
Maine
,
Nevada
,
Run–D.M.C.
,
Salcha
,
Texas
---