Last October I took a trip through various parts of northern West Virginia to count some counties. This included a stopover in Morgantown, home of the state's flagship West Virginia University. I had to bypassed this area a number of times previously so I enjoyed being able to stop for once.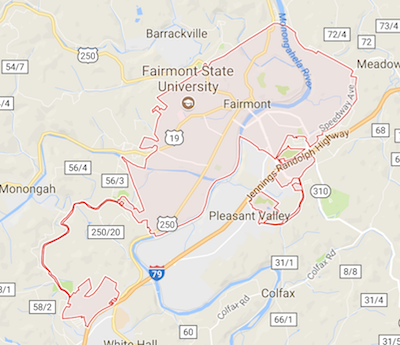 Fairmont, West Virginia
via Google Maps

Research at the time brought my attention to the nearby town of Fairmont. I noticed that Fairmont included a long tendril with a bulb on its southern end. It almost looked like an umbilical cord, literally just the width of a road for a couple of miles. What could possibly be so important that the town had to reach out like that and make sure this acreage fell within its borders? I should have been tipped-off by my numerous drives up and down I-79 over the years. I'd noticed an office park with huge satellite dishes by the side of the highway.
---
I-79 Technology Park

Dedicating New, Innovative North Central Advanced Technology Center.
Photo by Governor Earl Ray Tomblin on Flickr (cc)

Sure enough, those dishes appeared within the confines of the I-79 Technology Park. This served as West Virginia's answer to North Carolina's Research Triangle Park. WVU, a major research university, sat just twenty minutes up the road and offered a solid anchor. The facility contained 750,000 square feet (70,000 square metres) of building space. These housed data centers and offices for 30 businesses, where 1,500 people worked (map). Many of those jobs were solid, high-paying scientific an engineering positions too. No wonder Fairmont claimed it.
The government also maintained a visible presence there. The National Aeronautics and Space Administration operated its Independent Verification and Validation program on the campus. There it tested all of its mission critical software, a program created as a result of the Space Shuttle Challenger Accident. The National Oceanic and Atmospheric Administration ran a supercomputer center there too.
These facilities should help dispel the myth that everyone in West Virginia works in a coal mine. Mystery solved, I could go ahead and end this article, right?
---
Captain James Booth
Captain James Booth Memorial
Well, maybe not so quickly. The tendril — Industrial Park Road — bisected a large grassy area just as it entered I-79 Technology Park. My curiosity got the best of me so I drilled down to check it out. There I noticed the Captain James Booth Memorial. I'd never heard of Captain James Booth and I didn't know why he warranted a memorial. The memorial itself fell just outside of Fairmont's borders although I considered it close enough for my purposes.
Obviously this high-tech corridor with its data centers and satellite dishes didn't always exist in this manner. The area was on the wild edge of the American colonial frontier two hundred and fifty years ago. James Booth, an officer who served under George Washington before the United States declared independence, settled in the Monogahela Valley in 1772. He was the first person of European ancestry to live there permanently. Nobody knew much about his earlier life, though. Historians couldn't even agree on his parents or his place of birth. However he earned a minor historical footnote for the Boothsville settlement he founded in the valley, a few miles south of current Fairmont.
Five years later, Native Americans believed to be from the Shawnee tribe ambushed Booth and his party. He took an arrow to the chest and died. His memorial marked the spot of his death as well as his grave.
---
Some More Parks

Wheaties/Mary Lou Retton. Image provided by General Mills on Flickr (cc)

I noticed a small, less dramatic tendril on the eastern side of Fairmont too. The connecting feature went by a more interesting name, Pinch Gut Hollow Road. This road tethered Morris Park into the town boundaries. It seemed like a nice gesture for them to include a park although nothing made it particularly special. The 112 acre property featured nature trails, picnic pavilions, courts for basketball and tennis, and such. Again, nothing remarkable.
However, Fairmont bisected another park just where the tendril to I-79 Technology Park began. It recognized someone I'd certainly heard of before; Mary Lou Retton (map). She was one of the most memorable names from the U.S. Olympic team in 1984. Her gold medal began the United States' dominance of women's gymnastics. However, that didn't really show why a park in Fairmont, West Virginia reflected her name. Well, that was her home town, so that explained it. She lived in Fairmont up until she started getting ready for the Olympics. The town should go ahead and annex the rest of the park while they're at it.
That tendril to the I-79 Technology Park packed a lot into it. Mary Lou Retton anchored one end of it, Captain James Booth anchored the other, and of course the technology park itself formed a nice bulb for an exclamation point at the end.
Under
Borders
,
Cities/Towns
,
History
,
Roads
| Taged
Fairmont
,
I-79
,
I-79 Technology Park
,
Interstate 79
,
James Booth
,
Mary Lou Retton
,
NASA
,
Native Americans
,
NOAA
,
Shawnee
,
West Virginia
---