Having survived the highpoint-tripoint humidity challenge earlier that morning, Steve of CTMQ led Scott of The Scenic Drive and myself to the next set of Connecticut geography extremes. It dawned on us slowly that they almost all involved water in some manner.


View Extreme Connecticut Geography Tour in a larger map

The first attraction, Connecticut's highest elevated pond, appeared by the roadside just a mile or two south of the highpoint trailhead. It's called Bingham Pond if you simply must know, and it's otherwise unremarkable.
The guys gave me a pass. Steve kept the car running with air conditioning turned up high so I could continue with my much needed cool-down and rehydration. They bushwhacked through a thicket of weedy grasses, brambles and muck in search of shoreline. They were able to get pretty close. The swamp was about as dry as it ever gets and they snapped a few photos after pushing in a fair distance. I'll let Steve recount the adventure in his own words. I could see the pond from the car and called it "good enough." I didn't need to be traipsing through the mud.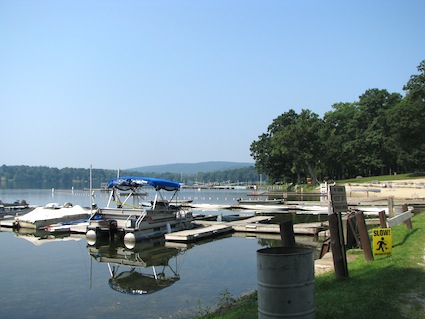 I did participate in the capture of Connecticut's deepest natural lake (Steve's description) not long afterwards and a little farther south. The name is a mouthful: Lake Wononscopomuc. Try to say that three times fast! I can't even say it one time slowly.
It doesn't take much depth to become Connecticut's deepest lake, apparently. Lake Wononscopomuc is only 102 feet deep at its maximum point with a mean depth of 36 feet. It also goes by another name — Lakeville Lake — which wins an award for circular logic. The town is named for the lake which is named for the town which is named for the lake… and so on. They may have chosen Wononscopomuc simply to stop the madness.
It had a nice, sandy beach which would probably have been perfect on a hot, humid day such as the one we faced. However we were there on a mission. We remained at Lake Wononscopomuc long enough to dip a finger in its placid waters and apply a check mark to our list, then left.
Kent Falls, the largest waterfall in Connecticut, impressed me considerably more. The waters cascaded 250 feet over several ledges, the longest of which dropped about 70 feet on its way to the Housatonic River. People seemed to be enjoying themselves at the picnic area and in a couple of different pools created by the falls.
The park instituted an alcohol ban that went into effect the day we arrived. How did they know we were coming? No worries, this was an alcohol-free adventure (until we stopped for a celebratory beer closer to the end).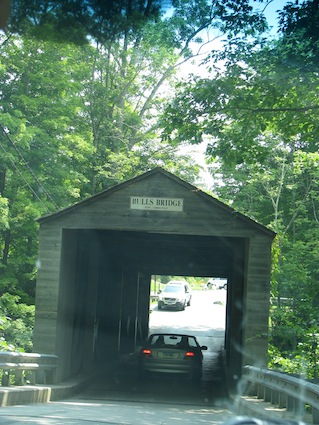 We took a short detour from our intended route so we could cross the Housatonic River on Bulls Bridge outside of Gaylordsville. "The Bulls Bridge is a one span Town Lattice and Queenpost Truss with a total length of 109 feet." This historic covered bridge dated to 1842 and seemed to be attracting a lot of tourist attention. This was a stop of convenience, a worthy detour simply because it was minimally out of our way.
We weren't aware of any "extreme" designations for the structure so Steve made one up. It's rather plain so it became the Homeliest Covered Bridge in Connecticut, and maybe all of New England. We weren't sure on that latter point and offered that up in case someone wanted to challenge it.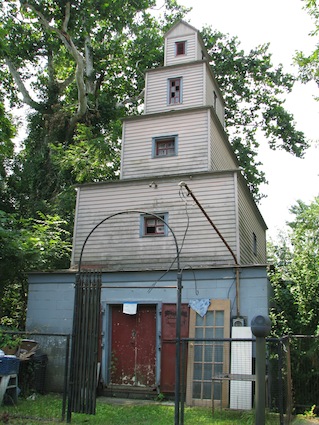 The only stop along this segment that failed to conform to the water theme came next, just a couple of miles later. Check out this weird little wedding cake home. The builder designed it intentionally as a spite house complete with a truly bizarre back story. It earned a 30-second stop purely as an oddity.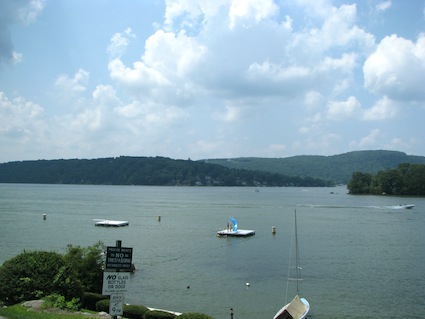 We rounded-out the morning with a drive along the eastern shore of Connecticut's largest lake: Candlewood Lake, with "a surface area of 8.4 square miles… [and] 86 miles of shoreline." We slowed down and kept driving.
Next, we stopped briefly for lunch and prepared for the remainder of the day. The timing looked right and the weather continued to cooperate, putting us into good position for an ambitious final phase.
---
Other articles in this series: