If Portmanteau was a nation, Albert J. Earling would have been its king.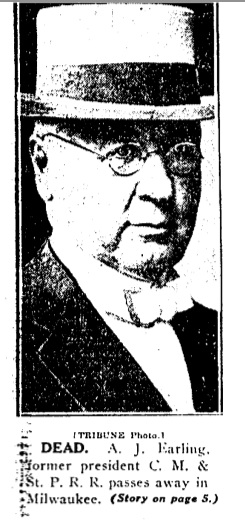 Albert J. Earling (1848 – 1925)
SOURCE: Chicago Daily Tribune, November 11, 1925

By now most readers understand Twelve Mile Circle's fascination with portmanteaus, a birth of creative new words resulting from the smashing together of two or more existing words. Previous articles dealing with this device included Mardela to Delmar and Dueling Portmanteau Placenames.
I am fascinated by Albert J. Earling at the moment although he's hardly a household name. His primary achievement involved working his way through the ranks of railroading to become president of the Chicago, Milwaukee & St. Paul Railroad until his retirement in 1919. During his tenure he expanded his railroad from the upper Midwest to the Pacific Northwest, opening a corridor through the Dakotas, Montana, the Idaho panhandle, and through Washington state to terminate at Tacoma in 1909. It would be the last of the great transcontinental railroads constructed.
This route became known as the Milwaukee Road, an engineering achievement still celebrated by railfans such as the Milwaukee Road Historical Association and the Milwaukee Road Archive. Earling favored new technologies too. He electrified more than 500 miles of the line including the first such segment over the Rocky Mountains which allowed his trains to take steeper grades. Later the railroad would add the expansion to its official name by becoming the Chicago, Milwaukee, St. Paul and Pacific Railroad, continuing to operate in various forms until around 1980 until it was absorbed into other companies including the Soo Line.
View Larger Map
What does any of this have to do with portmanteaus, you may be wondering? Plenty. There was a reason why this was the last transcontinental route: almost nobody lived out there. The Chicago, Milwaukee & St. Paul Railroad wished to remain competitive, however the pickings were slim by the time the clock ticked into the Twentieth Century. This railroad didn't connect a string of existing towns as much as it had to create them along the way and then vigorously promote homesteading in nearly empty quarters such as rural Montana.
All of those dozens of new towns had to be named. According to Earling's obituary in the November 11, 1925 edition of the Chicago Daily Tribune (which is not available on a publicly-accessible website so you'll have to take my word for it):
Even after he became its president, Mr. Earling continued to keep in touch with details of the road. It is said he would spends nights in the yards, riding switch engines and talking to the men. When the extension was being built Mr. Earling spent weeks on the construction, working night and day watching every detail of line work.
It's reasonable to assume that Albert Earling had a personal involvement in naming towns along the line given his active role, some of which were portmanteaus influenced by various family members. An excellent map of the new transcontinental route and its various stops can be found on the Portal to Texas History, which seems odd because the railroad never serviced Texas. Whatever. There are several candidates to consider.
---
Ismay, Montana
View Larger Map
Remember Ismay? It was the town informally named "Joe, Montana" as a publicity stunt that 12MC featured recently. That's how I discovered the Earling connection. Ismay was reputed to be a portmanteau of Isabella and May, two of Earling's daughters. There's only one problem and it's huge: Albert Earling had only one daughter and her name was Harriet. Some sleuthing on my part did turn up a granddaughter, a child of Albert's son George Peck Earling, who was named Isabel Mary. She was born in 1903 — a young child during the construction of the railroad expansion — and later living in Washington, DC under her married name Isabel Van Devanter as late as 1940.
Some sources note that Ismay might have been named for the daughters of another railroad official, George R. Peck, who also seemed to be a namesake for Albert's son George Peck Earling. I did locate Peck in the 1900 Census in Chicago, IL, and he did have daughters named Isabel and Mary (listed as Minnie in other records). It's even possible that Albert's son George may have named his daughter for Peck's two daughters. Given Earling's personal involvement, and noting other examples, it seems likely that he created the portmanteau to honor both his own granddaughter as well as the two daughters of a close colleague and friend. I think this is why two separate yet plausible histories evolved.
---
Marmarth North Dakota
View Larger Map
The naming of Marmarth seems more definitive. As noted in Welcome to Historic Marmarth:
With the arrival of the railroad in the fall of 1907, the town of Marmarth was established. By 1908, structures were being built in what is now the City of Marmarth. Marmarth was named for Margaret Martha Fitch, granddaughter of Albert J. Earling, president of the Chicago, Milwaukee & St. Paul Railroad.
Margaret Martha Fitch, a daughter of Harriet Maud Earling and granddaughter of Albert Earling was born in 1902. She passed away in 1949 in Milwaukee, Wisconsin.
This is why I believe a granddaughter may have figured at least partially into the naming of Ismay too. It's hard to imagine the President of the railroad naming a town for one granddaughter and not the other when they were both approximately the same age (Martha b. 1902, Isabel b. 1903) and both were young children during construction of the Pacific line.
---
Alberton, Montana
View Larger Map
Mr. Earling also honored himself with a weaker portmanteau, combining his given name with "town" to create Alberton. He also shared namesake credit here and thus gave credence to what may have been a similar situation in Ismay. As the Town of Alberton explains:
When the Milwaukee railroad established its trans-continental line to the pacific coast, Albert J. Earling chose the route on the north side of the river. The Milwaukee railroad was surveyed in 1907 and was built in 1908-09. The catchy name of the town at that time was Browntown. It was then changed to Alberton, after Alexander Albert who was one of first settlers in this valley. His homestead was south of the river across the natural pier bridge. It was also named after the railroad president, Albert J. Earling.
---
Earling, Iowa
View Larger Map
This last instance isn't a portmanteau at all. I just wanted to note that Albert Earling wasn't beyond having a town named in his personal honor. Earling, Iowa was founded in 1882 while he was still working his way up through the ranks of the railroad hierarchy. With that notch already attained, he had to get much more creative when he became President of the line and needed to craft names for all those other towns.
There might be a couple more Earling portmanteaus along the Milwaukee Road:
Maudlow, Montana: Perhaps Albert's daughter Harriet Maud Earling figures into this?
Melstone, Montana: Mel Stone has to be someone?
I conducted a quick search and didn't find any useful information on those final two possibilities.
---
Completely Unrelated
We visited the Garden Maze at Luray Caverns on the way back from Thanksgiving on Thursday. I mentioned that location in Hazy Hedge Maze Memories a few months ago. I posted a photo on findery if you'd like to see it from ground level.