The U.S. government shutdown ended last week and I forgot that I still had one piece of unfinished business remaining. I focused on Canadian portages previously, and had a great time doing that by the way, and now I could draft the article I intended to write originally. The USGS Geographic Names Information System (GNIS) came back online and ready to go.
The Wisconsin Portage Disconnect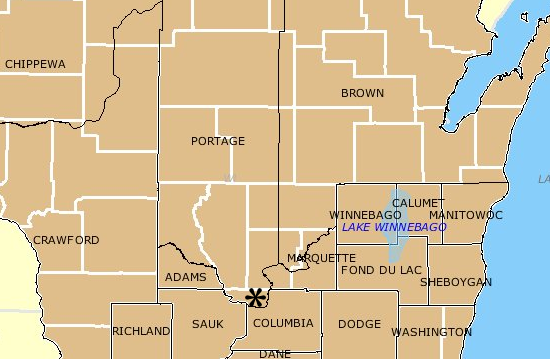 Portage County and Town (asterisk) on May 29, 1848
Newberry Library Atlas of Historical County Boundaries

The database allowed patterns to reveal themselves and I notice two rather substantial portages in Wisconsin; one a county with 70,000 residents and the other a city with a population of 10,000. I noticed a solid 75 mile separation between Stevens Point, the Portage County seat, and the city of Portage. Were different portages involved in these occurrences or where they linked somehow?
I was pleasantly surprised by the strangeness of their situation. Indeed, they both referenced the same place, the portage between the Fox and Wisconsin Rivers. The Fox River drained to the Great Lakes via Green Bay and Lake Michigan. The Wisconsin River flowed into the Mississippi River. Portage became important historically to the Native Americans and the early European explorers because barely a couple of miles separated two immense watersheds right at that spot.
Portage, the city, was once located in Portage the county. That was true when Wisconsin was a territory and also when it became a state in 1848. I've reproduced and annotated a map image from Newberry Library Atlas of Historical County Boundaries as evidence. It clearly included the portage within the far southern edge of what was then Portage County.
As noted in Portage County, Wisconsin Maps and Written History
Since the formation of Portage county, in December, 1836, it has been subjected to more frequent and radical changes of territorial limit than perhaps any other county in the state. The Portage of the Wisconsin river, from which the name is derived, was near the center of the county, as at first organized… [later] By an act of March 8, 1849, all of Portage county then remaining south of line between townships twenty and twenty-one, north in ranges two to nine inclusive, was apportioned to Adams, Columbia and Sauk counties, respectively; and thus was established for the first time, the southern boundary of the present Portage county.
In other words, Portage County crept northward between 1836 and 1849 until it became completely disconnected from the city of Portage.
---
Portage areas around Akron, Ohio

Passing the Portage Lakes, Ohio by Ken Lund, on Flickr
via Creative Commons Attribution-ShareAlike 2.0 Generic (CC BY-SA 2.0) license

I found quite a cluster of places named portage in the general vicinity of Akron, Ohio, including Portage County to the east and the Portage Lakes adjacent to the south. These represented various points of portage between the Cuyahoga and Tuscarawas Rivers. As with the situation in Wisconsin, the portage connected the Great Lakes to the Mississippi. In Ohio though, the Cuyahoga River drained into Lake Erie and the Tuscarawas River drained into the Muskingum then into the Ohio and finally into the Mississippi River.
A village named Portage in the northwestern corner of the state had nothing to do with the Great Lakes or the Mississippi, I discovered. Rather, Wikipedia claimed that it was named for the Portage River which in turn "… most likely derives its name from early explorers who were forced to portage or carry their canoes and boats around the river's intermittent shallows and rapids." It didn't connect great watersheds, it represented a barely navigable river of little greater significance.
---
Portage Creek, Alaska
Portage Creek Area
This is why I liked using GNIS. I never would have discovered Portage Creek, Alaska.
Only two people lived in Portage Creek in 2010. That made it loads of fun and maybe even a little creepy to cross-reference with the US Census Bureau's American FactFinder. The residents were a husband and wife, one white and one Alaskan Native, both in their late-40's. They were renting their home. Portage Creek had eleven other housing units although those were all vacant and they used for seasonal or recreational purposes.
I found them! They operate Alaska Bush Guides. As noted on their website, they are "Portage Creek's only year-round residents" and they offer "a wide range of guided and unguided fishing packages" along the Nushagak River. I imagine they've done rather well for themselves if they've sold a few of the combo hunts for two at $40,000. That's the package where customers have an opportunity to hunt five game animals (Alaska Grizzly, Black Bear, Moose, Wolverine, Wolf) in a single trip.
The Portage Creek airport logged an average of 58 flights per month which implied that those 11 vacant housing units saw decent usage during various hunting and fishing seasons. However, I never did learn why the village was named Portage Creek.
I found a few other portages in GNIS that I didn't have time to research.
Maybe I'll do a Part 2 if I get bored.
Under
Cities/Towns
,
History
,
U.S. Counties
,
Water
| Taged
Akron
,
Alaska
,
Cuyahoga River
,
Fox River
,
Nushagak River
,
Ohio
,
Portage Creek
,
Portage Lake
,
Tuscarawas River
,
Wisconsin
,
Wisconsin River