I noticed a tweet from a Twelve Mile Circle reader a few months ago that mentioned Mapillary. I can't recall who that was although he or she deserves my appreciation. Since then I've been watching Mapillary from a distance and I've become increasingly intrigued by its possibilities. 12MC almost never features individual websites. This is a rare exception.
For the uninitiated, Mapillary was founded about a year ago as a crowdsourced alternative to Google Street View. Mapillary intends to do it differently. It doesn't have a huge fleet of vehicles at its disposal to scour the planet like Google or other large companies that provide similar services. However its effort is no less ambitious as described quite succinctly in its Manifesto: "At Mapillary we want to create a photo representation of the world, a map with photos of every place on Earth."
Street View cars can't travel everywhere, so goes the theory, nor can Google refresh its images more than once every couple of years if not longer even with its massive resources. Crowdsourcing would be one way to get around those limitations, and that's where Mapillary saw its niche. It would need to generate a critical mass to do that though. Perhaps that's attainable. OpenStreetMap began with a similar premise and it's now approaching its 10th anniversary.
Mapillary sounded a lot like the word capillary, and I think that's the idea. Just as capillaries provide a network to deliver blood throughout the body, Mapillary would reach to every corner of the globe photographically.
The concept seemed to be picking up steam. Last February Mapillary had only about a hundred thousand photos. It hit two million a couple of weeks ago. The site is still in its infancy though. There's great coverage of Malmö, Sweden for example — the company headquarters — and scattered places where particularly active early adopters happen to live. Other places, even major cities, still remain sparsely covered. This was an example from my little corner of the woods: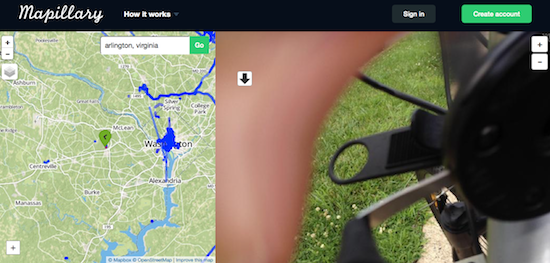 Mapillary Sample from the Washington, DC Area
via Creative Commons Attribution-ShareAlike 4.0 International License (CC-BY-SA)
However, that provides exceptional opportunities for any viewer to be the first person to cover a favorite area. If someone didn't like the coverage of his hometown, well, he could do something about it. I've not created an account so far although I think I may when things calm down and I get a little more free time. There are places near me that need better coverage than some random bicycle guy's arm.
I'm kicking myself because my on-again-off-again project, "Bike Every Street in Arlington" is about a quarter done now and all I have to show for it is the world's lamest Flickr tag composed primarily of neighborhood signs and historical markers, with an odd monument or boundary stone thrown in for good measure. Imagine if I'd snapped a photo automatically every two seconds with the Mapillary app for Android as I rode along, and then uploaded the results to the site. The whole world would have been able to share complete coverage of those areas, including miles of dedicated bike paths where cars cannot travel.
I had another motive. Someday this could serve as a genuine alternative to Google Street View. 12MC once relied heavily upon Google. I've started moving away from it especially since the release of the new Maps version about a year ago, and began favoring OpenStreetMap. Potentially, Mapillary could fill the Street View portion of that same gap if it succeeds. Currently it does not generate code that allow users to embed images in a blog (that I know of) although maybe that would be a feature they could add as it grows. I'd much prefer a crowdsourced alternative.
I need to decide how to mount a camera to the handlebars of my bicycle. I may go with the Do It Yourself cheap version with a phone. I may get a Garmin VIRB someday if I decide it's worth the investment. Initially I'll probably start with Mapillary's panorama option with my phone and simply record a few noteworthy Washington, DC sites not yet covered.
Stick around. I'll probably have a follow-up report once I have an opportunity to play around with Mapillary for real.