A number of years ago, Twelve Mile Circle featured ten county seats in North Carolina with the same name as a different county. The concept continued to fascinate me ever since even as I doubted I'd find anything quite so remarkable. Places kept making it onto my mental list over the years so I decided to feature a few of them.
Macon, Georgia isn't in Macon County

Macon, Georgia, Neon Sign by tom spinker on Flickr (cc)

I've followed the still unresolved Bibb – Monroe border dispute for years. Most people who lived in Bibb County resided in the city of Macon, a name established at its founding in 1822. Nathaniel Macon served numerous terms in the United States Senate and House of Representatives from North Carolina. Consequently, places in several states bore his name even during his lifetime. That often happened to major politician during an era when the population expanded and created lots of new places. New settlements needed names. Macon died in 1837 and Georgia apparently felt it needed to honor him again. That's when Georgia established Macon County (map), with its seat of government in Oglethorpe. Come to think of it, I found an Oglethorpe County in Georgia too, yet another example of the phenomenon.
Except the city of Macon just changed its name and somehow I missed it. Voters approved a referendum in 2012 to consolidate the city with the county. The merger happened in 2014, creating the conterminous Macon-Bibb County (map). They disincorporated the only other city in the county, Payne City. They deannexed portions of Macon that crossed the border into an adjacent county. Now an elected mayor and county commission govern the consolidated Macon-Bibb.
That left Georgia with both a Macon and a Macon-Bibb County. I'm sure that won't cause any confusion. Of course not.
---
Hettinger, North Dakota isn't in Hettinger County

Hettinger, North Dakota by Andrew Filer on Flickr (cc)

Confusion surrounded the whole Hettinger situation too. Counties in North Dakota formed rather late in U.S. history, crossing into the 20th Century. Hettinger County (map) dated its formation to 1883 although it remained unorganized for another couple of decades without a fully-functioning government. The name honored Mathias Hettinger, an Illinois banker who probably never set foot in North Dakota. His daughter Jennie married Erastus Appleman Williams who served in the North Dakota territorial legislature. That's all it took to get a county named for someone back then.
North Dakota finally took action to make Hettinger a functional county in 1907. However, it split Hettinger into two portions. The upper half remained Hettinger County. The lower half became Adams County. Around that same time, a town in what would become Adams County blossomed along the path of the Milwaukee Road railroad's new Pacific Expansion line. Residents decided to name it Hettinger(map), supposedly "by popular demand for the county from which this area was about to separate as a new county." That seemed like an odd development although I've seen stranger explanations for town names so let's go with it.
---
Lake Itasca, Minnesota isn't in Itasca County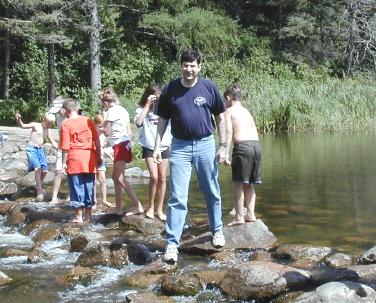 My own photo from Walk Across the Mississippi River

Henry Schoolcraft created one of his made-up names to recognize the consensus source of the Mississippi River in 1832. He coined Itasca, by combining two Latin words, veritas meaning "truth," and caput meaning "head." He often liked to craft fake Native American words so he took the last four letters of veritas and the first two letters from caput, making Itasca. That Schoolcraft guy deserved credit creativity. Lake Itasca (map) gained quite a bit of recognition for its geographic significance.
Anyone looking at a map would quickly figure out that Itasca County, Minnesota did not overlap with Lake Itasca. In fact it sat nearly a hundred miles (160 km) to the east. How could that possibly be? Again, county structures formed quickly on the frontier during that period. Itasca County originally covered a lot more land when established in 1849. It stretched over a large portion of northeastern Minnesota. Government officials carved away at it repeatedly as it formed new counties and the chunk that retained the Itasca name (map) separated from the lake by quite a distance.
---
Jackson, Mississippi isn't in Jackson County

Hinds County (MS) District 2 Courthouse by NatalieMaynor on Flickr (cc)

The capital city of Mississippi took its name from General (later President) Andrew Jackson, to honor his victory at the Battle of New Orleans during the War of 1812. Jackson County did the same thing and for the same reason around the same time. Both fared well over the years. The city of Jackson flourished as the state capital. The county of Jackson grew to a population of nearly 150 thousand, a center of ship building and oil refineries on the Gulf Coast.
I shifted gears as I researched Hinds County, where most residents of the city of Jackson lived. Sure, Jackson fascinated me because of its extinct volcano. The Hinds co-county seat interested me more, at least today. Several counties in Mississippi had more than one county seat, a strange situation common to the state although quite rare elsewhere. Jackson claimed the state capital but it still shared the distinction of county seat with tiny Raymond (map) with barely 2,000 inhabitants.
Jackson and Raymond started out around the same time. Officials selected Raymond as one of the seats of government due to its prime location near the center of Hinds County. Jackson grew due to its status as a state capital. Raymond, well, Raymond didn't do much. It still had a courthouse that continued to serve legal functions although it quickly became subordinate to Jackson.
Under
Borders
,
Cities/Towns
,
Government
,
History
,
U.S. Counties
| Taged
Andrew Jackson
,
Bibb County
,
Georgia
,
Hettinger
,
Itasca
,
Jackson
,
Lake Itasca
,
Macon
,
Macon-Bibb
,
Minnesota
,
Mississippi
,
North Dakota
,
Schoolcraft