It's been about fourteen months since I posted an installment of odd signs that I'd encountered during my travels. I like unusual things whether they're geo-oddities or other mundane things that seem out of whack. Occasionally I feel compelled to share them even if nobody else can summon the same level of amusement. If they cause you to smile then feel free to examine the earlier posts, Bad Signs and More Strange Signs.
I've added a map link for each photograph, attempting to place it as close to the exact spot as I can remember.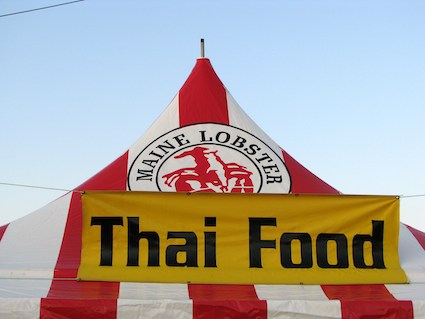 Maine's Rich Thai Heritage
I'll bet this is the first time this sentence has ever been uttered: "Nothing represents Maine waterman culture like Thai food." Seriously though, I noticed this unusual juxtaposition at the Maine Lobster Festival in Rockland during the summer of 2009.
The festival centerpiece included a dining area covered by a huge tent. It featured a buffet line with lobsters pulled from local waters and dumped straight from trawlers into boiling kettles only moments earlier. Nonetheless the Thai food pavilion seemed to be doing a steady business. I suppose someone who happens to eat lobster every day might want to try something a bit different, something more exotic. I love Thai food and I find it it refreshing to witness the rich mosaic of cultures as it spreads throughout the nation but I still selected the lobster.
Rockland, Maine [map].
---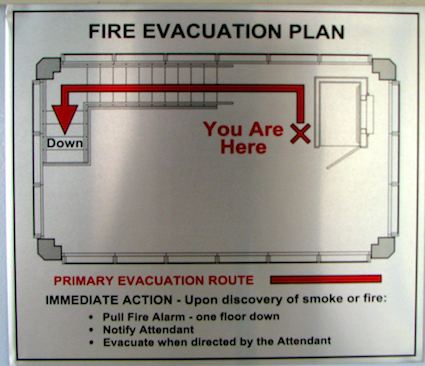 Going Down?
I took the elevator to the top of the Penobscot Narrows Bridge and Observatory later that same summer. The observatory is a fairly small rectangular area. It has two doors. One opens onto an elevator and the other a stairwell. With that in mind, this has to be the most useless emergency exit sign ever. The elevator would shut down in a fire so what other option would possibly exist besides the stairwell? Jump?
Near Bucksport, Maine [map]
Also see my Penobscot Narrows Bridge and Observatory page.
---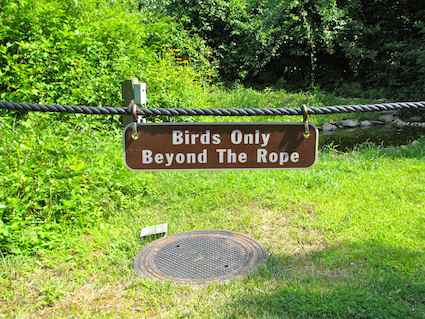 Humans Not Welcome
"Birds Only Beyond The Rope" wins my award for the most imaginative "Keep Off The Grass" sign ever written. It's nice when bureaucrats show a sense of humor.
Fort C.F. Smith, Virginia [map]
Also see my Fort C.F. Smith page.
---
New Orleans Needs Lots of Things
This one is a repeat from my trip down south earlier this year as presented in Deep South Epilogue. I spotted the poster at the in-town brewpub of the Abita Brewery. It pretty much speaks for itself.
Abita Springs, Louisiana [map]
---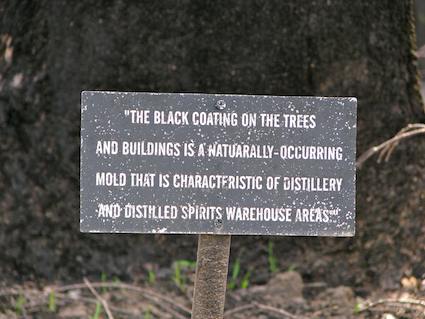 Maybe Just a Really Bad Mildew
I found myself at the Jack Daniel Distillery during that same southern trip. Distilling apparently creates the perfect environment for a dark mold that covers all exterior surfaces. Who knew? I suppose they felt compelled to explain the mold instead of looking like slobs. That wouldn't do their image much good.
Lynchburg, TN [map]
Also see my Jack Daniel Distillery page.
---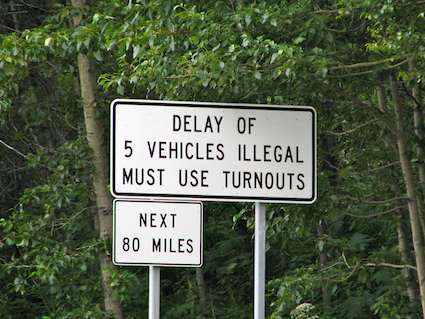 My All-Time Favorite Road Sign
I loved this Alaska highway sign. It's too bad the RV's filled with clueless tourists ignored this and all similar signs. I would have loved to have seen one of them getting a ticket for going twenty miles below the speed limit leading a mile-long train of impatient drivers behind them in their wake.
Seward Highway, Kenai Peninsula, AK [map]
---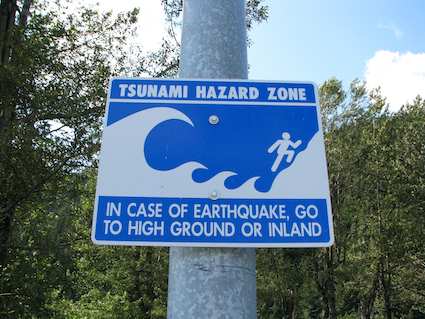 When You See a Big Wave — Run!
I also saw this one in Alaska. It's posted in Seward. The city was hit by a tsunami after the famous 1964 earthquake. Eleven people died. Believe me, if suddenly the water begins to recede it's time to run for the hills. The sign is absolutely accurate and appropriate.
Seward, AK [map]
---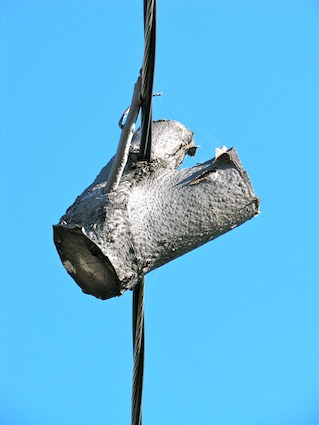 Stringing a New Wire Would Have Been Too Much Trouble
I'm allowed to post one photograph that isn't a sign, right? I found this situation absolutely hilarious. A tree branch grew around a power line. The electric company removed the tree but left the chunk with the wire hanging in the air!
Nauck Neighborhood, Arlington, VA [map]