Virginia's independent cities continued to offer their peculiar geographic secrets. The earlier part of this series explored tendrils and quadripoints. However, other strange features hid within their twisted layouts. I turned my attention to enclaves and pinches next. Those unusual features probably came from heated negotiations between cities and counties during drawn-out annexation hearings. In Virginia, that involved a special court held specifically for that purpose, overseen by a three-judge panel.
Two separate cities included enclaves within their borders. Those little doughnut holes belonged to the counties that surrounded the cities.
Enclave within Fairfax City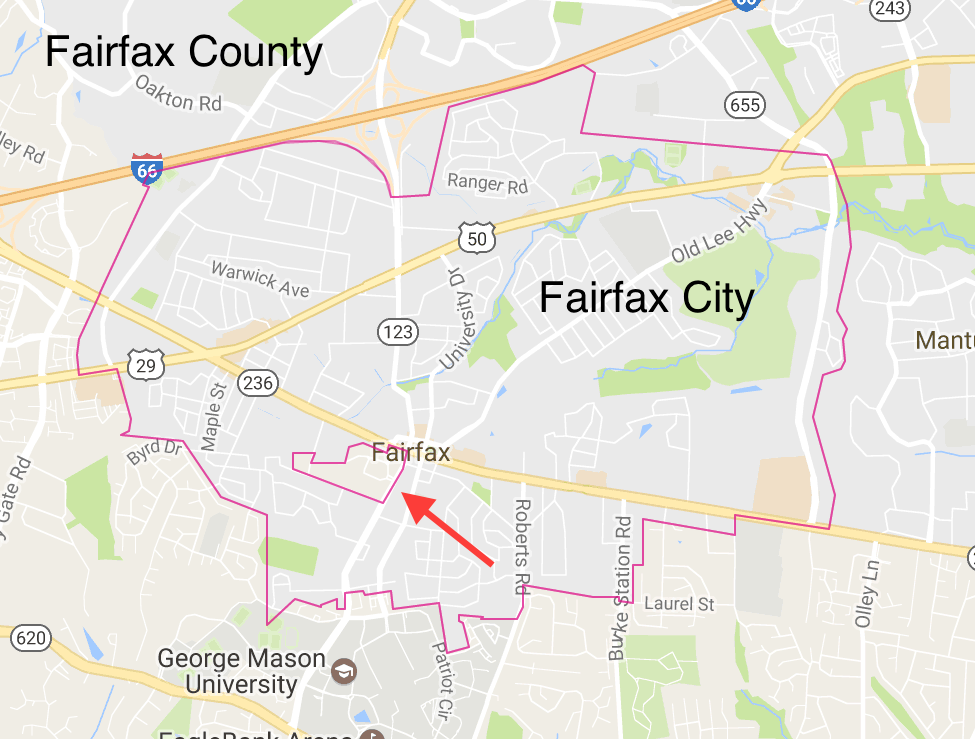 Enclave within Fairfax City

Fairfax City became an independent city in 1961. The county surrounding it — also called Fairfax — extended much farther back in history. English colonies, including Virginia, still hugged North America's Atlantic coastline when Fairfax County appeared in 1742. The county built a courthouse in a convenient, central location in 1799. That became a seat of local government and a little town grew around it. Eventually the town evolved into Fairfax City.
Fairfax County remained quiet and rural for the next several decades. However, it did not escape the Civil War unscathed. Virginia joined the Confederacy. Union troops crossed the Potomac River as the conflict began, capturing a chunk of Northern Virginia. This protected its capital city, Washington, DC. It also put Fairfax directly on the border between two hosile armies. Troops from both sides crisscrossed Fairfax repeatedly between 1861 and 1865, each occupying the courthouse at different times.
The war's first death of a Confederate officer took place on the courthouse grounds in 1861 when Union troops shot Captain John Quincy Marr during a skirmish. Two years later, Confederate forces from the legendary Mosby's Rangers paid a visit.
Mosby's most famous raid occurred in March of 1863, inside Union lines at Fairfax County Courthouse, when he captured Brigadier General Edwin H. Stoughton. Mosby found Stoughton asleep in bed. Awakening the General with a slap to the rear, Mosby asked "Do you know Mosby, General?" The General replied "Yes! Have you got the rascal?" "No," said Mosby. "He's got you!"
Obviously Fairfax County didn't want to give up its historic courthouse when Fairfax City split from it. The two carved-out an enclave around the courthouse grounds that remained part of Fairfax County. I confirmed this arrangement on the Fairfax City zoning map.
---
Enclave within Manassas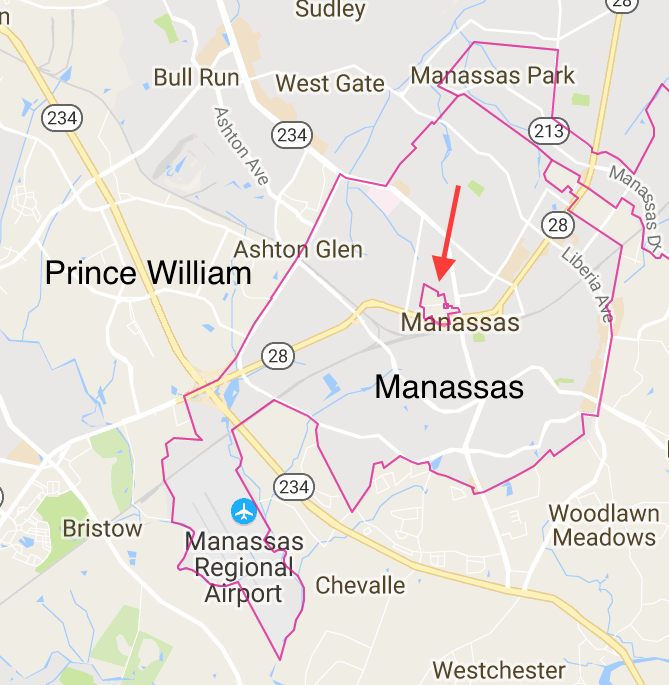 Enclave within Manassas

A little hole also sat within the independent city of Manassas, although it didn't offer the same historical pedigree as the one in Fairfax. Nonetheless, it existed for a similar reason. I confirmed its existence in the Manassas zoning map and then I drilled-down to check it out. Manassas carved its territorial independence from Prince William County, however, the county courthouse already stood there. It became an enclave. The space contained the Prince William District Court, an Adult Detention Center, the Health Department, a senior center and some associated parking, all part of Prince William County, not Manassas.
Then I spotted something truly surprising. Somehow a single residence remained within the Prince William enclave. An entire neighborhood became part of Manassas except for 9210 Peabody Street for some unknown reason. Zillow dated its construction to 1965 and Manassas gained its independence in 1975, so the house definitely existed before the city changed its status.
The family residing there lived in Prince William County. However, they would need to cross completely through Manassas if they wanted to visit anyone else living in the county. On the other hand they wouldn't have to cross a border if they ever got arrested. I'm sure they'd have other concerns in that situation anyway.
---
A Pinch to Grow an Inch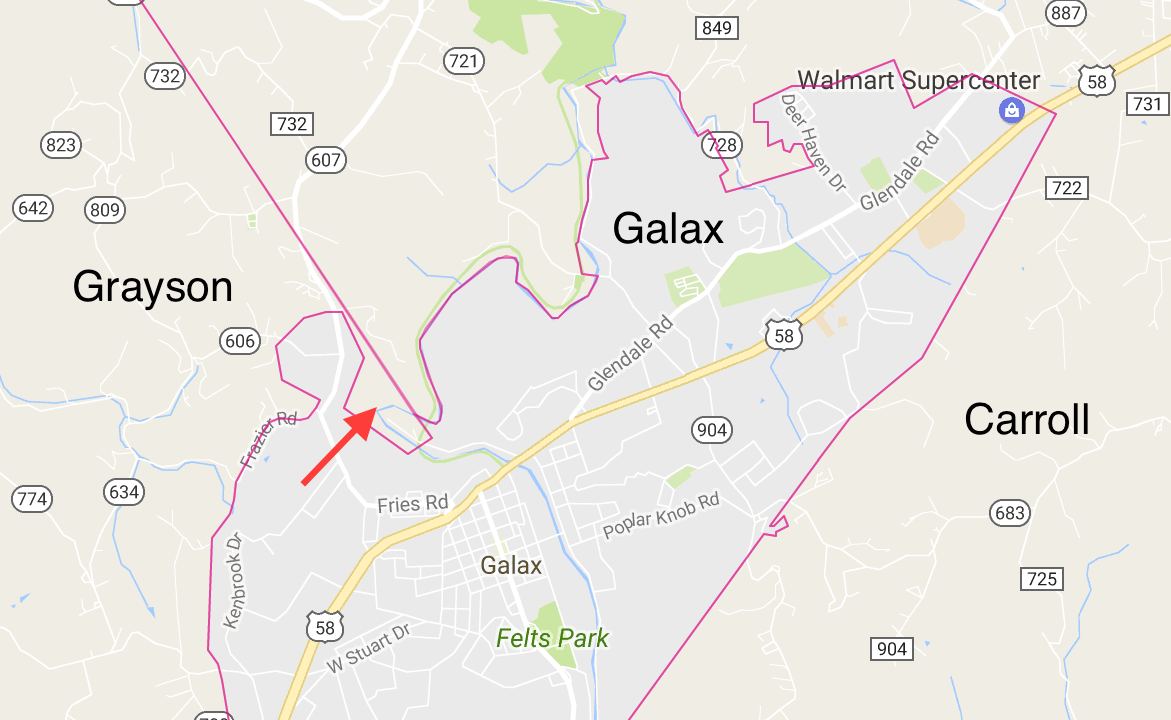 Grayson County Pinch

A different oddity came into view in Galax. Here, a county line complicated a border. The line originally separated Grayson County from Carroll County. Galax grew right atop the line, which annexed land from both counties. The western side of Galax also contained a nob. It extended almost all the way to the county line and then stopped a tiny bit short. That prevented Galax from pinching-off a piece of Grayson. My eyeball estimate concluded that it fell just about seventy feet (21 metres) short of creating a Grayson exclave.
It was awfully nice of Galax to keep Grayson intact. Theoretically the farmer that lived inside that pinch remained connected to the rest of the county. However it didn't really matter much because the only road access to the farm came from Galax. That made it a "practical exclave."
---
Bonus Avoidance


Staunton, Virginia

Check out the eastern border of Staunton along Interstate 81. I found several examples of Staunton drawing its border to avoid highway infrastructure maintenance. At the northern end where I-81 diverged from Staunton, the border turned northwest along Route 262 to avoid the cloverleaf. Near the midpoint, New Hope Road crossed above I-81 so the border did a zig-zag around the bridge. Approaching the southern end, the border avoided Route 250's cloverleaf and then turned to the west, making sure to skip the Interstate 64 interchange. These was classic behaviors influenced by the anti-city provisions of the Byrd Road Act.
Under
Borders
,
Cities/Towns
,
Roads
,
U.S. Counties
| Taged
Civil War
,
Courthouse
,
Enclave
,
Fairfax
,
Fairfax City
,
Galax
,
Grayson
,
I-81
,
Independent City
,
Interstate 81
,
John Quincy Marr
,
Manassas
,
Prince William
,
Staunton
,
Virginia