Speaking of odd town names (we were just speaking of those, weren't we?), what about Last Chance? Every place deserved a last chance, I supposed. The U.S. Geographic Names Information System listed more than three hundred of them. Many — no surprise — aligned with mining claims. Also they frequently referenced ditches, streams and gulches, probably running near those old mines. However that wasn't always the case. A handful of populated places rose to the top of the list too. It took an unusual outlook on life, I figured, for someone to name a settlement Last Chance.
Last Chance, Colorado

Last Chance, CO. Photo by Michael Sauers on Flickr (cc).

Colorado's Last Chance clung to life, just barely. It sat about 80 miles (130 kilometres) due east of Denver (map). Truly, a straight shot. Head straight north of Denver and hit Fort Collins, or straight south and hit Colorado Springs, or straight west and, well, hit a wall of mountains. Straight east should hit something more important than a hamlet on life support.
The original settlers of Last Chance probably felt the same way. Travelers driving through Colorado's empty eastern plains to and from Denver took the straightest possible path during the early automotive period. Back then, Last Chance served as a literal last chance for motorists to refuel, grab a meal, or sleep in an actual bed anywhere between Denver and a vast nothingness. The town's name became a marketing tool and a warning. Stop there or suffer the consequences.
The Ghost Town website summarized the rise and fall of Last Chance quite succinctly.
Last Chance was a town that grew up with the automobile and died when the interstate took the traffic south to I-70. It was a busy center for travelers in the 1940s and 1950s, and probably earlier than that.
Indeed, Interstate 70 heading east from Denver took a distinct southeastern curve about 30 miles (50 km) short of Last Chance before turning east again. Last Chance couldn't survive that cruel routing.
---
Last Chance, Oklahoma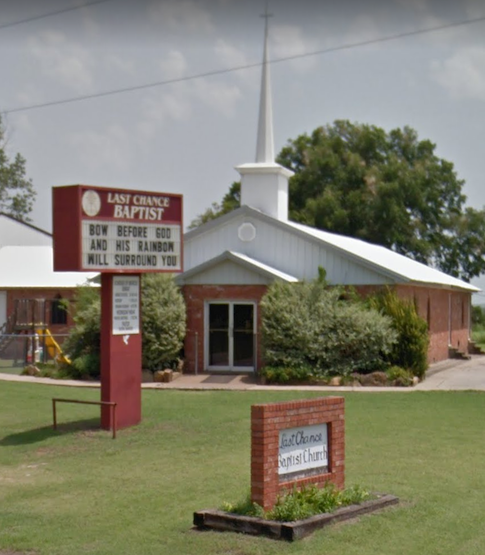 Last Chance Baptist Church
via Google Street View, July 2016

I couldn't find any information about how the Last Chance in Oklahoma earned its name (map). The settlement seemed to simply vanish. It wouldn't surprise me if the US Geological Survey dropped it from the database entirely someday. Only the Last Chance Baptist Church remained behind as a reminder. By the way, Last Chance might be the best church name ever. That choice positioned it perfectly as the final opportunity for redemption before banishment to the fiery pits of Hell. It gave sinners one last chance.
A post office didn't exist in Last Chance as far as I could tell, if indeed one ever existed there. Addresses in Last Chance bore the postmark of nearby Okemah. Nothing much important happened in Last Chance although Okemah registered a minor brush with fame. Okemah had a famous native son, the legendary folk singer Woody Guthrie born there in 1912. An oil boom began around that time in the same general area, leading me to wonder if perhaps Last Chance got its name from the boom somehow?
---
Last Chance, Iowa
The Last Chance of Iowa fared about as well as its counterpart in Oklahoma. Here, the sole remaining sign of its existence was a cemetery. While I liked Last Chance as the name of a church I disliked it as a cemetery (map). A final resting place seemed to signify the end of any remaining chances. Last chance? More like no chance. At least I learned how it got its name, though. I found a website about cemeteries in Lucas County that offered a surprising amount of information. I was really impressed by the detail it presented about such an obscure location.
Last Chance is one of those Lucas County place names that, because of its oddity, generates stories. But the truth seems to be that its first storekeeper, William McDonald McHenry, named it offhandedly after it occurred to him that he was living in a place that didn't yet have a name… he said, "Let's call it Last Chance." And they called it so, more in a joke than in earnest…
Last Chance sat favorably along the Mormon Trail. Thousands of Mormon emigrants and many others walked the trail during the middle of the 19th Century. Some travelers moved their households without any pack animals, becoming a special category of Mormons called the Handcart Pioneers. Then the transcontinental railroad opened. Last Chance disappeared because of the railroads. The typical story prevailed. Railroads, long the lifeblood of small rural villages in the Heartland, all bypassed Last Chance. Decline later led to collapse.
I found additional Last Chance settlements in Idaho, California and North Carolina. However, even less information existed about any of them. It seemed that every Last Chance was down to its last chance if any of them ever had a chance at all.