The readers of Twelve Mile Circle seemed to anticipate where this conversation was heading when I wrote about the advanced age of the French Broad River recently. I'd actually intended to write a single article about really old rivers. I had to split it when it got too wordy. I'd seen that same list of rivers by age on Wikipedia noticed by several readers and I decided to have some fun with it. I won't recite the list in order though. I'll meander though a bit of it in my own peculiar way.
New River
For sure, I thought, someone would mention the ironic naming of the New River in southern Appalachia, flowing from North Carolina into Virginia and then into West Virginia. I wasn't disappointed. The New River originated during the same Alleghanian Orogeny as the previously-mentioned French Broad River, as did the Susquehanna River. They all dated back about 300 million years, predating the Appalachian Mountains.
Nobody really knew exactly how or when the New River came to be encumbered with a misleading name although the Friends of the New River offered several possibilities.
One educated guess regarding the origin of the name is the theory that in the late 1700s or early 1800s, surveyors were working their way across the new country. When they happened on the New River, they discovered that it wasn't on any of their existing maps, so they charted it and labeled it as "a new river." Another version of this story attributes the label "a new river" to Peter Jefferson, Thomas Jefferson's father. The official name change to New River seems to have occurred between 1740 and 1750, although the two names, Woods and New, were used interchangeably in records and on maps in other states until about 1770.
Thus it could have just have easily been known as the Woods River into perpetuity, named for Colonel Abraham Wood who trades with local Native Americans in the 1650's. Instead it became a very old river with a very New name.
I have been whitewater rafting on a stretch of the New River in West Virginia numerous times. I'd recommend it highly.
---
Nile River

Fishing in Sudd wetland by Water, food and livelihoods in River Basins (cc)

If one searches for the oldest river using online tools one will invariable encounter frequent references to Africa's Nile River. However the Wikipedia list didn't even place it in the top ten, explaining that it was "65 to 75 [million] for the Sudd section; the rest of the river is only 1 or 2 million years old." Further, the page linked to a site at the University of Texas – Dallas that stated, "Although the Nile seems like an ancient river – after all, it was there long before one of the earliest civilizations began to develop on its banks – it is really a very young river and has gone through many changes over the recent (in geologic terms) past." The only ancient part — still considerably younger than the French Broad — was a portion in South Sudan in a swamp (map).
Don't expect the rest of the Intertubes to issue a clarification though.
---
Finke River


Finke River and MacDonnell Ranges by Georgie Sharp of Flickr (cc)

So now we finally arrive at #1 on Wikipedia's list, presumably the very oldest river in the world, Australia's Finke River along with various other smaller rivers nearby (map). They all predated the Alice Springs Orogeny, which would make them up to 400 million years old. The orogeny happened so long ago that most of the mountains have eroded away with the exception of the MacDonnell Ranges and a scattering of other ridges deep within the Australian interior. The highest remaining remnant was Mount Zeil at 1,531 metres (5,023 ft) (map)
Much of the Finke River has been preserved within Finke Gorge National Park.
---
Meuse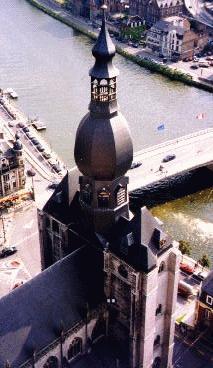 I seem to have a little extra room in this article. I guess I should also list second place from the list too, if only because I've been there in person (as noted on my travel page for the Citadel of Dinant in Belgium, one of the oldest parts of my website). This was a long time ago. In fact, the image I've embedded came from a time prior to digital photography. I had to scan it from a print photo.
The Meuse predated the Hercynian Orogeny that resulted in the formation of the Ardennes. The river course ran from a corner of France to Belgium, onward to the Netherlands and finally into the North Sea.
---
Completely Unrelated
Several months ago I mentioned that I would be supporting a runner in Mainly Marathon's Center of the Nation race series. That adventure is now just around the corner. I'll be in eastern Colorado, Wyoming and Montana, and in western North Dakota, South Dakota and Nebraska, September 14-19, 2015. They have options for single races and distances as short as 5K in case there are any 12MC runners in the area who might be interested. I have a big list of adventures planned including a few based on readers suggestions, so thank you all for that earlier input.