I've confessed before to my fondness for an old-fashioned newspaper on a Sunday morning, and it's doubly so when I stumble across an informative map in those ink-stained pages. A map I spied among the folds demanded my full attention, the grandiose centerpiece of a full page advertisement for a mobile phone company. They touted their near-ubiquitous 3G network coverage stretching across a major metropolitan area.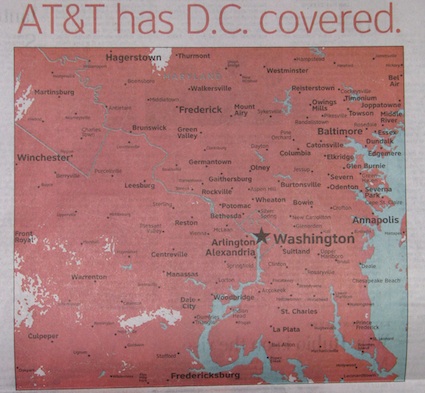 SOURCE: Washington Post (print edition), February 21, 2010

First, a disclaimer: I don't have a vested interest in this, other than the map itself. I'm not promoting or disparaging a specific company. OK, let's move along…
With this map, the provider hopes to counter the effects of negative advertising from one of their main rivals. They are aiming to convince consumers that they offer 3G service where it really matters, where the people live. It doesn't matter so much that they have spotty coverage in out-of-the-way spaces of the continental interior.
I'm simply making an observation and I'll let the companies and their customers duke it out. I'm only interested in the tiny holes in this area of five million people that appear as blank spots on this map. Those are places that cannot benefit from the company's 3G service. One can only wonder what these people did to anger the cellular Gods. They have fallen through the cracks.
It was a bit difficult to translate the lack of detail on the map to exact spots on the ground, and perhaps that's the point. The company is trying to draw attention to the coverage rather than to the places it doesn't serve. It's an advertisement ploy and it only needs to show a sea of red. The white splotches are superfluous. However this made the small empty voids all that more interesting to me. It felt like a challenge and I was glad to accept it. I had to find those spots.
I discovered a better source online, the company's Coverage Viewer. It generated maps with greater granularity. The purpose of this tool isn't advertising, it's to provide fair notice to consumers so the greater detail makes sense. I could use the viewer to drill down into the newspaper map's empty spots, correlate them with more detailed renderings in Google Maps, and finally identify a few unlucky residents that fell outside of the 3G coverage areas.
View Larger Map
It's a little surprising to find that any area of affluent Great Falls, Virginia, isn't covered. That's not why I focused here, though. I simply thought it ironic and amusing that the company doesn't provide 3G service on Blackberry Lane! (zoom in on the street sign and see for yourself).
---
View Larger Map
This resident of eastern Fauquier County is totally screwed. Imagine the day he brought his new iPhone home only to discover that not only did he not get 3G coverage, he didn't even get voice coverage! He happens to live right in the middle of the big white splotch on the lower-center part of the newspaper map.
---
View Larger Map
Here's one more spot, this time in Calvert County, Maryland. Well at least he can take some solace in living just a couple of blocks away from the lovely shores of Chesapeake Bay.
It's possible that the map is so large and the exceptions are so small that one's eyes are drawn to the exceptions rather than the rule. Or maybe that's just a peculiarity to me.