First, a disclaimer. Twelve Mile Circle deals with geo-oddities, not politics. It doesn't take sides. However, the timing of this post fell closest to the Presidential Inauguration and I thought it might be acceptable to poke a toe just up to the line in a nonpartisan fashion. Reader "Joe" sent me an idea, as he often does, and I decided to run with it. He referenced an article in his local newspaper about a town in a very conservative corner of Missouri that went by the name Liberal.
Liberal, Missouri
The story mentioned Liberal's irony. As one resident proclaimed, "People are embarrassed… They are ashamed and don't identify." I couldn't determine how the town voted in the recent election, however the surrounding county (Barton) went for Donald Trump 84%. One might conclude somewhat reasonably that Liberal could actually be quite conservative, using modern euphemisms where liberal meant Democrat and conservative meant Republican. I decided to stick with that definition realizing that different interpretations could also be used.
Liberal began in 1880 as an atheist utopia founded by George Walser. He belonged to an organization called the Liberal League based in Lamar, Missouri about twenty miles to the east. This group fell within a larger philosophy of Freethinkers, who form "opinions about religion on the basis of reason, independently of tradition, authority, or established belief." Walser purchased two thousand acres and founded a town based upon his personal preferences. Christians then made it a mission to convert the town and eventually purchased land adjoining it. Apparently their strategy worked. Walser eventually converted and died a Christian.
Of course, I realized that there wasn't necessarily a parallel between a particular word usage from the 1880's and today. There are plenty of Christians who are Democrats and Republicans who are atheists, so word definitions evolve just as towns evolve.
Few signs of the failed experiment survived other than Darwin Street (map) — honoring Charles Darwin — and the name of the town itself.
---
Liberal, Kansas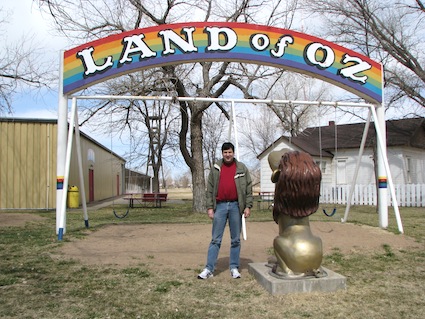 12MC Visited Liberal, Kansas

I mentioned my visit to Liberal, Kansas when I replied to Joe's suggestion. I went there a few years ago during my Dust Bowl Adventure. It included several sites like the Mid-America Air Museum, a giant book sculpture outside of the local library, and Kansas' proxy for Dorothy's House and the Land of Oz (map). I got to experience all three of them.
Was Liberal once liberal only to flip conservative like its Missouri namesake? It seemed to fit the definition of conservative today with 64% of Seward County going for Trump. I checked one popular search engine and came across an interesting discussion on that very topic. My favorite response was, "It's like when you call a fat man 'Slim' or a bald man 'Curly'. Yeah, 'Liberal' is like that!" I got that same perception when I visited there in person.
However this didn't necessarily mean it was once "liberal." The town didn't have a clearly-defined history. One local source said,
Mr. S.S. Rogers was the first homesteader in what would later become Liberal. Outside of the Cimarron River, water was very scarce in Southwestern Kansas and there was usually a charge for even a small amount; however Mr. Rogers always gave his water free to passing travelers. Quite often he would hear a reply of "that's mighty Liberal of you" from the grateful recipients.
I wasn't quite sure I believed that explanation although I didn't find any hidden 19th Century atheist influences to compete with it either.
---
Liberal, Oregon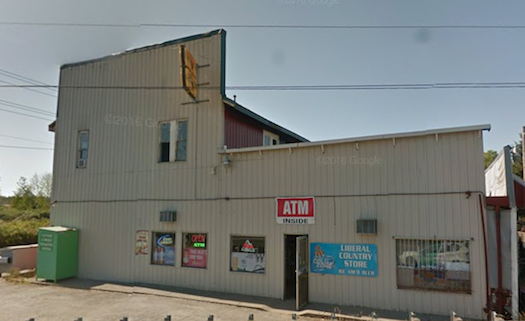 Liberal Country Store in Liberal, Oregon
via Google Street View, August 2016

Not every Liberal settlement exhibited conservative tendencies in the modern era. The Liberal in Oregon (map) fell within the borders of Clackamas County. Clackamas went for Democrats in the last three Presidential elections, and five of the last seven. Hillary Clinton registered nearly 48% of votes in 2016, compared to 41% for Trump. This Liberal also had a murky history.
The exact origin of the name of the community is lost in the past. Some believe that it was named for Liberal, Missouri… However the prevailing belief, shared by many old-timers including the late Dee Wright, a local historian, was that is was named because of the liberal credit policies of the local store.
One more Liberal once thrived in Indiana, although no signs of it remained today. The county where it formerly existed (Spencer) went 66% for Trump. That made three Liberals conservative, and one Liberal at least leaning liberal.
---
The Other Direction?

Confederate statue (Alexandria, Virginia).
Photo by Christopher Connell on Flickr (cc)

I wondered if any towns went the other way, with conservative names applied to liberal enclaves. I didn't find any. However, I recalled a local example where I knew that gradually changing political beliefs underwent a transition of that type. A specific recent incident drove the point home. The City of Alexandria, like much of the rest of Virginia, was once quite conservative. That hasn't been the case in recent years. For instance, in September 2016 the city council voted to rename Jefferson Davis Highway. Jefferson Davis was once the President of the Confederacy and his name adorned many places in the Old South after the war. Times are changing in Alexandria, however. The city also wants to relocate it's statue of a Confederate soldier, currently overlooking a prominent intersection (map), to someplace less conspicuous.
I freely admit to a bit of nervousness with this article after a bruising campaign fresh in everyone's minds. 12MC is the only site where I read the comments anymore, where readers seem to actually respect the points of view of others. Let's hope this article doesn't devolve into splitting of hairs, wrangling over definitions, and hurtful words.
Twelve Mile Circle will now return to non-political topics. Maybe forever.
Under
Cities/Towns
,
Government
,
History
,
U.S. Counties
| Taged
Alexandria
,
Atheist
,
Clackamas
,
Confederate
,
Freethinkers
,
George Walser
,
Kansas
,
Liberal
,
Missouri
,
Oregon
,
Virginia
---