Immigration and the fingerprints it leaves behind sometimes finds it way to the Twelve Mile Circle as a topic of conversation. The legacy remains even after a successful assimilation and disbursement of the original population. I'm curious particularly about the smallest populations of settlers in new lands — and it's going to be hard to get more obscure than Icelandic Mormons that I discussed previously — although I continue to remain fascinated by the topic. The trick is to find a population small enough to be obscure while large enough to leave behind a measurable legacy.
Grotere kaart weergeven
Belgians in the United States. That seemed promising. It's a small nation of about ten million citizens so the pool would be limited. It didn't have a noted tradition of sending huge percentages of its population oversees à la Ireland, yet it didn't have an enormous geographic footprint like the Germanic-speaking areas to its east either. The ethnic division between French (Walloon) and Dutch (Flemish) also presented interesting possibilities. This might be a good bet for a European nation; small enough yet large enough.
Let's recognize that Belgium also didn't exist as a nation until 1830. Prior to that, immigrants and settlers from this part of the world would have been from Southern Netherlands or some other geographic entity. That's an interesting tangent although it I don't believe it makes much of a difference for my purposes. Many of the place names settlers brought with them and transplanted upon the American landscape were those of towns and cities that already existed by 1830.
There were 345,379 people in the United States who identified Belgian ancestry in the 2010 Census according to the U.S. Census Bureau's American FactFinder database. The figures do not appear to have been broken down by state yet or perhaps I'm not adept enough at using that database, although breakdowns can be derived from the earlier 2000 Census. It places the highest concentrations of Belgian-Americans in Wisconsin, Michigan and Illinois. I was also pleasantly surprised to learn that Wikipedia actually has a page devoted to Belgian-Americans, confirming for the umpteenth time that truly every topic has a site on the Intertubes. It tracked closely closely with the Census results and noted population concentrations in several additional states.
One begins to notice patterns by cross-referencing these data with the U.S. Geological Survey's Geographic Names Information System. I started with a very simple and obvious query to check for populated places actually named "Belgium." It returned locations in Illinois, West Virginia and New York. Illinois was expected based upon Census reporting. West Virginia received a tantalizing mention in Wikipedia although it didn't provide further detail. For that, I turned to the West Virginia Encyclopedia:
During the first decade of the 20th century, French was frequently spoken on the West Virginia streets of such communities as South Charleston, the North View section of Clarksburg, and the small town of Salem. These neighborhoods shared a connection to the window-glass industry, and the people speaking French often were Walloons, or French-speaking Belgians. About 1900, changes in window-glass manufacture brought thousands of immigrants from the Charleroi area of Belgium just when the industry was expanding into West Virginia to take advantage of cheap natural gas and large deposits of silica sand. For a generation, window-glass factories, many of which were worker-owned cooperatives, relied heavily on these Belgian immigrants to provide the skills necessary to make West Virginia a national center of production.
View Larger Map
The town of Belgium, West Virginia is right in that same general area as Clarksburg and Salem. I'd consider that indicative of fingerprints left behind by an immigrant community.
I couldn't find anything about Belgium, New York other than its location. That one remains a mystery. However there are several other Belgian place names found a bit further north in Jefferson County including Antwerp and Rosiere which seem to denote a settlement pattern. People who came from areas of the Low Countries now associated with modern Belgium were among the earliest Dutch-era colonial settlers of New York. Some of their impact may be masked within a larger colonial association with the Netherlands. It's a bit murky because a lot of it has roots in the Seventeenth Century so I'm speculating. Clearly more research needs to be completed.
---
Looking at a later cluster, the great period of immigration into the United States beginning in the Nineteenth Century, the focus starts to shift to states flagged by the Census, namely Wisconsin, Michigan and Illinois. Wisconsin is truly the epicenter, and in fact the influence concentrated within one tiny corner of Wisconsin along the Green Bay side of the Door Peninsula.
View Larger Map
Here, one can drive from Brussels to Namur to Rosière in twenty minutes. Belgium is a small country, and even so, try that same feat in Belgium and it will take closer to an hour and a half. French-speaking Wallonian immigrant farmers transplanted the geography of their homeland and squeezed it down to fit within the comforting confines of their new community. Another community formed just down the road in Ozaukee County. This one included former residents of the french-speaking Belgian provide of Luxembourg (not to be confused with the Grand Duchy of the same name).
Wisconsin's concentration of Belgian immigrants is significant enough to warrant a separate Belgian-American Research Collection within the University of Wisconsin Digital Collections. This includes a Keyhold Markup Language (kmz) file that can be pulled into Google Earth. Here is a screen print I took: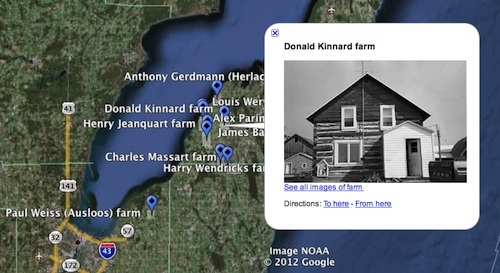 Feel free to open the Belgian Farms file if you have access to Google Earth and if you are so inclined.
Another well-organized community existed in Michigan. I didn't find quite as much information on that one. However, it still has a Belgian-American Association near Detroit that has been active since 1927.
Most of the Belgian immigrant impact upon U.S. place names appears to be associated with French-speaking Walloons from the southern half of Belgium. I'm not sure I can claim that definitively, however circumstantial evidence seemed to point in that direction.
Under
Cities/Towns
,
History
,
International
| Taged
2000 Census
,
2010 Census
,
Belgium
,
Door Peninsula
,
Flanders
,
Immigration
,
Wallonia
,
West Virginia
,
Wisconsin
---