Sunny Day
Sweepin' the clouds away
On my way to where the air is sweet
Can you tell me how to get,
How to get to Sesame Street
How many people in the 12MC audience remember that infectious little theme song from Sesame Street? I guess you'd have to be of a certain age and location although there were and have been variations found around the world including Vila Sésamo (Brazil), Plaza Sésamo (México), Sesamstraße (Germany), Sesamstraat (Netherlands), Rue Sésame (France), Barrio Sésamo (Spain), Svenska Sesam (Sweden) and Rechov Sumsum (Israel).
WCVE on Sesame Street
Why would Sesame Street come to mind after multiple decades removed from my childhood? Even my children are too old for Sesame Street now. It happened when I noticed that WCVE — the Public Broadcasting Service television and radio station for Central Virginia — was located at 23 Sesame St, Richmond, VA. That's right, at PBS station on Sesame Street. Perfect. Sesame Street, the show, has been associated with public television since its debut in 1969. It remains a staple of educational programming for preschoolers even today. WCVE chose to honor that history by naming the access road leading up to its broadcast facility after Sesame Street. It's not the only one, either. WLVT, the PBS station for Pennsylvania's Lehigh Valley can be found at 839 Sesame St, Bethlehem, PA (map).
---
Sesame Street and Hemp Court
One can safely assume that any PBS television found on Sesame Street happened deliberately. Are there other instances of intentional homage? I discovered a handful of possibilities although it was more likely to be coincidental. I also found a few unrelated oddities amongst the numerous standalone Sesame Streets.
---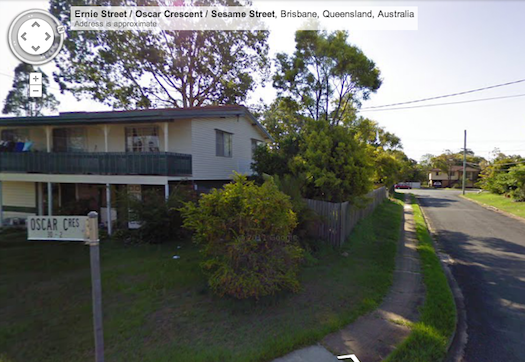 Sesame Street, Ernie Street and Oscar Crescent
via Google Street View, November 2009

None of those were my favorite example, though. For that, I had to cast my eyes towards Australia. Apparently Sesame Street had run for decades on Australian television in an undiluted form, with Americanized Muppet characters rather than something customized specifically for the Australian market. I think they may have even used original voices rather than dubbing them with an Australian accent. Can any 12MC readers from Australia think back to their childhoods and confirm that? I based my guess one one of the comments from the article I linked ("A generation of Australian children have grown up unsure if z is pronounced zee or zed").
Check out the wonderful Street View image I captured at the intersection of Sesame Street, Ernie Street and Oscar Crescent! There can be no mistake. Those streets were named intentionally for characters on the television program. I simply never expected to find that in Australia.
---