Those of you who read Twelve Mile Circle for the weird geography stuff may want to take a pass on this entry today as I focus much more broadly within the scope of our stated purpose, "an appreciation of unusual places."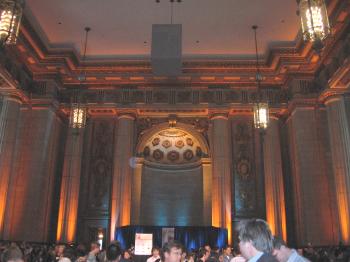 On Friday night, May 16, 2008, I had the pleasure of attending the opening session of Savor: An American Craft Beer & Food Experience. It was held in the magnificent Mellon Auditorium, a legendary example of classical architecture situated on Constitution Avenue in Washington, DC, right across from the National Museum of American History.
This event featured renowned and diverse beers from over forty of the most elite American craft breweries paired expertly with gourmet appetizers, cheeses and desserts. It was sponsored by the Brewers Association so of course one of its points was to promote the state of the craft in the United States today. I'd seen several of the breweries in their home locations using the tip I described to you a few weeks ago so it was nice to visit with some familiar names like 21st Amendment, Dogfish Head, Flying Dog, Full Sail, Pelican, Rogue, and Starr Hill.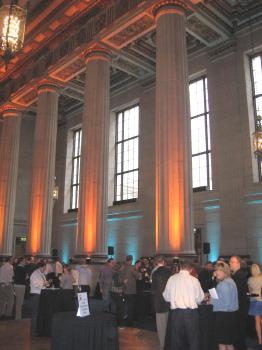 The other point was to highlight the versatility of craft brewing skills by demonstrating that, much like wine, lovingly designed beers can enhance and improve a dining experience. So consider this event an outreach by the brewing community to the foodie community, and a means of widening the circle of people who appreciate the flexibility of craft beers. Some of my favorite pairings that evening were Boscos Hefeweizen with Chicken Breast A La Blanche De Chambly; Brooklyn Local 1 with Brillat-Savarin (an artisan cheese); and Stone Smoked Porter with Blue Cheese & Walnut Shortbread Rounds. There were also lots of pairings with chocolates which, while completely delicious, became totally overwhelming after awhile. I could only eat so much heavy, rich chocolate before I had to stop.
This was more of an upscale crowd than one normally encounters at a typical brewery festival. Recently it seems that many festivals have devolve into crushing masses focused on maximizing consumption above appreciation, but then again, maybe I've just become more of a curmudgeon as I've aged. I think the positioning of this event was deliberate: the hefty admission; the tickets that could be purchased only in advance and not at the door; the focus on small portions of food and beverage; the suggested dress code (business casual and up); and the swanky venue. Fratty McFratty isn't willing to go through the hassle or expense of an event like this, and frankly, he wasn't missed.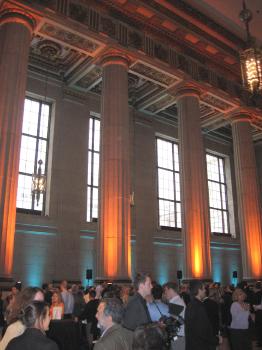 I'll admit the logistics concerned me. I wasn't sure how tough it would be to jostle for portions in a crowd of several hundred people confined within an auditorium. It didn't help when I saw the huge queue forming outside the building, waiting to go through a bank of metal detectors with all the ambiance of a TSA airport security checkpoint — Mellon Auditorium is part of a government facility right at the heart of the Federal district after all — but the line moved quickly and we soon found ourselves in a spacious, ornately gilded chamber. Indeed there was a crowd inside but it never felt crowded. The brewers seemed excited to talk about their products and their chosen pairings, even though they'd probably already had the exact same conversation with about a hundred other people that evening. The waitstaff did an excellent job of replenishing stations and removing discarded items. The crowd proved to be energizing rather than overwhelming.
The Brewers Association sponsors the annual Great American Beer Festival so hopefully they'll make Savor a regular event, too. They sold out all three sessions, people seemed to have a great time, and hopefully it made a small contribution towards the positive perception of craft beer.
Maybe someday when this becomes an established tradition I'll be able to look back and recall fondly that, yes, I was there on opening night.
---