The virtual file folder is bulging at the seams but none of the topics I've collected for today are large enough to merit a standalone article. There should be something for just about everyone here today, something new, or old, or refurbished or random.
Haines Shoe House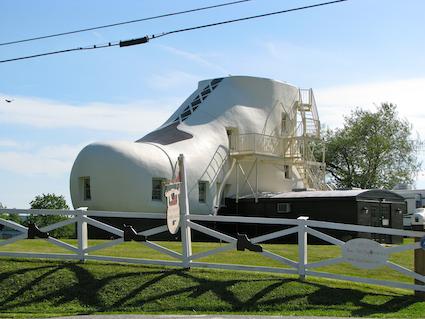 Wouldn't you visit the Haines Shoe House if you were up in York Pennsylvania over the weekend? What could possibly be more entertaining than visiting a house shaped like a shoe? Well, plenty of things if you ask my family but that still didn't deter me. Arriving at the shoe and finding it CLOSED certainly deterred me though. That's why I have only a single image of this roadside oddity rather than an entire article and photo montage devoted to it.
Incidentally, how does one close a shoe? I discovered it's apparently not by tying a knot in the laces. No, it's accomplished by placing thick chains across the driveways. My disappointment dissipated when we arrived at Mount Joy about twenty minutes later for dinner at Bube's Brewery. They had a great biergarten out back with live music and great beverages on a perfect springtime evening. Shoe House? What Shoe House?
That Horribly-Named Andean Bear
"They" say a bad name will haunt you forever, and Chaska is a really bad name. Recall about a week ago when we had an opportunity to name an Andean bear after a geo-oddity. The polls closed, the votes were tallied, and the National Zoo reports that "Chaska had edged out Paqarina by merely 72 votes (garnering 1,799 votes, or 37 percent of the total). Chaska, meaning the 'dawn star,' was submitted by the Embassy of Peru."
Wait a minute — Roraima didn't even make it into the top two?!? Don't people realize that she would have been named after the mountain that hosts the Venezuela, Brazil and Guyana tripoint? Punks. I weep at the state of geographic education in public schools today.
Incidentally, it turns out that Chaska is also a town in Minnesota. Maybe the name isn't so bad after all.
Random Entertaining Street View Images
New reader Joah stumbled across my recent Inuvik post and he decided to share a related image. Apparently there isn't much to do way up north because look what they've done to the roadside along the Dempster Highway
View Larger Map
You can find a bunch more graffiti that's similar to this set along other roadcuts just to the north.
He also shared a random odd image that will likely change in the future so I'm provide this as a screen print. For now the error continues to appear in Street View but it will likely be erased the next time a camera car rolls through town. Either that or there's a sideways house built on a really steep hill outside of Cincinnati, Ohio.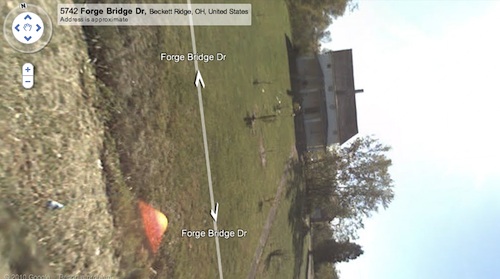 Then I got a message from loyal reader Steve from CMTQ with another Street View anomaly. It was quite the exciting day with all these great Street View images rolling in. Here Google forgot to erase one of the car's windows when it processed the image. It will disappear someday so enjoy it for now.
View Larger Map
I'll Never Mention a Certain Radio Show Again
We had a fun time discussing a rather lamely written trivia question, but apparently every spammer on the planet searches rss feeds looking for the name of the show that generated the question. I've gotten hundreds of attempted spam comments on the blog, almost all deflected prior to reaching to the moderation queue, and dozens of junk links from fake blogs that I've deflected via moderation ever since we mentioned that show in the comments. That show must generate absolutely amazing amounts of traffic if spammers target ferocious intensity on those who merely mention it.
Under
Canada
,
Miscellaneous
,
Roads
,
Tools
| Taged
Brewpub
,
chaska
,
Dempster Highway
,
Graffiti
,
Roraima
,
Shoe House
,
Spam
,
Spammers
,
Street View
,
Tripoint
---