Longtime 12MC Reader "Mark" invited me to participate in a private beta version of Pinwheel.com about a week ago. I've spent a little time each evening tinkering with it. That's not enough time to take advantage of Pinwheel's true potential although I believe it's sufficient to imagine some of its possibilities. What is Pinwheel? Well, it's a lot of different things and yet also different so it's a little difficult to describe.
At its core, Pinwheel allows users to post digital messages to specific geographic locations. Obviously the mapping function is my primary interest. These "notes" don't have text limitations although the ones I've enjoyed last maybe a few sentences or a couple of brief paragraphs. The better ones often come with photographs. It's not blogging but it's not microblogging either; maybe it fills a spot somewhere in the middle (miniblogging, if such a thing exists), intertwined with geography.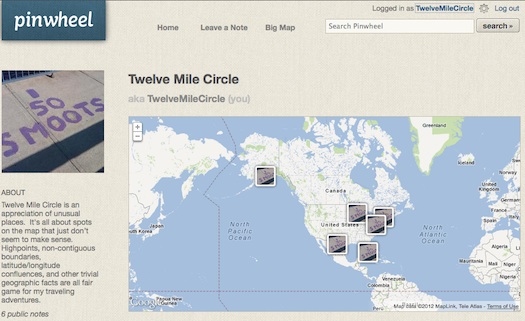 However Pinwheel can go well beyond that when used to its full potential. It is a social network allowing users to connect with a familiar following/followers paradigm along with private/public sides. Other features sift notes into specific locations or subjects, reducing the clutter of a million random notes into something more personal and meaningful. There's also a mobile version so theoretically one could walk down a busy city street and uncover notes within physical proximity, giving it a geosocial networking dimension as well.
That's the premise, and that's why I can't say I've fully explored Pinwheel after only a few days. I've posted about a half-dozen notes, basically regurgitate and synopsized material from the Twelve Mile Circle, primarily to learn how to use its features as I geo-tag and drop notes onto its Google Maps interface. Few people have found my notes so far and I have only a couple of followers, which is to be expected after such a short period. One needs to build a personal community of compatible interests — geo-oddity enthusiasts in my case — like any social network. One also needs to post solid content, uncover interesting places noted by others, comment on their observations and discoveries, and build relationships. That doesn't happen overnight.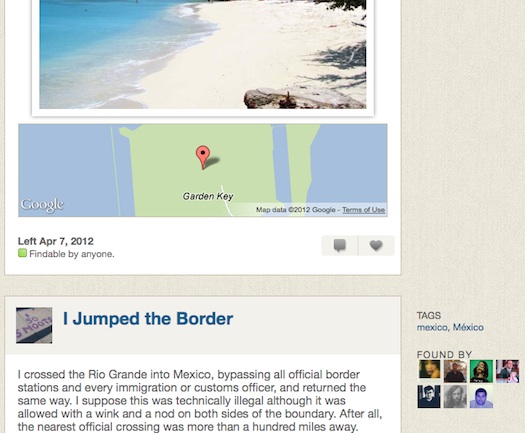 I'm not sure what happens as more people begin to add an ever-increasing number of notes. In beta, I see lots of solid content from excellent storytellers and photographers. Will that change when Pinwheel opens to the general public? Do older notes begin to fade away or become more difficult to find? Can a particularly prolific user with a stream-of-consciousness mentality carpet bomb a neighborhood with vapid non sequiturs, thus neutering it for the rest of the universe? I suspect the solution will involve individual user actions that filter content to those that one deems "followable," but that also reduced the spontaneous joy of serendipity. I suppose I'll have to find a way to balance those competing benefits.
I also envision a rather stark divergence in how people will use Pinwheel. Some will want to use it like a geo-twitter where notes are intended to serve an immediate ephemeral purpose. Others, myself included, will want notes of a more durable nature. Geo-oddities are permanent. The Lost Peninsula is going to be as fascinating ten years from now as it is today. Thus, I'm reluctant to throw a lot of content onto Pinwheel until I know how it's treated and whether content fades over time. I'll continue to dole-out notes and photographs in a slow, steady stream, maybe a handful per week. I have hundreds of stories so I'm not concerned about running out of content. At the very least — even if I can't get the social network aspect of it functioning as intended — perhaps Pinwheel will serve as an alternate 12MC front-end to augment my interactive map of articles.
I see the promise. I like the geographic slant, and I'm always on the lookout for new ways to unite the geo-oddity community. I'm also the world's worst prognosticator so I won't try to predict whether Pinwheel will become the next big thing or an also-ran. Can the world handle another social network? Do I have the time and energy to groom it for my purposes? Does the population at large have sufficient geography awareness to embrace it (I think The Basement Geographer knows what I'm talking about)? I still don't completely understand the usefulness of Twitter and the mere existence of something like Pinterest totally baffles me (does the name Pinwheel sound too similar to Pinterest?) even though somehow it's completely captivated my wife and her friends. Am I simply a curmudgeonly Luddite? Get off my lawn kids or I'll shake this stick at you a second time!
Questions, questions, questions.
If you're already on Pinwheel you can find me at: pinwheel.com/TwelveMileCircle. If you are not but it sounds intriguing let me know because I've been given three invites to hand-out for the beta version. I'll send one to the first three readers who request it, forwarding an invite to whatever email address you provide in the comments form (which only I can see). All I ask is that you please give Pinwheel a fair shot if you do make the request.
---