The setup might take a little explanation. I wanted to find the lowest county highpoint in each of the fifty United States. There would only be one per state based upon a series of lists provided by Peakbagger.com. That might lead to speculation that a better solution would involve examining all county highpoints regardless of state and rank them accordingly. I'd consider that fair criticism and maybe I'll draft a Part 2 where I do that someday. However, just for today, I found it a lot easier to deal with a sample of 50 data points rather than 3,142 because I had to transcribe everything by hand. That was the real explanation.
I've shared the resulting Google spreadsheet with the 12MC audience, featuring one single lowest county highpoint per state. Can you guess which states had the lowest county highpoints? I knew most of them although the order surprised me.
---
Virginia

060314-A-5177B-035 by U.S. Army Corps of Engineers Norfolk District, on Flickr
via Creative Commons Attribution 2.0 Generic (CC BY 2.0) license

Virginia provided the overall lowest county highpoint with the independent city of Poquoson (map), which was considered a "county equivalent" for census and other statistical purposes. Poquoson's peak elevation hit only 10 feet (3 metres) in several different places, just a storm surge away from complete nonexistence. It certainly seemed flat enough judging by the image published by U.S. Army Corps of Engineers from Plum Tree Island. Those holes might be bomb craters by the way. The Corps explained that Plum Tree served as a bombing and artillery range before it became a wildlife refuge.
I agree, a "county equivalent" with only 15 square miles (40 square kilometres) of dry land felt like cheating. Virginia and its wacky independent cities always seemed to throw a monkey wrench into county comparisons. Looking solely at Virginia COUNTIES, the lowest highpoint would be Accomack on the eastern shore with a summit of 60 ft. (18 m.). That exalted elevation would knock Virginia several notches down the list.
---
Louisiana

road to cocodrie, la by Gerald McCollam, on Flickr
via Creative Commons Attribution-NoDerivs 2.0 Generic (CC BY-ND 2.0) license

No state suffered more from my arbitrary set of rules than Louisiana. I don't think any other state had anywhere near the sheer number of low-elevation counties than Louisiana, where of course they were called parishes. I counted 25 parishes with a peak elevation of 100 ft. (30 m.) or less, including 7 parishes at 20 ft. (6 m.) or less. Louisiana's issues with erosion were well understood. The southern end of the state continued to wash into the Gulf of Mexico as each big storm passed.
Terrebonne Parish climbed to only 13 ft. (4 m.), and barely resembled dry land at all with its endemic pockmarks clawed by hurricanes (map). Jefferson Parish, a west bank suburb of New Orleans, ranked a close second at 15 ft. (5 m.). One of my family members lived in Jefferson Parish during Hurricane Katrina and the elevation was just high enough to keep the house from flooding.
---
North Carolina

Potato plants in a Gum Neck field by Tony Pelliccio, on Flickr
via Creative Commons Attribution-NonCommercial-ShareAlike 2.0 Generic (CC BY-NC-SA 2.0) license

Conventional wisdom led me to believe that the lowest county highpoint of North Carolina would be found on the sandy barrier islands and ridges of the Outer Banks. That would be wrong. I should have remembered that the Wright Brothers chose Kill Devil Hill on the Outer Banks for gliding experiments prior to the first airplane flight precisely because it was a hill.
The actual lowest county highpoint triangulated to a spot on the mainland nearby in Tyrrell County, a place without sand dunes (map). Tyrrell's highest summit hit 17 ft. (5 m.).
---
Other Notable Highpoints

Brooklyn – Green-wood Cemetery: Minerva and the Altar to Liberty by Wally Gobetz, on Flickr
via Creative Commons Attribution-NonCommercial-NoDerivs 2.0 Generic (CC BY-NC-ND 2.0) license

I'll mention a few more locations briefly.
Perhaps I could be excused for thinking Monroe County, Florida — the county of the Florida Keys — would have been the winner. It wasn't. Monroe County had a highpoint on Lignumvitae Key at 19 ft. (6 m.), the site of Lignumvitae Key Botanical State Park. It wasn't accessible by road so maybe that's why I never noticed it during my many drives along the Keys.
Much farther down the list, New York featured Battle Hill (map) as its lowest county highpoint. That was in Kings County, a place known better as Brooklyn. It led me to wonder about the namesake battle of said hill. Fighting took place on the hill at the site of the current Green-Wood Cemetery during the early phase of American Revolutionary War, August 1776, a part of the larger Battle of Long Island. American forces inflicted heavy losses on British troops who attempted and failed to capture the hill. Shortly thereafter, George Washington evacuated all of his troops from New York City anyway because he was badly outmatched.
A final nod should go to Utah with the highest of lowest county highpoints. That was a rather impressive 9,255 ft. (2,821 m.) at Rich County's Bridger Peak (map).
---
Completely Different Topic: Welcome Manaus!
Manaus
Twelve Mile Circle seems to have attracted a regular reader from Manaus, in the Amazonas state of Brazil. I first noticed the anomaly during the World Cup when the United States played in Manuas and I figured it was an US reader who traveled down for the game (even mentioned it on the 12MC Twitter). However I continue to notice hits from Manaus at a regular pace. This counts as my official welcome. Thank you for coming to the site!
Strange queries land on Twelve Mile Circle. Recently I noticed search engines referencing questions in the form of "does the sun rise (or set) in [name a location]." and sending them to the site. Since I'm pretty sure those were daily events for most of us except perhaps at extreme latitudes during very specific times of the year, I wondered what the queries actually meant. People didn't seem to be searching for a trick question or answer. Seriously, some of them were like, "Does the sun rise in Chicago." I wanted to scream, YES OF COURSE THE SUN RISES IN CHICAGO! WHY WOULDN'T THE SUN RISE IN CHICAGO?!? I may, in fact, have said it out loud, or at least muttered it.
Maybe they really wanted to know the time of sunrise? Maybe it was an over-the-water thing, which is where the queries landed on 12MC? Maybe I somehow missed a grand catastrophe this morning and the sun won't actually rise in Chicago tomorrow?
That was an awfully long tangent to explain that the sequence made me start thinking about places called Sunrise.
Sunrise, Florida

View from our seats at BankAtlantic Center by Elliot, on Flickr
via Creative Commons Attribution 2.0 Generic (CC BY 2.0) license

I recalled the existence of Sunrise from a time when I had family in South Florida and I would travel down there to visit occasionally. I didn't remember anything other than the name; I knew nothing of Sunrise specifically. Nevertheless it came to mind during this exercise so it merited further exploration.
Why the hockey stadium? It turned out that the Florida Panthers National Hockey League team used Sunrise as its home base, at the BB&T Center in particular (formerly the BankAtlantic Center, and before that the Office Depot Center, and even earlier the National Car Rental Center and the Broward County Civic Arena, and probably something else completely different if someone reads this page a year from now). I know the Florida Panthers joined the NHL more than twenty years ago, and yet, hockey in Florida just seemed wrong. It didn't hit the level of weirdness of the curling club that played at the Panther's practice facility in nearby Coral Spring that I discussed in Sports Facilities I Never Imagined. Still, it was odd. Who knew South Florida was such a hotbed for winter sports? Maybe that was the point. People get tired of endless heat and sunshine.
---
Sunrise, Minnesota
Multiple Sunrises
Few things in life could be better than a quadruple sunrise. It would be a wonderful way to start each and every day. In eastern Minnesota, the Township of Sunrise had a village of Sunrise, located on Sunrise Road next to the Sunrise River. Paradise.
Step a block away from Sunrise Road, and one could experience quintuple sunrise by going to the Sunrise Community Museum. Of course a motivated traveler could go even more extreme by visiting the museum at dawn, at the actual sunrise, and I guess that would make it a sextuple sunrise.
I think I'm getting a headache. Maybe I need to get out of the sun.
---
Sunrise Beach, Missouri

Lake Sunset – Lake of the Ozarks by Phil Roussin, on Flickr
via Creative Commons Attribution-NonCommercial-NoDerivs 2.0 Generic (CC BY-NC-ND 2.0) license

Sunrise Beach seemed to be a nice little resort community found at Lake of the Ozarks, according to my quick search of the Intertubes.
In the 1920′s and early 1930′s, Sunrise Beach and surrounding communities consisted of nothing more than vast areas of timber and brush. After the construction of Bagnell Dam by Union Electric, several communities sprang up around the lake, primarily due to the beauty inherent in this area. Sunrise Beach, located on the west side of the lake, was one of those communities…
Ironically, the best photograph I could find of Sunrise Beach was taken at sunSET.
I discovered additional English-languages Sunrises in other parts of the world, although little practical information about them.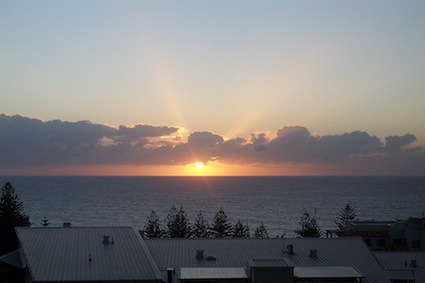 Sunrise Beach, Queensland, Australia
Photo courtesy of "John of Sydney" (see comment below)

Taman Sunrise, Kluang Johor, Malaysia (map)
Sunrise-On-Sea, Eastern Cape, South Africa (map)
Sunrise Beach, Queensland, Australia (map)
Too bad I didn't know how to say sunrise in other languages. I'm sure I could have found more.
I considered synonyms and euphemisms for small, inconsequential places. Sometimes they even found their way into Twelve Mile Circle articles. Those wouldn't be real places, right? They were just generic terms for middle of nowhere spots where nothing every happened and nothing ever would for the remaining history of the known universe. Or were they?
Podunk

at Aiken and Podunk by Matt Moritz, on Flickr
via Creative Commons Attribution-NonCommercial-ShareAlike 2.0 Generic (CC BY-NC-SA 2.0) license

I've always been partial to Podunk. I'm sure my opinion had a geographic and cultural component. I'd likely favor some other term if I grew-up elsewhere.
The Podunk were a Native American people of Algonquian origin that inhabited an area that later became the modern towns of East Hartford, East Windsor, South Windsor, Manchester and smaller parts of other towns in Connecticut.
Podunk or Pautunke, means "where you sink in mire", a boggy place, in the Nipmuc dialect… The Podunk tribe consisted of three bands: the Namferoke (Podunk, "fishing place"), who lived near the village of Warehouse Point; the Hockanum (Podunk, "a hook", or "hook shaped"), led by Tantonimo, who lived near the village still known as Hockanum; and the Scanticook (Nipmuc, "at the river fork"), who lived on the north bank of the Scantic River near the section called Weymouth.
There were various locales and features named Podunk, primarily in Connecticut, Massachusetts and New York. The photograph of Aiken and Podunk came from Trumansburg, New York, in the Finger Lakes Region (map).
I was gratified to see that fellow geo-oddity aficionado Steve who writes Connecticut Museum Quest mentioned Podunk in several articles. Clearly, he was no stranger to Podunk.
Podunk, Connecticut
While the Podunk people occupied a sizable geography, the Geographic Names Information System identified a specific point as Connecticut's current Podunk. It might have been possibly the only location we didn't visit on the epic Connecticut Extremes tour a couple of years ago.
---
East Bumf**k
This section brings immaturity to a new level. No offense is intended. Some readers with delicate sensibilities might be advised to skip to the next one.

New Hampshire Motor Speedway by Jose Castillo, on Flickr
via Creative Commons Attribution-NonCommercial-ShareAlike 2.0 Generic (CC BY-NC-SA 2.0) license

Speaking of euphemisms, readers will simply have to add the appropriate letters for the two asterisks in Bumf**k on their own. This is a family-friendly website. I've used East Bumf**k on occasion verbally, or Bumblef**k which is another entertaining variation. I can't say I've referred to Bumf**k Egypt personally although I know that one is fairly common too. Seriously though, would anyone name a place Bumf**k? Well, no. There's still hope for this world.
I had to check though. The 12MC audience would have been disappointed if I hadn't at least given it a shot. I found something almost as bewildering and inexplicable in GNIS.
Bumfagging Hill, New Hampshire
Others discovered this little gem long ago, including one gentleman who hiked to the summit of Bumfagging Hill. One of the people who commented on his feat speculated that it… "derives from 'bumfeg,', which the Oxford English Dictionary defines as an (obsolete) humorous synonym for 'to flog, thrash.' Maybe the colonists flogged their laundry up there, or thrashed miscreants." It sounded plausible enough to me.
In that case Bumfagon Brook (map), also in New Hampshire, likely had a similar etymology. I wonder how all of those NASCAR fans at New Hampshire Motor Speedway felt about their uncomfortably close proximity to Bumfagon Brook as they hooted and hollered for the next wreck?
---
Hicksville

The train to Hicksville by Mashthetics, on Flickr
via Creative Commons Attribution-NonCommercial-ShareAlike 2.0 Generic (CC BY-NC-SA 2.0) license

I wasn't sure why Hicksville (map) became a generic term for an unsophisticated hamlet far removed from civilization. Hicksville in New York had a population of greater than forty thousand residents at the 2010 Census — hardly insignificant — and a median household income of $91,331 per year.
According to "The City in Slang",
Several names for small towns just extend epithets for provincial people, usually forming them with the suffixes -ville, -town, and -burg… the use of hicksville in New York was surely reinforced by the fact that the real city of Hicksville (an utterly coincident name) was nearby on Long Island.
That made sense.
---
A Few More
GNIS included entries and lat/long coordinates for all of the following places or features aligning with the theme:
As some might say, "Thank God we live in this quiet, little pissant, redneck, podunk, jerkwater, greenhorn, one-horse, mudhole, peckerwood, right-wing, whistle-stop, hobnail, truck-driving, old-fashioned, hayseed, inbred, unkempt, out-of-date, white trash mountain town!"