Twelve Mile Circle likes to deal with the extremes in geography and the current topic continues with that theme, the national capitals that are closest to the north and south poles.
View Larger Map
The title for northernmost national capital goes to Reykjavík, Iceland, at 64 degrees north. That's just a couple of degrees short of the Arctic Circle!
Located on Faxaflói Bay, Reykjavík is home to about a hundred thousand people with another hundred thousand or so in its greater metropolitan area. That's a remarkable achievement considering that there are only about three hundred thousand people in all of Iceland.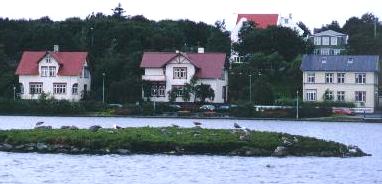 I took this photograph at Tjörn (which means literally "the pond") in central Reykjavík a few years ago. In spite of its size, the city is quite cosmopolitan with abundant nightlife and activity. Tjörn provides a quiet respite in the middle of an urban setting.
It easy to use Reykjavík as a launching point for experiencing much of Iceland's abundant natural wonders such as the rainbows of Fjallabak Nature Reserve or the rhyolite peaks, glacial rivers and geothermal hot streams of Landmannalaugar (in case you want so see a couple more photos).
On the other side of the planet sits Wellington, the capital city of New Zealand at 41 degrees south. It rests at the southern tip of North Island along Cook Strait, at about the country's midpoint. It houses about two hundred thousand people and about double that within its larger metropolitan area. New Zealand has a population of about four million so Wellington is an important city but not on the same scale or extent as Reykjavík is to Iceland. In fact Wellington isn't even New Zealand's largest city (that distinction goes to Auckland).
Because Wellington is hemmed-in by its harbour and nearby hills, it doesn't have much room to expand so it makes up for that by having a greater population density than anywhere else in the country.
I haven't been to New Zealand so I don't have any photographs to share. Maybe someday I'll be able to make that journey. For now, you can visit with the newest page in my continuing series on world ferries: the Interactive Map of New Zealand Ferries.
Under
Cities/Towns
,
Government
,
International
,
Latitude
,
Nature
| Taged
Faxaflói
,
Ferries
,
Ferry
,
Fjallabak
,
Iceland
,
Landmannalaugar
,
National Capital
,
New Zealand
,
Northernmost
,
Reykjavík
,
Southernmost
,
Tjörn
,
Wellington
---