Each road trip I took offered different opportunities for County Counting, whether as a stated goal or as an amusing side project. I examined the situation carefully before departing so I could see how I might augment my lifetime list. I'd done pretty well in New England during previous visits. Nonetheless those earlier trips had occurred for different purposes. Their distinct objectives left behind a number of unsightly doughnut holes of yet-to-be-visited counties. My map looked something like this prior to my departure: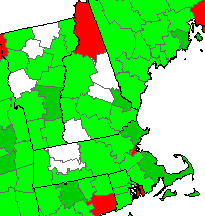 Those counties in white represented places I hadn't captured. Some were contiguous and could be combined into sets. Overall they were spread into distinct pockets cast broadly across Massachusetts, New Hampshire and Vermont. That presented some challenges. I needed to devise a plan that aligned with race locations and minimized detours. The Mob Rule county counting website and its driving directions utility helped immensely. I could enter exact latitude/longitude coordinates while drafting prospective routes, overlaying my map of visited counties to see see how and where I needed to move. I designed a target course that in fact I finished in its entirety: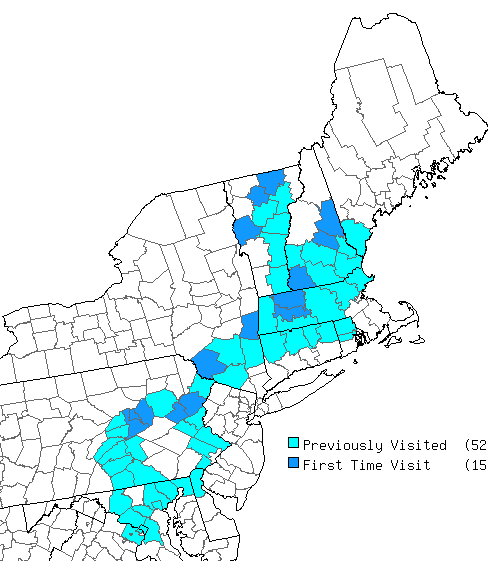 Readers familiar with highways in the northeastern United States probably noticed that I avoided the most obvious, most direct route between Virginia and New England; the dreaded Interstate 95. We left on a Friday and I didn't want to thread the needle in narrow windows that avoided morning and afternoon rush hours in Baltimore, Philadelphia, New York and Boston. Also, nobody could ever predict when an accident might clog I-95 with a multi-hour delay. That route was too unpredictable. Instead I decided to take a wildly inefficient path that would grant me an opportunity to fill a few doughnut holes in Pennsylvania and New York along the way.
We began heading due north into the heart of central Pennsylvania, then due east, essentially two legs of a triangle where the hypotenuse of course would have been the shorter I-95. That allowed me to pick up two clusters of previously non-visited Pennsylvania counties: first Northumberland, Montour and Columbia, and later Carbon and Monroe. Next the path cut diagonally across the lower corner of New York — although way beyond the sprawl of New York City — capturing Sullivan and Columbia (not to be confused with the Columbia County in Pennsylvania). We hadn't arrived at our primary destination and I'd captured seven counties already!
The three New Hampshire counties were easy grabs. Carroll and Belknap needed only tiny detours. Cheshire fell directly on the path between races and I didn't have to detour at all. Massachusetts was similarly easy. One of the races took place in Franklin County so that was certainly convenient. Hampshire County was just a short drive south so I snagged it with little effort.
---
Then there was Vermont
I agonized over Vermont as I planned the trip. The drive between our New Hampshire race and Vermont crossed the southern tier of both states, a direct route that would take about an hour under ordinary circumstances. I needed to drive the length of Vermont and loop around its northern tip along winding country roads to visit three scattered counties. That would turn a single hour trip into a six hour expedition for little payday. It seemed excessive and I planned to pass it up. However, little else seemed to interest me along the most direct route. I'd scoured that corner for attractions during a previous trip back in 2010, and I'm not one who generally wants to see the same place twice. How many times does someone need to visit the Phineas Gage Monument? I'd undertaken more elaborate efforts than this six hour county counting quest, I supposed, so that's how it unfolded. We ran into a couple of interesting places along the way so it all worked out. For instance, I didn't realize ahead of time that Ben and Jerry's ice cream factory fell directly along our path until we drove through Waterbury. Nothing said Vermont more than Ben and Jerry's and that became a nice break after several hours on the road.
I also spotted a sign for a brewery as we drove through the town of Morrisville, the Rock Art Brewery, and the place was open. That was another nice break. Beer Geeks might wonder why we didn't stop at Alchemist Brewing as we drove through Stowe. It was closed to the public at the time.
I am a meticulous planner. That's just the way my mind works. Nonetheless it was enjoyable, and perhaps a bit liberating to go largely unscripted for much of a day. We discovered plenty of unexpected amusements as the path unfolded. I was exhausted as the sun set and we had another race at 6:00 am the next morning. I'd have to think twice about taking such a long detour next time for the sole purpose of counting counties.
My total hit 100% completion for three new states by the end of the trip; Massachusetts, New Hampshire and Vermont. I also filled in doughnut holes in Pennsylvania and New York, bringing the total haul of new counties to 15. I left a good reason to return, too. I am now only three counties away from finishing all of New England. Someday I'll have to travel to the northern tip of Maine and get those final three. Maybe I could combine it with a trip to Atlantic Canada.
---
Completely Unrelated
Several 12MC readers have alerted me to an article that I found fascinating and I'm sure the rest of you will too: Altered state: Border redraw moves 19 homes in the Carolinas.
---
New England articles:
See Also: The Complete Photo Album on Flickr
Under
Distance
,
U.S. Counties
,
U.S. States
| Taged
Ben and Jerry's
,
County Counter
,
County Counting
,
Donut
,
Doughnut
,
I-95
,
Interstate 95
,
New England
,
Vermont
---