Smells have a way of sticking with people. Everyone knows when they drive past a petrochemical factory, a paper mill, a landfill or a sewage treatment plant. The geographic location becomes lodged in one's mind with a full set of highly-charged negative associations. I'm going to toss all of those aside. Instead I'm flipping the equation by recalling my favorite spots along the roadways that actually smell nice.
Smell is highly subjective so places that invoke a strong positive reaction with me might annoy or even offend others. Enjoy the scents I mention or plug your nose. Either is fine. I don't mind. Then feel free to mention your favorite roadside olfactory memories and their locations.
Chocolate

SOURCE: Flickr by "Scott Beale/Laughing Squid"
via Creative Commons Attribution-NonCommercial-NoDerivs 2.0 Generic (CC BY-NC-ND 2.0) license

I used to attend an annual event each summer in Hershey, Pennsylvania (map) which is indeed the corporate headquarters location of the Hershey Company, the maker of those famous chocolates of the same name. Milton Hershey founded the company in the early 20th Century and built a chocolate factory in his hometown, Derry Church. The town changed its name to Hershey later as the chocolate company became so successful it literally put the settlement on the map.
Factory tours are not readily available to the general public. The closest an average tourist such as I could get to that cocoa nirvana was visiting Chocolate World, a simulated factory tour. Nonetheless, tiny chocolate-scented molecules escaped and permeated the town, and one could get a wonderful Hershey whiff if one were lucky.
---
Freshly Cured Tobacco

SOURCE: Flickr by bankbrian via Creative Commons Attribution-NonCommercial-NoDerivs 2.0 Generic (CC BY-NC-ND 2.0) license

I am NOT a smoker. I'd really rather not breathe someone else's secondhand cigarette smoke either and I've become increasingly sensitive to the odor as fewer and fewer places allow public smoking. Freshly cured tobacco, however, is a completely different story. I described my olfactory enjoyment in a previous 12MC article about a Virginia Smoking Ban, encountered outside of the Philip Morris – Altria plant (map):
I used to drive the length of Interstate 95 through Virginia frequently. I recall the smell of tobacco as I drove through the area south of Richmond. This wasn't burning tobacco or cigarette smoke, but rather the sweet smell of tobacco going through the manufacturing process. It's a smell I suppose one either loves or hates — I rather enjoyed it — but it's difficult to miss as one passes through this section of the Interstate. The smell can be detected before one actually sees the cigarette logo spire in front of the massive Richmond Manufacturing Center of the Philip Morris company.
I does seem strange that I enjoy the odor of an unburned product while completely disliking its smoke. I can't begin to reconcile it.
---
mmm… Doughnut!
View Larger Map
I'm with Homer Simpson on this one. A doughnut smell will start a drool reflex with me. Remember the Krispy Kreme craze that was all the rage a few years ago? That one seemed strange to me at the time. Krispy Kreme had been a fixture for my entire life because I've always been a resident of a southern state.
It was a pleasure to drive by the Krispy Kreme on Richmond Highway in northern Virginia, then notice the Hot Light turned on (meaning fresh donuts) and catch a whiff from the roadside. It was practically a right of passage to stop by after a night on the town and finish the evening with a deep-fried sugary treat.
---
Brewing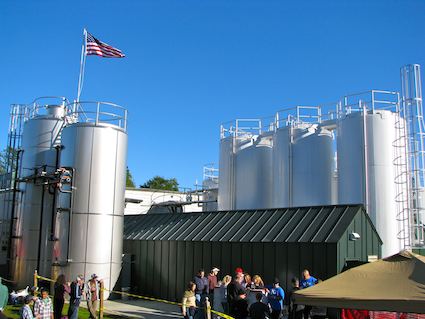 For example, my visit to the Harpoon Brewery in Windsor, Vermont (map)
Now I'm really getting excited. Have you ever driven past a brewery or brewpub when brewing was in progress? Aromas do manage to escape into the atmosphere in sufficient quantities to detect during the boiling process. It's like a siren song compelling me to stop for a sampler, or more.
I guess that says a lot about me. My most memorable drive-by odors seem to be chocolate, tobacco, doughnuts and beer.