On Wednesday evening I had the pleasure of presenting a speech about the Washington, DC Boundary Stones to the Stone Bridge Chapter of the Daughters of the American Revolution in Ashburn, Virginia. Since this was a group based in Northern Virginia, I placed a special emphasis on those markers on the Virginia side of the Potomac River.

Washington, DC in 1835
via Wikimedia Commons (in the public domain)

An official with the Stone Bridge chapter found my Washington, DC Boundary Stones page and wondered if I might be interested in introducing the topic to the group at one of its monthly meetings. I'm one of those rare people who doesn't fear public speaking, and in fact I quite enjoy it so of course I accepted the offer. That was the first time anyone had ever requested such a thing in the eight years I've written Twelve Mile Circle and the twenty years I've posted material related to my interests on the Intertubes so I knew I might never get another chance. I was also delighted to know that someone actually read and enjoyed one of the more obscure pages on my site that I'd tucked away in the attic, probably covered with cobwebs.


West Cornerstone – video by 12MC

I was slated for their February meeting which seemed like a lifetime away when we made arrangements last July. Time had a way of slipping away as it always does and February arrived before I knew it. Soon enough I found myself stepping up to the podium. I rambled on for about half an hour and I thought I did acceptably well, although one never truly knows. The speech allowed me to meander down a few geo-oddity tangents as well, like telling one of my favorite stories about the multi-jurisdictional Woodrow Wilson Bridge. I didn't see much yawning in the audience and listeners asked a lot of pertinent questions that showed they were paying attention. I took those as good signs.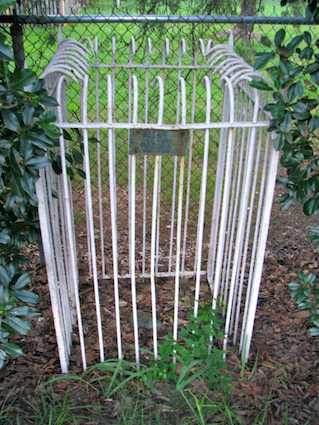 Southwest Stone #4 – photo by 12MC

One question caught me a bit off-guard and I think it may have been the question I enjoyed the most. A member of the audience asked very simply if I had a favorite boundary stone. I'd never thought about that before. I liked all of them from a geo-geek perspective and they all look pretty much the same. However I wanted to frame a response that encouraged those in attendance to visit a marker that offered more than a simple stone enclosed within a wrought iron cage like the world's smallest cemetery. I suggested the South Cornerstone for several reasons: it was the first stone placed and thus the most significant historically; it rested along a beautiful stretch of the Potomac River; the site included an old lighthouse; the surrounding park featured other amenities such as a bike trail and a basketball court; there was a large easily-accessible parking lot, and so on. However I thought of another marker on the drive home that evening that was much more meaningful to me personally.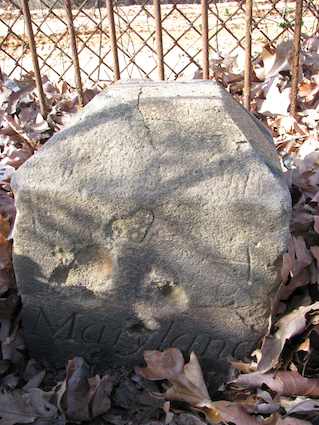 Northeast Stone #7 – photo by 12MC

It was lowly Northeast Stone #7 on the border between Washington, DC and the State of Maryland at Fort Lincoln Cemetery. It was an ugly stone, and looked like it had been through hard times as did the protective cage surrounding it. I wrote about my experience at the cemetery in 2011 after my 102-year-old grandmother passed away and was buried there next to my grandfather who I never met because he died several years before I was born. It's hard to believe that my visit to Fort Lincoln happened nearly five years ago. I need to get back out there again soon.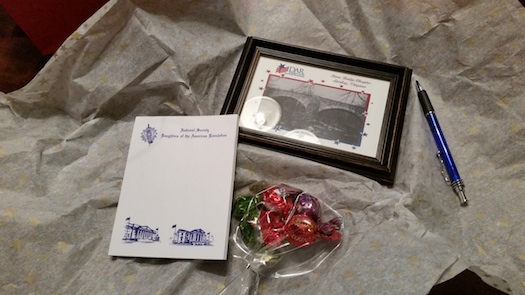 The Nice Gift Bag – thank you Stone Bridge DAR!

The Stone Bridge Chapter of DAR also gave me a nice gift bag, which was quite unexpected and much appreciated. And I got to stick around for the Chili Cook-Off competition. All-in-all it was a great evening and I thank the women of the Stone Bridge Chapter for the opportunity to share some of my obsession with local geography and history, hopefully without boring them too much.
I figured a few of you might be interested in what I discussed so I've presented my speaking outline below which I am offering under a Creative Commons Attribution-NonCommercial 4.0 International (CC BY-NC 4.0) license should anyone else ever wish to use it. This was just a basic guide. I went off-script and down rabbit holes at several points as it suited me.
---
BOUNDARY STONES OF WASHINGTON DC IN VIRGINIA
United States Constitution, Article 1 Section 8 (Article 1 deals with the Legislature)
"The Congress shall have Power… To exercise exclusive Legislation in all Cases whatsoever, over such District (not exceeding ten Miles square) as may, by Cession of particular States, and the Acceptance of Congress, become the Seat of the Government of the United States…"
==========
THE CASE FOR A NEW CAPITAL (WHY)
Articles of Confederation – Philadelphia was the capital; central government had little power
Pennsylvania Mutiny of 1783

Continental Army soldiers in Philadelphia demanded payment for Revolutionary War service
Several hundred soldiers surrounded Independence Hall
Congress of Confederation made a request to governor of Pennsylvania to protect the federal government
The governor declined to intervene
Congress relocated to Princeton, New Jersey; capital moved several times thereafter

The framers of the new Constitution needed an independent capital
==========
SELECTING THE SITE (WHERE)
Constitution specified a maximum size for District ("ten Miles square" = 100 square miles), not a location
Northern and Southern interests
Compromise

Southern states would assume a portion of northern states' Revolutionary War debts
The capital would be located in a southern area

The Residency Act allowed the President to choose the spot
George Washington wanted Alexandria to be within the District; the area would also include Georgetown

Alexandria was an important port city
Washington and his family/friends owned property around Alexandria

Compromise

Alexandria would be included in the District
All public buildings would be located on land formerly part of Maryland
==========
PLACING THE BOUNDARY STONES
Alexandria would anchor the southern tip of a "ten Miles square" diamond
Washington commissioned a survey team led by Andrew Ellicott (African American surveyor/astronomer Benjamin Banneker part of the crew)
Boundary would be designated by sandstone markers quarried at Aquia Creek in Virginia (also used for buildings in DC; e.g., original Capitol columns now at National Arboretum)
The effort took two years, 1791-1792

First stone — the South Cornerstone — placed at Jones Point at the confluence of the Potomac River and Hunting Creek
The crew then headed clockwise
Path 20 feet wide cleared on each side of marker
Forty mile perimeter — forty stones placed

Thirty Six still survive
Oldest Federally-placed monuments in the U.S.

Officially became District of Columbia in 1801
==========
RETROCESSION
The District had two counties, Washington and Alexandria
Alexandria diminished in importance; viability threatened

Federal presence on other side of the Potomac
Georgetown on the C&O Canal
Reliance upon the slave trade
Undercurrents of Congressional involvement; abolitionist movement
All District residents disenfranchised

Alexandria appealed to Richmond; lobbied for return
Virginia would accept Alexandria's return if U.S. Congress consented
Congress consented in 1846, subject to a referendum of Alexandria residents
Residents approved referendum; Congress issued a proclamation of transfer
Virginia approved the transfer in 1847 and its original lands returned
The Compromise of 1850 did indeed outlaw the slave trade in the District
The Supreme Court has never ruled on the constitutionality of the retrocession
==========
VIRGINIA'S BOUNDARY STONES
The southwestern side of the ten Miles square now traverses Virginia land

Includes 14 markers (South & West Cornerstones; all southwest intermediate stones; first three northwest intermediate stones)
SW2 is a replacement stone

Most of the original boundary stones are still there

They still form a boundary, principally for Arlington County, with Fairfax County and the City of Falls Church
Less so with the City of Alexandria

The Daughters of the American Revolution (DAR) placed iron fences around the markers in 1915
Otherwise they were neglected and largely forgotten
Finally getting renewed attention in the last couple of decades
Most of the markers on the Virginia side are very easy to visit
==========
SOME STONES WORTH VISITING
South Cornerstone
Large parking lot underneath the Woodrow Wilson Bridge
Trivia – Woodrow Wilson Bridge
==========
Southwest Stone 9
Benjamin Banneker Park; 6620 N. 18th St., Arlington
Easy street parking in a quiet suburban location
The park has a lot more than just the boundary stone
Trivia – W&OD access
==========
West Cornerstone
Andrew Ellicott Park at the West Cornerstone; 2824 N. Arizona St., Arlington
Easy street parking in a quiet suburban location
Trivia – Arlington, Fairfax, Falls Church tripoint (only 4th alphabet street in Arlington)
Under
Cities/Towns
,
Event
,
Government
,
History
| Taged
Alexandria
,
Arlington
,
Boundary Stones
,
District of Columbia Boundary
,
District of Columbia Boundary Stones
,
Jones Point
,
Virginia
,
Washington DC
---