We've had lots of talk recently about inconveniently located state capitals and misaligned county seats. We've mined that thread for about all it's worth so this is the last time for awhile, I promise. However, while I was conducting that research I came across an instance where the county seat is completely misplaced, and yet it actually makes sense. Behold the town of King Salmon.
King Salmon, Alaska, USA
Alaska has boroughs instead of counties but its essentially the same thing with different names. Parishes in Louisiana fall into a similar category. Technically I should have titled this post "The Misplaced Borough Seat" but it sounded funny. Anyway, let's try not to get too hung up on the semantics. County, Parish, Borough, whatever.
King Salmon is the government administrative seat for Lake & Peninsula Borough. Now take a closer look at that Mapquest image, which I've used because it shows county/borough lines with definitive labels. That's not a typographical error. King Salmon is not located in Lake & Peninsula Borough. It's located in neighboring Bristol Bay Borough.
Let's take a look at Lake & Peninsula in its entirety to help explain the situation.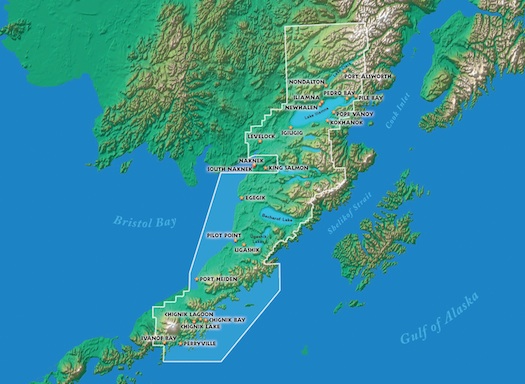 It may be a little difficult to read so please feel free to open the Borough's website and click on the image to see a version that's quite a bit larger.
Lake & Peninsula Borough encloses a massive 30,907 square miles (land and water) territory, which makes it larger than several of the U.S. states. That's impressive. Yet, less than two thousand people live here in only seventeen widely scattered, isolated communities. King Salmon sits in a notch along the border, just outside of the borough proper but at a convenient central location. It also has some decent infrastructure because of its larger population, including scheduled commercial airline flights.
Why don't they just cut the small notch from Bristol Bay and give it to Lake & Peninsula? I suppose that could be one of several possible solution but it would be a bad deal for Bristol Bay. They have only twelve hundred residents themselves and four hundred of them live in King Salmon. I'm going to guess that losing a third of their population doesn't sound advantageous.
I think they came up with an elegant solution. There are few significant towns in this remote area. Two of them, King Salmon and Naknek are only fifteen miles apart with a road connecting them. That's practically unheard of out here. Through this rather unique arrangement however, Bristol Bay keeps its population intact but the two split the largest towns for administrative purposes. Bristol Bay uses Naknek as its borough seat and Lake & Peninsula uses King Salmon. So what if King Salmon isn't actually in Lake & Peninsula.
---
Somewhat Related.
Is anyone familiar with similar situations? I know of some counties in Virginia that have their seats within the boundaries of Independent Cities. I concede that's not quite the same thing even though an Independent City is considered a "county equivalent" for census purposes. These are generally instances where the Independent City is completely embedded as an enclave within the confines of the surrounding county (e.g., Frederick Co. and Winchester, Albemarle Co. and Charlottesville).
---