The weather turned nasty on the second day of my MDVAWV adventure. Suddenly my hiking plans no longer seemed quite as attractive as the day before. I took to the road and explored a little through western Maryland. The route I describe below is a composite. The portion east of Hagerstown took place as I drove to my original destination in the sunshine. The portion west happened on the next day during chilly, intermittent rain.
View Larger Map
We pulled over at a rest stop on Interstate 70 west of Frederick. This is a historic site without any kind of marker to commemorate it. I knew the secret behind this location so I asked my wife if she understood its significance. She thought it might have something to do with the Civil War which is a logical choice given the area, but of course that's not the answer I was seeking. The history made here was much more recent: October 24, 2002.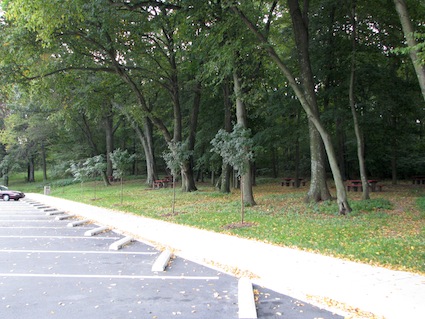 This is the rest stop where John Muhammad and Lee Boyd Malvo, the Beltway Snipers, were arrested (map). Imagine that October night. A truck driver spotted the snipers' Chevrolet Caprice in a dark corner of this parking lot. Police officers sealed off its exits, sneaked up through these woods, and captured the criminals sleeping in their car here.
This was a great relief to those of us who lived in the Washington, DC area during this time. People were terrified for several weeks. One of the victims died just a couple of miles from where I live, shot outside a Home Depot store where I shop frequently. This bucolic wayside may not have much meaning to most people who stop here but it's memorable in the eyes of those who lived through the event. Maybe a formal historic designation will provide sufficient justification to keep it around for awhile?
---
View Larger Map
The route traverses the strangely narrow part of Maryland. I've written about this geo-oddity before so you can read the earlier article if you'd like to know more. The salient point is that Maryland constricts down to less than two miles across. I'll give them credit, though. Maryland squeezes the town of Hancock and two Interstate highways into this narrow space. Here I switched from I-70 to I-68 to continue westward.
---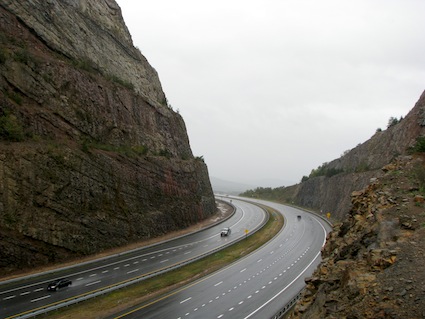 I love driving through the massive road cut at Sideling Hill (map). There's a story, probably an urban legend, that Maryland wanted I-68 to remain exclusively within their state so they could reap the economic rewards of travelers stopping at local motels, restaurants and gas stations. They wanted this so badly, according to the legend, that Maryland cut through the mountain rather than allow "their" road to cross into nearby Pennsylvania. I don't know about all of that, however I do know that the road cut is a sight to behold and worth stopping to see. They excavated this 340 foot (104 metre) notch through solid rock!
A rest stop with a walkway provides pedestrian access to a point high above the roadway within the cut. It was here that I noticed snow mixing within the heavy rain, thanks apparently to the elevation (2,301 ft / 701 m). In early October?!? I realize readers from some parts of the world are laughing. Nonetheless it's pretty impressive for the mid-Atlantic United States, and several degrees cooler than the terrain below.
---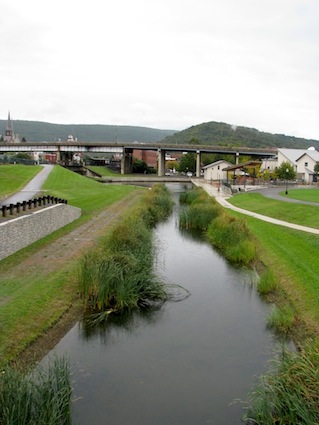 I drove further to Cumberland, a historic railroad town and also the western terminus of the old Chesapeake and Ohio canal, end of the line, mile 184.5 (296.9 km) (map). I toured around the museum, walked the grounds in rainy weather, and headed back towards West Virginia.
It turned out to be a decent day in spite of the changing plans.
Under
Cities/Towns
,
History
,
Roads
,
Terrain
,
U.S. States
,
Water
| Taged
Hancock
,
I-68
,
I-70
,
Interstate 68
,
Interstate 70
,
Maryland
,
Rest Stop
,
Sniper
---