I enabled Google Analytics recently on my web pages. For those of you who are unfamiliar with this tool, it involves the addition of a few lines of javascript to each page which in turn reports basic information back to the great Google mothership. It allows me to gain a better understanding of web traffic on my site from a variety of different perspectives. No personally identifying information is tracked in this manner so I can't figure out who specifically is looking at what (a good thing in my opinion), but it does allow me to dissect usage much more precisely than what my web hosting service provides me. More germane to this discussion, Google Analytics comes with a powerful set of geographic traffic mapping tools. For someone as map focused as myself, it's quickly become an obsession and my latest guilty pleasure.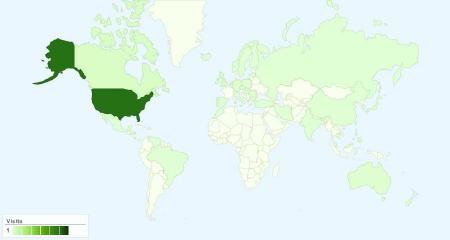 The maps are all interactive and allow segmentation by date ranges as well as drill-down to specific countries. The static screenshots that I've greatly reduced in size and included for this entry don't really do them any justice but hopefully they provide a little flavor of what is possible. I started tracking with Google Analytics about a month ago and already I've recorded hits from many parts of the globe. It shouldn't be too surprising that the preponderance of visitors have been from the United States since that's the focus of much of my content. For example, there's not going to be much international interest in my popular United States Domestic Ferry Map page essentially by definition.
Hits have come from every continent though. What is striking is visual evidence of the Internet "haves" and "have nots", albeit and admittedly my sample size is still quite small. If it weren't for Morocco I'd have no traffic from Africa. South America is underrepresented as are many of the former Soviet Republics. But there are some surprises too. As I drill down I can find hits from: Phnum Penh, Cambodia; Sofia, Bulgaria; Tegucigalpa, Honduras; Kandivli, India; and even the Northern Marianna Islands. I'm not sure what brought them to my website, but I tip my hat to them and appreciate their readership. I have almost that same sense of giddy excitement as ham radio operators who attempt to contact people in every country when I open this tool each morning and see what new locations appear on my list.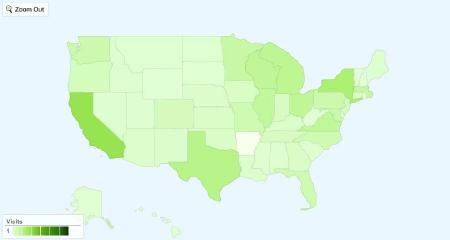 The United States page allows me to drill down to individual states. I'm not sure if that's because Google tailors its display to my IP address and provides something similar to other users' home countries, or whether that's a USA-only feature. If any Canadian readers happen to use this tool could you let me know if it allows you to drill down to specific provinces? What I find is something that isn't too far away from what one would see on population charts. California, New York and Texas all produce lots of hits. Nothing too surprising. But why hasn't anyone from Arkansas visited? It's been a month. Can't someone from Arkansas please stop by? That's the only state that's produced zero hits so far since I activated the Analytics tool.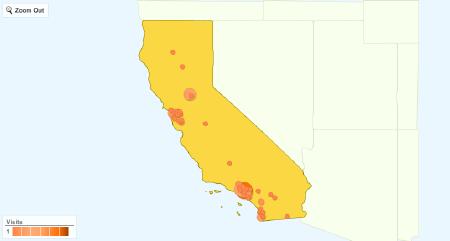 I can then drill down to individual states. The red dots increase in size as more visitors appear from each locale. Country maps (other than the United States) also look similar to this. The population centers of California come through clearly in my traffic map: San Francisco; Los Angeles; San Diego and even Sacramento practically jump from the screen. Another line of dots seems to trace the basic course of Interstate 5 as it works its way down the Central Valley, through the Sacramento Valley and San Joaquin Valleys, hemmed in by the Cascade and Sierra Nevada mountain ranges. Now you can see how I waste lots of time pondering these maps.
What this tells me is that I'm still missing a greater worldwide audience. I'm somewhat limited because English is my only fluent language, but even with that constraint there's much more than I can do to reach out. Readers should expect to see more topics of international interest in the coming weeks and months, and I've already got a few waiting in the queue to be developed.
Under
Cities/Towns
,
International
,
Tools
,
U.S. States
| Taged
Arkansas
,
California
,
Geographic Mapping Tools
,
Google Analytics
,
Ham Radio
,
Interstate 5
,
New York
,
Sacramento
,
San Joaquin
,
Texas
---