U.S. Fish and Wildlife Service's Endangered Species Program uses maps to help website visitors conceptualize the extent to which specific animals and plants are imperiled. The primary visual interface comes through their Threatened and Endangered Species System (TESS). It allows various criteria from the database to be sorted, including by State. The resulting image — displayed in the screenprint below — provides the number of endangered species for each State and allows users to select from among them.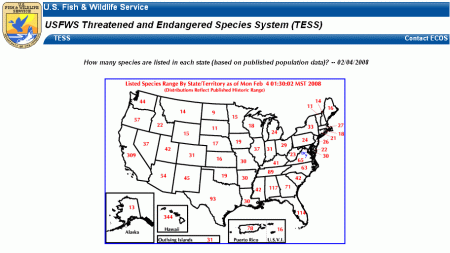 It's an unfortunate fact that distressed animal and plant populations are all too common, a point made abundantly clear by the initial geographic representation. Even the tiny
District of Columbia
has six animals and one plant included on the list (albeit residents of this very urbanized setting might get a little nervous if the Eastern Puma returned in large numbers to Rock Creek Park).Users selecting a state by name arrive at a list of endangered animals and plants for that locale, with the ability to link to individual pages for each imperiled organism. Individual species profiles contain further details on regulatory status, recovery, critical habitat and conservations plans. Many of them include a general habitat map.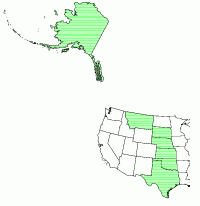 For instance, the
Eskimo Curlew
(Numenius borealis) is known to occur in
Alaska
and along a migratory route through the central United States including the Rio Grande Valley National Wildlife Refuge. Poking around the website a bit further produces any manner of interesting maps and facts, whether related to the
Little Mariana Fruit Bat
(Pteropus tokudae) of Guam, the
Kuenzler Hedgehog Cactus
(Echinocereus fendleri var. kuenzleri) of
New Mexico
, or hundreds of other imperiled flora and fauna found throughout the States and territories.
Under
Nature
| Taged
Alaska
,
District of Columbia
,
Eastern Puma
,
Endangered Species
,
Eskimo Curlew
,
Fish and Wildlife Service
,
Guam
,
Kuenzler Hedgehog Cactus
,
Little Mariana Fruit Bat
,
New Mexico
,
Rio Grande
,
Wildlife Refuge
---