I've had a good month attracting new visitors from Africa. I'd pretty much stagnated with that audience lately so that's a noteworthy accomplishment. I've tracked statistics for nearly two years and lamented my poor record with African visitors in an article I posted at the end of October. I recorded a visitor from Mali a couple of weeks later and it was very pleasing. Now I am downright ecstatic to report my very first visit from the east African country of Malawi. Slowly I begin to fill even the more difficult countries on my visitor map of the world.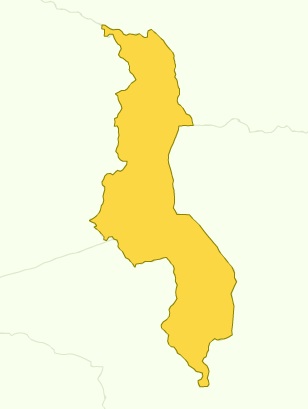 I described a geo-oddity I noticed on a map of Malawi in April. I reviewed the situation of two Malawian islands in Lake Malawi, Likoma and Chizumulu, that are completely surrounded by the territorial waters of neighboring Mozambique. Both islands are inhabited and its residents live within a rare example of a water-bound exclave. However the article didn't attract any Malawian visitors at that time.
View Larger Map
Malawi is a country with many challenges but is showing signs of recent improvement. High infant mortality, the prevalence of HIV/AIDS, economic underdevelopment, deficient infrastructure and limited educational opportunities are but a few of the compounding factors that are difficult to overcome. The life expectancy at birth is only 43 years.
Malawi is a country about the size of the U.S. state of Pennsylvania according to the CIA World Fact Book, with a population in excess of 14 million citizens. Yet the vast majority of its inhabitants are linked to subsistence agriculture. Its largest city, Blantyre, has only about a half million residents.
View Larger Map
The lowest elevation in Malawi occurs where the Shire River creates an international boundary with Mozambique, at 37 metres (121 feet) above sea level. Check out the interesting border area. The river has apparently shifted over the years, leaving little stranded pieces of both countries on the "wrong" side.
View Larger Map
The lowest point of elevation isn't very far away from its highpoint either, only about 133 kilometres (83 miles) using a great circle calculation. This is Sapitwa, part of the Mount Mlanje (or Mulanje) massif which rises abruptly from the surrounding plains to a height of 3,002 metres (9,850 feet) It is part of the Mlanje Mountain Forest Reserve that was established in 1927, the last stand for a number of indigenous plants.
The World Fact Book estimates that Malawi had 316,100 Internet users as of 2008. Compare that number with total population and it's a reflection of the challenges the country faces as it seeks to develop itself. Consider further that an official language of Malawi spoken by more than half its people is Chichewa of the Bantu language family, and it's no wonder that I've only received a single visitor in two years. English does exist in some official circles, a nod to Malawi's colonial past, and perhaps that is how I attracted my visitor. I may never know.
Under
Borders
,
Distance
,
Elevation
,
International
,
Terrain
| Taged
Africa
,
Bantu
,
Chichewa
,
malawi
,
massif
,
Mlanje
,
Mulanje
,
Sapitwa
,
Shire River
---