The Twelve Mile Circle traveled to San Francisco, California this week. I don't have much time to enjoy many of the sites, thought. The sun sets early this time of year and that gives me maybe an half-hour each afternoon after a full day stuck in an office building.
My touring record isn't very good on this trip even within those constraints. Work has completely taken over any opportunities to explore. Today it was already nearly dark when I trudged from the office, snapping cellphone photographs along the way. That explains the poor quality and lighting on the images below.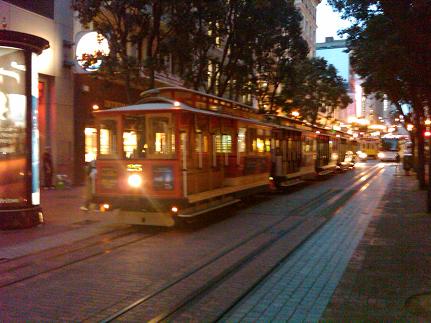 What would San Francisco be without its famous cable cars? Well, lots of things actually, but surely these endearing throwbacks to a bygone era come to mind as iconic images of this city. These particular cars are queued up at the base of Powell & Market preparing to enter the turntable so they can head back uphill. The spot where this happens can be seen as the circular feature in the middle of the road in this satellite image.
View Larger Map
Cable cars in San Francisco date back to the 1870's and these are part of the last manually-operated system in existence anywhere. It's quite fascinating. Cars are pulled by cables running under the street. This means that they run almost silently so I'm being extra careful when I cross the streets. The gripman moves a lever that grabs the underground cable when it's time to move along the route, and unhooks from the cable when it's time to stop. I guess it's good that a cable car line runs right by my hotel or I might not have gotten to see anything touristy today. I know, quit whining.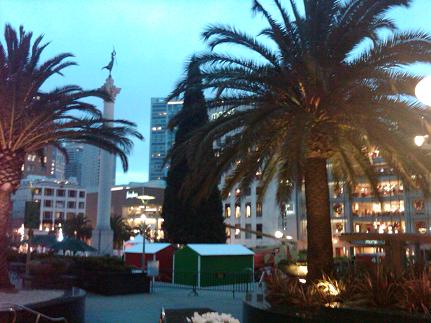 Union Square is a couple of blocks further up Powell Street. It was starting to get pretty dark by the time I got up here so I snapped this photo without delay. It's not yet Thanksgiving which means it's time to put up the Christmas tree. I guess I shouldn't complain — most of the store back home put up Christmas decorations even before Halloween this year.
Actually I rather enjoyed this. Nothing says Christmas quite like palm trees and a giant conifer. One the other side of the park and out of sight of this photo sits a temporary outdoor ice skating rink. I kid you not. It got well up into the 50's today and yet they've got ice skating like we're in New England or something. Contradictions like these put a smile on my face.
View Larger Map
This is how it would look in daylight
I'm possibly going to have a couple of daylight hours to wander around on Thursday. I need your help. I'm having a tough time finding appropriate geo-oddities and the search engines are failing me. Attempting to search of phrases like Weird Places in San Francisco provides decidedly different results than what would normally come up in other cities. San Francisco is noted for weird people (and I say that in an endearing, complimentary way) so that's what I'm getting back in my results.
If you know of odd geography in San Francisco, please feel free to add a comment or send me an email. Otherwise you'll get things like Fisherman's Wharf in my next posting. Oh, you might also get that crazy squiggly section of Lombard Street too. I guess that counts as weird geography… and I kind of want to see it.
---